In 1492 the Catholic Monarchs of Spain signed an Edict of the Jews' Expulsion, and this part of the Spanish Inquisition changed everything. Suddenly, Jewish Spain no longer existed, despite being one of the largest Jewish populations in the world at the time. The edict gave only three options: leave, convert, or die. Many Jews abandoned the country, while others converted to Catholicism.
Today, there are both obvious and subtle signs of Jewish history in Spain. Old Jewish quarters stand proud in most, if not all, of Spain's major cities. But it's more than that. As we traveled through Spain a few years ago, we saw the Jewish symbols like the Star of David embedded in tile floors or in gates, a chai on the ground, and seemingly random Hebrew lettering carved into stone walls.
Repeating Star of David patterns in Seville
Sometimes I see patterns that others don't. When I look at this courtyard tile mosaic in the Alcazar of Seville Spain, I see a repeating Star of David. I wonder what was on the mind of the tilers when they laid the floor. Did they intend to create a Star of David pattern, or is it simply geometric shapes?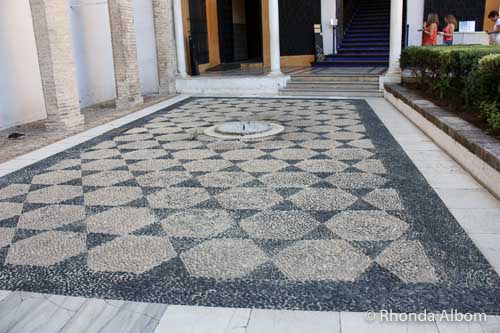 Inside, we also found the Star of David as part of some ironwork, and again on a tiled wall in blue as part of the repeating pattern.
Old headstones used in Barcelona
At first glance, the stone walls around the main courtyard in the medieval Jewish Quarter of Barcelona look similar to any other stone wall. Closer inspection reveals stones with Hebrew letters carved into them.
While the stones themselves are an interesting find, the story isn't so nice. In the days of the Inquisition, the King destroyed much of Jewish life including the cemeteries. Pieces of old headstones intermixed with construction stones when building the tenements in Barcelona. Laid without consideration, some are upside down or even sideways, thus the Hebrew words are illegible.
Hebrew lettering in Toledo
Prior to the Inquisition, Toledo was a city where Jews, Christians, and Muslims lived side by side in harmony. The city's Jewish Quarter is a must-see on any visit to the city. One of the highlights is the El Transito Synagogue, which is now The Sephardic Museum, and has Hebrew written in the plasterwork on the wall.
While the old buildings were fascinating, we also encountered some interesting modern Jewish decor, like a tile containing a Chai embedded into the street.
Old Jewish quarter in Bisbal d'Emporda
Narrow streets and balconies help identify the old Jewish quarters in different Spanish and Moorish medieval towns. The first Juderia (Jewish quarter) we encountered in Spain was in Bisbal D'Emporda. The maze-like streets offered us a challenge, but thankfully we had a map to find our way.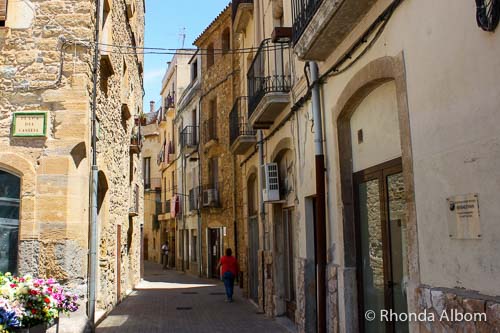 Tile patterns in Comillas
In Northern Spain, we explored the Cantabrian town of Comillas. A town most famous for El Capricho, a Guadí-designed chalet, we discovered other colorful architecture just walking down the street. Check out the red patterns in the gate on this house in Comillas. Does it look like Star of David patterns to you?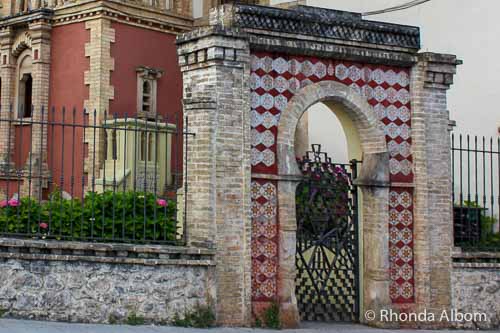 Six-pointed star fountain in Madrid
We even found Jewish symbols in the capital. In the center of the Parque de Mohamed I, in front of an old city wall, stands a fountain, although not flowing at the time. It is the six points that attracted us.
A brief bit of history from Inquisition to Jewish Spain today
Sepharad is the Hebrew name of the Iberian Peninsula; therefore, Jews descending from Spain and Portugal call themselves Sephardic Jews. Here is a very brief and simplistic history.
An estimated 200,000 Jews lived in Spain in the late 1400s.
In 1492 the Edict of Expulsion (also called the Alhambra Decree) gave Jews the option to convert, leave, or die. Historically, it was the same year in which Christoper Columbus set sail for the Americas.
Although able to return in 1868, Jews were not permitted to worship as a community until 1968 when the Alhambra Decree was formally revoked.
In 2015, Spain allowed all descendants of those expelled 500 years ago to apply for Spanish citizenship without being required to live in Spain. Despite a rigorous process, by the late 2019 deadline, Spain had received 127,000 applications from Sephardi Jews.
Spain's current Jewish population is somewhere between 15,000 and 45,000, concentrated mostly in Madrid, Barcelona, and Malaga.
As an Amazon Associate, Kibitz Spot earns from qualifying purchases.
If you're a book lover, this is the one you want: The Jews of Spain: A history of the Sephardic Experience.
Want to chat about Jewish food?
Looking for more recipes?
Have questions?
Looking for an online Jewish community?

Click here to join our Kibitz Spot discussion group on Facebook
Please share and save for later
If you enjoyed this article, please share it on social media and save it for later on Pinterest.
Have you seen signs of Jewish Spain?
You might also like: