Hamsa is the hand of God, hand of Miriam, or hand of Fatima, depending on your views. It is a downward facing five-fingered hand. Interesting, it is downward facing on in jewelry or upward facing in artwork. Thought of as a symbol of protection, it is popular in both the Jewish and Islamic religions.
Hand shaped, it has three central fingers extend outward while the curved thumb and pinky finger are one either side. It's origin traces back to Islamic or pagan cultures. Today it is also a symbol of Judaism. This becomes more apparent when the Star of David, chai, or other traditional Jewish symbols are added.
When made into jewelry, it frequently has other symbols or words in its palm, like the Star of David or a chai. I have found several meanings, even with the Jewish religion. Some say the hamsa protects against the "evil eye," other say it signifies blessings, strength, and power.
Jewish artist Laura Bolter combined many of the popular symbols in this brightly colored, warm, friendly piece entitled Peace Hamsa. The word Shalom, meaning peace is prominently displayed across the center, the evil eye across the bottom and a peace dove with an olive branch flying away from the hand. Currently, she is one of my favorite Jewish artists.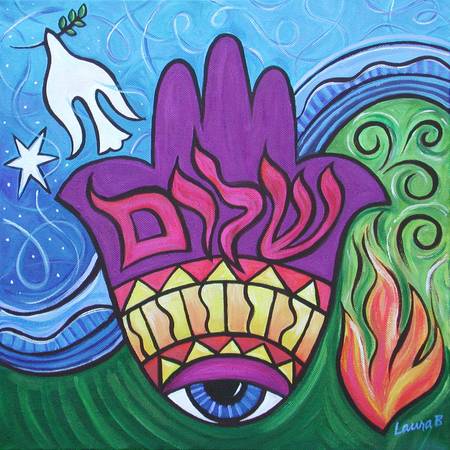 More artwork by Laura Bolton
Miriam's Song is another design by the same artist. The original is an acrylic painting from Jewish artist Laura Bolter of Kansas City in the United States.