As I stroll along Princess street, approaching the University of Auckland, a small sign catches my eye. The Moorish architecture of University House always fascinates me. However, this time I was surprised to discover it is an old synagogue. Auckland is home to New Zealand's largest Jewish community, which ultimately outgrew this old masterpiece.
The former synagogue held up to 375 congregants. For 84 years, it was the centre of Auckland's Jewish life. As the congregation grew, it needed more space. Because of this, in 1967, the Orthodox congregation moved to a purpose-built campus on Greys Avenue known today as Auckland Hebrew Congregation (AHC).
Here is the building, now the University House of Auckland University. You can see the "old synagogue" sign on the fence post. It surprised me that I had never noticed it before as I live in Auckland.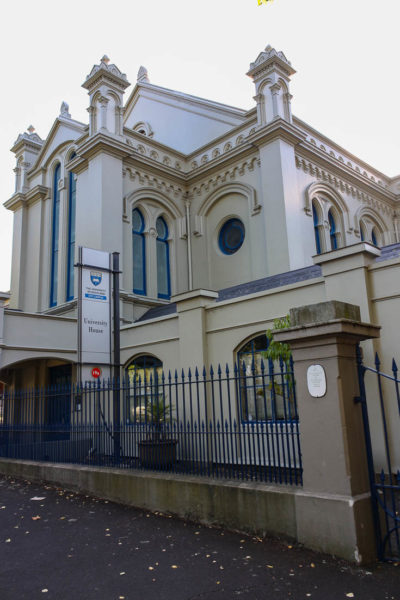 Old synagogue history and features
Renowned Auckland architect Edward Bartley designed the original synagogue in 1884. The exterior is plastered brick with a slate roof. It features several intricate classical and Moorish motifs. Its interior is said to have two tiers, wood-panelled vaulted ceiling, Arabian arches, and an elliptical staircase. One of its prominent features is the ornate stained glass on both windows and the dome.
Sadly, after AHC relocated, the building spent nearly two decades vacant, slowly deteriorating. Then, in the 1980s, it was restored. In fact, Salmond Architects' restoration project won them the inaugural Auckland City Heritage Award.
Historical uses of this old synagogue in Auckland
1884 – 1885: Originally constructed
1885 – 1967: Auckland's main synagogue
1969: Deconsecrated and ownership reverted to Auckland City Council
1969 – 1989: vacant
1989: Used as a branch of the National Bank
2003: Leased to the University of Auckland and renamed University House
Currently houses the university's Alumni Relations and Development office
Interesting signage on this former synagogue in Auckland
Once I did a bit of research into the building's history, I realized, the signage has a major error. It reads,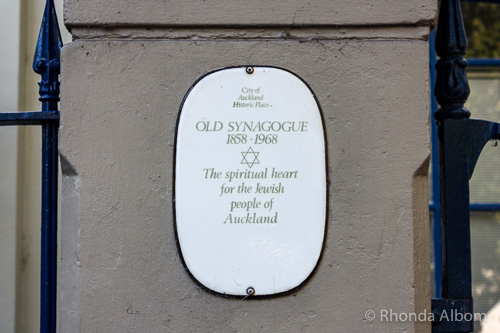 City of Auckland Historic Places
Old Synagogue
1858 – 1968
The Spiritual heart
for the Jewish
people of
Auckland
Did you notice that the date is wrong? The original building construction began in 1884, opening in 1885. It seems like the sign transposed two of the digits, suggesting that the building opened in 1858.
More on the old synagogue in Auckland
University House is at 19A Princes St on the corner with Bowen Avenue. It's on the University of Auckland campus in the centre of town.
Auckland's old synagogue is one of the two 19th-century synagogues still standing in New Zealand.
The building has a grade one heritage listing with Heritage New Zealand.
Jewish population in New Zealand
Disclosure: This page contains affiliate links. We earn a small commission when you use these links, at no additional cost to you.
Today, it is estimated that New Zealand's Jewish population is between 7,500 and 10,000. There are seven synagogues in the country. Auckland and Wellington have the largest Jewish populations. This is followed by Nelson, Christchurch, Dunedin, and Hamilton.
If you want to learn more about the early Jewish history in New Zealand, check out this book: Not Strictly Kosher: Pioneer Jews in New Zealand (1831-1901). While I have yet to read it, it claims to be the only comprehensive source of information on Jewish social history in New Zealand.
Please share and save for later
If you enjoyed this article, please share it on social media and save it for later on Pinterest.
You might also like: