Judaica For Home and Body (Artwork, books, recipes and more)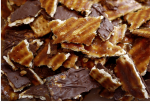 A chocolate toffee matzo recipe that is simple and delicious – what a special Passover treat! Especially for me, a believer that everything tastes better covered in chocolate. Matzo is no exception. Chocolate Toffee Matzo Recipe Contributed by Jennifer Hazen Ingredients 1 box matzo (15 pieces) 1 cup (2 sticks) butter (for Parve, use margarine) […]
Travel Destinations
As we travel, we encounter some interesting Jewish decor, like this tile containing a Chai on the street in Toledo Spain: We carry Lonely Planet Spain. Submitted for Wordless Wednesday.
A Mezuzah in Morocco.  It's not really as random as it sounds.  I took this shot just outside a synagogue in Marrakesh, Morocco. A mezuzah is a piece of parchment (often contained in a decorative case) inscribed with specified Hebrew verses from the Torah, and often hung at the door of Jewish family. Mezuzah in […]
Today we visited a powerful museum – the Jewish Refugee Museum of Shanghai, China. While much of the world turned a blind eye, Shanghai offered refuge to the Jewish people during WWII, saving about 23,000 Jewish people. A quick bit of history as posted on the walls of the museum: 1933: The Nazis came to […]
Titled the Memorial to the Murdered Jews of Europe, the Holocaust Memorial in Berlin is one of the most powerful places we have been so far.   It is massive, covering 4.7 acres with 2,711 concrete  stelae, arranged in a grid pattern on a sloping field. The stelae are 2.38 m by 0.95 m and vary […]
Jewish Humor
Have you ever seen a Hanukkah Zebra? The real question is has anyone? Is this a naturally occurring rare Hanukkah Zebra, or simply a Photoshop creation? Still want more? Check out The Big Book of Jewish Humor. What do you think – Hanukkah zebra or a bit of zebra photo editing?
Coffee Joke A man and his wife were having an argument about who should brew the coffee each morning. The wife said, "You should do it, because you get up first, and then we don't have to wait as long to get our coffee". The husband said, " You are in charge of the cooking […]
Guest post by Steve from Be There 2 Day. A man goes to see the Rabbi. 'Rabbi, something terrible is happening and I have to talk to you about it.' The Rabbi asked, 'What's wrong?' The man replied, 'My wife is poisoning me.' The Rabbi, very surprised by this, asks, 'How can that be? The […]
A guest post by Darren Stein A few weeks ago I gave a presentation to the Sydney chapter of the Bnei Brith Society on the subject of Doomsday Cults.  In gratitude, they presented me with a certificate from the Jewish National Fund (JNF), indicating that they had donated two trees to this environmental agency in […]