Our simple halva recipe is a sesame-based gluten and dairy-free candy, perfect for any sweet snack.
Halva, a sesame-flavored Israeli candy, has won over our family. Naturally gluten and dairy-free, our halva recipe is quick and easy to prepare, with just two main ingredients – sugar and tahini, while the others provide added flavors.
A dense, sweet, sometimes flaky candy, halva is a popular treat in Jewish households worldwide. Flavors range from the traditional sesame to chocolate, pistachio, coconut, or any number of delicious options.
For me, growing up, halva was an acquired taste, as I rarely got more than a nibble. When we did have it, the lion's share went to my dad, as it was his favorite.
Halva vs. Halvah vs. Halwa
If you are wondering about the difference between halva, halvah, and halwa, you are not alone. In fact, despite always believing that halva and halvah are simply two English spellings of a Hebrew word, when I did a bit of fact-checking, I discovered several things.
First, despite being a classic Israeli candy, halva may not have originated in Israel. Some say it began in India as halwa, although halwa is more of a creamy pudding that typically doesn't contain sesame.
Others are convinced halva or halvah has Middle Eastern origins, possibly Ottoman, Byzantine, Persian, or Arabic. The name is believed to derive from the Arabic word 'halwa' meaning 'sweet confection.' So perhaps the original letters weren't Hebrew.
Regardless of the halvah / halva origin, it is usually a candy consisting of tahini and either sugar or honey. The classic Israeli halva candy we make is pareve.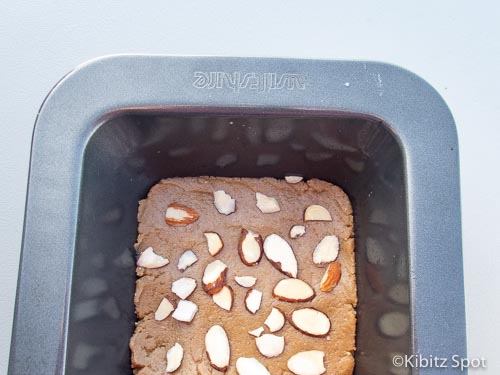 Our halva recipe ticks all the boxes
Our first homemade halva was about ten years ago. At that time, our daughter was a competitive athlete who often brought sweet treats to her coaches. With a new member of the coaching team came a new challenge. He was gluten-free, dairy-free, nut-free, soy-free, and egg-free and assured me he was too much bother.
Our halva recipe ticked all his boxes. A few modifications later, and we think we have a perfectly sweet, and satisfying recipe.
Gluten-free (and celiac-safe)
Dairy-free
Egg-free
Vegan
Soy-free
It can be nut-free (although we often top it with optional slivered almonds)
Easy to make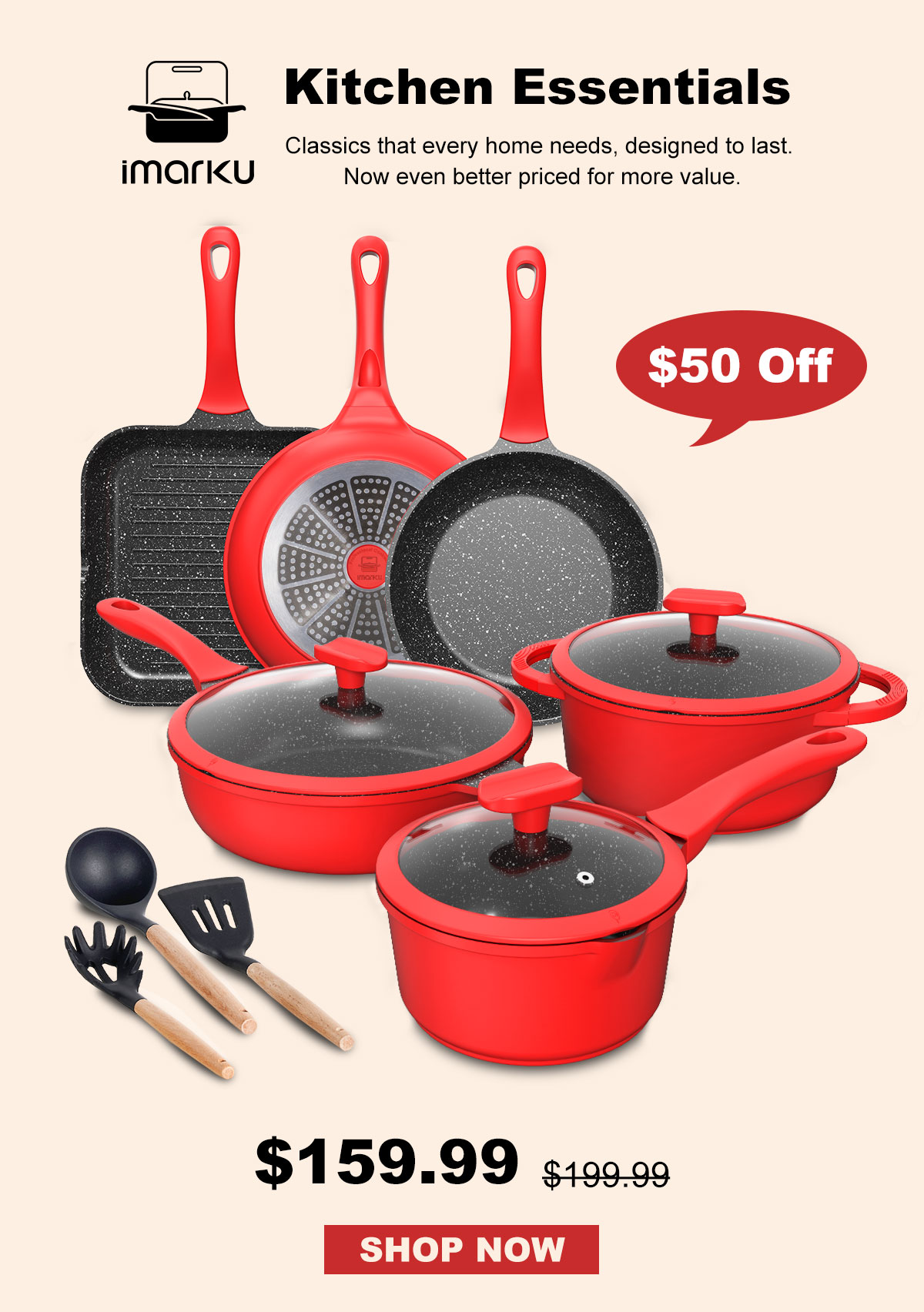 What you need to make halva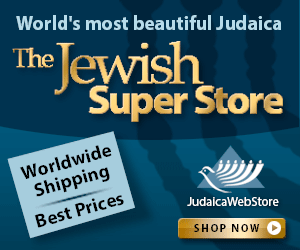 Ingredients for halva
Supplies
Step by step images to our halva recipe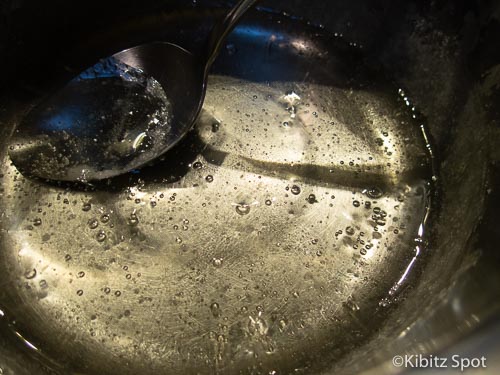 Serving suggestions
We cut our halva into bite-sized pieces and eat it like candy using our fingers. However, we have seen it served as large slices eaten with a fork.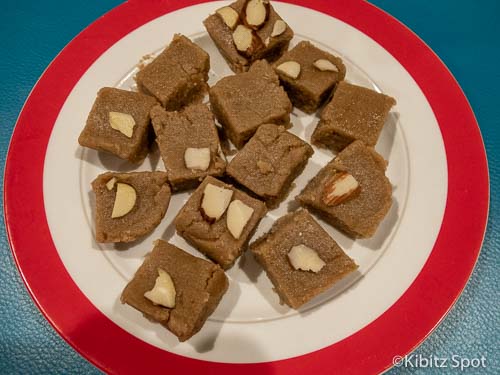 Our printable halva recipe
As an Amazon Associate and member of other affiliate programs, I earn from qualifying purchases.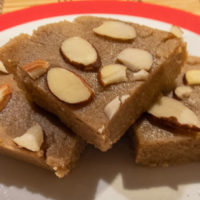 Halva Recipe
Total Time:
1 day
25 minutes
A sweet sesame treat that is free from gluten, dairy, soy, and egg. A nut-free option is available.
Ingredients
¼ cup water
Pinch of ground cinnamon
1/2 teaspoon lemon juice
1/2 teaspoon vanilla extract
Optional almond slivers
Instructions
Use cooking spray to lightly coat a small loaf pan. Set aside.
In a medium saucepan, mix the sugar and water and bring to a boil, stirring frequently.
Once boiling, reduce heat and simmer for 15 minutes, stirring frequently to prevent crystallization. Remove from heat and set aside to cool.
In a second saucepan, warm the tahini, stirring continuously until it is warm and softens. Do not overheat. Remove from heat.
Stir in cinnamon, lemon juice, vanilla extract, and sugar mixture. Mix until well incorporated and appears shiny.
Transfer into the greased pan and press to shape flat. Let cool completely.
Cover with plastic wrap and refrigerate overnight. Cut into bite-size pieces. Enjoy.
Notes
Note: The halva will begin to set quickly once the tahini is heated. Therefore, all of the ingredients should be combined quickly.
Halva can be eaten cold or at room temperature. Different members of our family prefer it each way.
While halva can be eaten immediately, this recipe is best if it sets in the refrigerator for 24 hours before enjoying.
Optional: Sometimes we add slivered almonds on top for a different flavor.
Nutrition Information:
Yield:

8
Serving Size:

2 oz
Amount Per Serving:
Calories:

408
Total Fat:

0g
Saturated Fat:

0g
Trans Fat:

0g
Unsaturated Fat:

0g
Cholesterol:

0mg
Sodium:

2mg
Carbohydrates:

105g
Fiber:

0g
Sugar:

105g
Protein:

0g
Nutritional information isn't always accurate and it will vary based on the specific ingredients used.
If you prefer coconut flavors to the sesame in tahini, try our coconut macaroon recipe
Additional halva recipes to try
Sesame and Coconut Halva – sounds like a winning combination based on honey and sesame seeds from Delicious Obsession.
How about some Homemade Halvah Bars – these delicious treats are made with honey rather than sugar from To Simply Inspire.
Please share and save for later
If you enjoyed this article, please share it on social media and save it for later on Pinterest.
Will you try this halva recipe?
Gluten-free desserts you might like . . .