If you are looking for an easy breakfast that feels light but will keep you feeling satisfied, check out this chia pudding breakfast bowl. It's not only delicious but good for you too. Loaded with superfoods, it's healthy, nutritious, gluten-free, dairy-free, soy-free, grain-free, and keto-friendly.
How do you start your day? If you are anything like me, you want something that is easy and will keep you filled up until lunchtime. For a while, my breakfast consisted of either a paleo cereal drowning in milk or toasted muesli (granola) with a dollop of yogurt.
Once I became gluten and dairy-free, I switched to my sister's favorite breakfast at the time, gluten-free banana pancakes. Super easy and delicious, I was hooked for a while.
Now, I moved on to a grain-free breakfast and, after lots of trial and error, created a perfect chia pudding breakfast bowl. Loaded with protein, calcium, and other nutrients, it's gluten-free, grain-free, dairy-free, soy-free, and delicious.
More importantly, it keeps me filled up and feeling energetic until lunchtime.
Our chia pudding breakfast bowl ticks all of the boxes
Gluten-free, dairy-free, soy-free, grain-free, vegan
Keto-friendly if made with unsweetened almond milk
Low FODMAP (if you watch blueberry quantity)
Easy to make
What you need to make a chia pudding breakfast bowl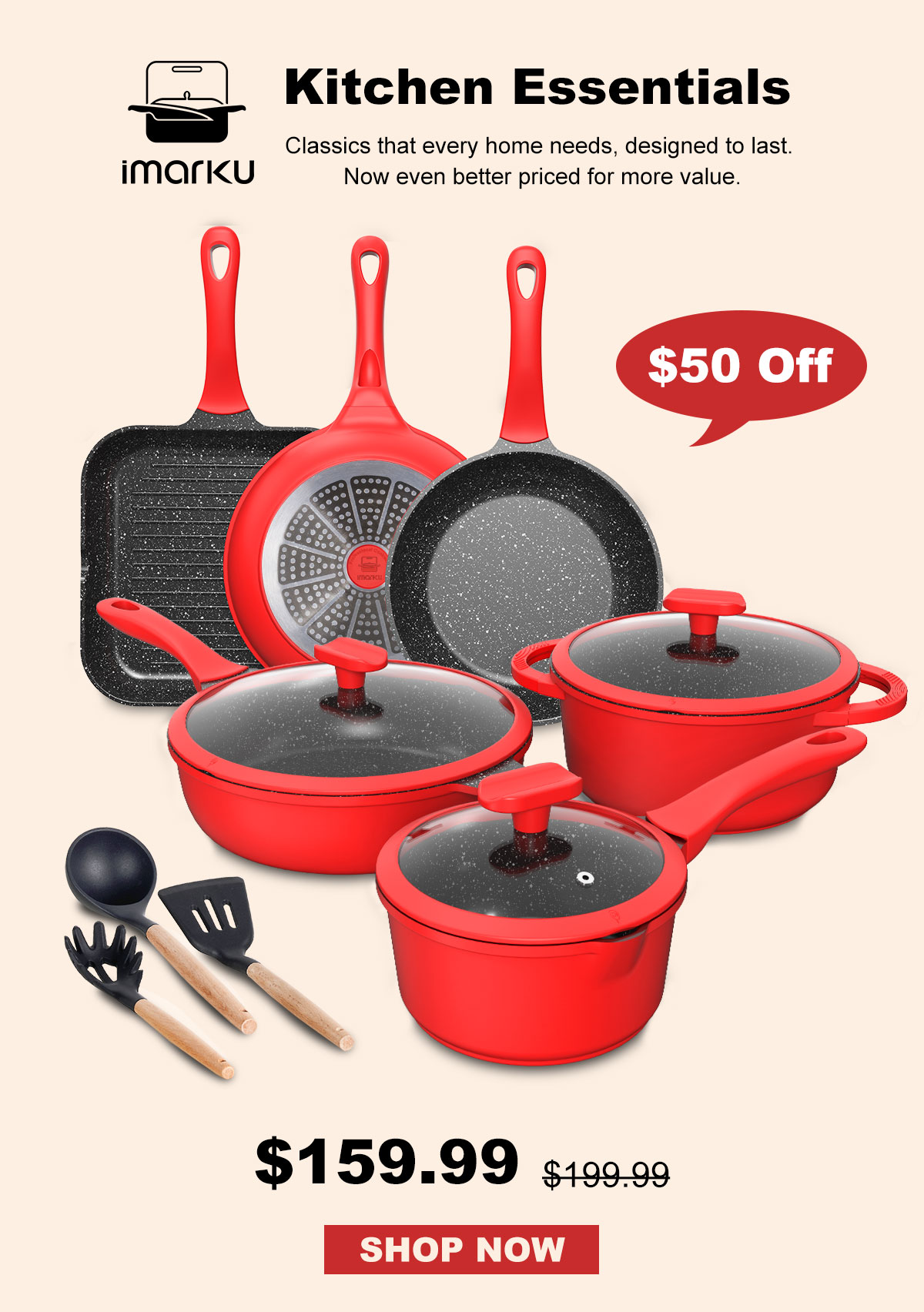 Health benefits of the main ingredients
Disclaimer: Statements regarding health benefits are not intended to diagnose, treat, cure, or prevent any disease or health condition.
Chia seeds
According to the Harvard School of Public Health (HSPH), chia seeds are the richest plant source of omega-3 fatty acids. They are a complete protein. They contain the nine essential amino acids that cannot be made by the body.
Almond milk
Almond milk is a dairy-free alternative that is lower in calories than cow's milk. Many commercial almond milks are fortified with either vitamin D, calcium, or other key nutrients. Source: Medical News Today
Blueberries
I choose blueberries because I love them. Two key bonuses of my choice, according to Health.com are that blueberries improve brain function and aid in muscle recovery.
Peanut butter
Peanut butter packs quite a punch of benefits. It is heart-healthy, promotes strong bones, and helps to prevent gallstones. In addition, it lowers the risk of diabetes as well as some cancers. If that's not enough, peanut butter also protects against neurodegenerative diseases like Alzheimer's. Source: NDTV Food
Step by step to create our chia pudding breakfast bowl
This is a super easy recipe but does take a bit of planning as the chia seeds need to soak overnight. In fact, we soak chia seeds for at least 2 hours before we use them in any recipe as soaked seeds are easier to digest, and soaking increases the amount of nutrients your body can absorb, according to Dr. Axe (Ancient Nutrition).
The night before: Mix the chia seeds and almond milk and store them overnight in the refrigerator.
In the morning: Stir in blueberries, peanut butter, and remaining seeds.
Enjoy
Optional extras
So far, I haven't gotten bored with this breakfast, but if I did, there are plenty of options that I can add.
At night:
Cinnamon, nutmeg, ginger, or cloves
Cocoa (and some sugar if you eat it)
One of my good friends adds one tablespoon each of psyllium husk (for gut regularity) and collagen powder (for her skin). I have tried them, but find the base gets goopy.
In the morning, there are so many options. These are some of my favorites:
Fruit – I like blueberries because of their vitamin K, but sometimes I substitute them with apples, bananas, strawberries, cherries, or mango.
Nutbutter – I often substitute the peanut butter with either almond butter, tahini, or a superfood butter.
Seeds – Sometimes, I leave out the pumpkin or sunflower seeds or add in LSA.
Add dried fruits like raisins, cranberries, or goji berries.
Tips for success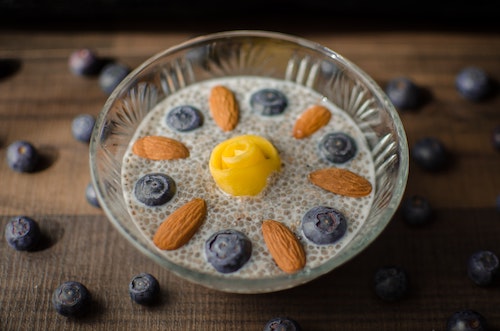 This is such a simple recipe, there really isn't much needed here. Our biggest tip: remember to make it at night.
If you don't mind the extra dish to wash, shake rather than stir as the morning result tastes lighter. To do this, add the chia seeds and almond milk in a sealed container and shake them up before pouring them in a bowl and putting them in the fridge.
We have read and dismissed the suggestion on some recipes that one should stir the mixture about 30 minutes after the initial soaking begins to prevent clumping. We found the opposite to be true. Our mixture comes out smoother if we put it in the refrigerator and then leave it alone until ready to eat.
Chia seeds soaked in almond milk will keep in the fridge for about three days, so sometimes we double or triple the recipe and then just portion it out each morning.
Once additional ingredients are added (beyond chia seeds and almond milk), the mixture won't keep as long. Therefore, adding fruit, nuts, etc, is best done in individually portioned bowls.
Our chia pudding breakfast bowl recipe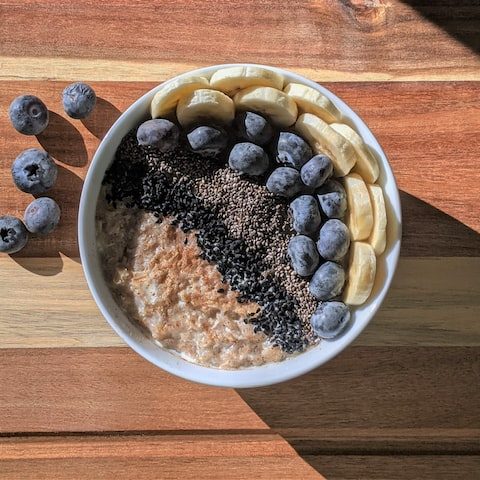 Chia pudding breakfast bowl
Total Time:
2 hours
5 minutes
A chia pudding breakfast bowl loaded with superfoods. Made with almond milk, it is a healthy, nutritious, and delicious breakfast that is gluten-free, dairy-free, soy-free, grain-free, and keto-friendly.
Ingredients
2 Tablespoons chia seeds
½ cup almond milk
1 ½ ounces blueberries (40gm)
1 Tablespoon all-natural peanut butter
1 Tablespoon sunflower seeds (optional)
1 Tablespoon pumpkin seeds (optional)
Instructions
Mix the chia seeds and almond milk in a breakfast bowl.
Place in the refrigerator overnight (minimum of two hours)
In the morning, stir in blueberries, peanut butter, and seeds.
Enjoy
Nutrition Information:
Yield:

1
Serving Size:

1 bowl
Amount Per Serving:
Calories:

330
Total Fat:

22g
Saturated Fat:

3g
Trans Fat:

0g
Unsaturated Fat:

18g
Cholesterol:

0mg
Sodium:

550mg
Carbohydrates:

27g
Fiber:

12g
Sugar:

9g
Protein:

11g
Nutritional information isn't always accurate and it will vary based on the specific ingredients used.
Please share and save for later
If you enjoyed this article, please share it on social media and save it for later on Pinterest.
What will you add to your breakfast chia pudding?
You might also like …