This coconut jam kaya recipe will have you scraping out the jar to get the last few bites. Sweet and creamy, it works well on bread, biscuits, or as a spoonful.
Have you tried kaya? It's a Singaporean favorite, a creamy, sweet coconut jam that melts in your mouth leaving you craving more. Often considered the national breakfast of Singapore, this tropical treat is surprisingly easy to prepare with the right set of instructions. And the kaya recipe we present here today has a long history of success.
Kaya jam is so special, my daughter remembers it from her first trip to Singapore nearly eight years ago. More recently, she has requested traveling friends bring her jars of it. However, now she can make her own with this coconut jam recipe.
If regional flavors are a backdoor to a culture, then cooking classes are a fast track to understanding. And, besides, there is no better way to learn than from a local. We are delighted to share both this kaya recipe and Food Playground's new international online cooking class.
What is Kaya?
To my surprise, when I looked up kaya it has a variety of definitions ranging from a nutmeg tree in Japan to Urban Dictionary's suggestion that it is Jamaican slang for marijuana. For our purposes, we are creating the Singaporean (or Malaysian) kaya jam.
Kaya is a coconut jam popular in Singapore and Malaysia. Invented by the Hainanese people, there are now several varieties.
Hainanese kaya is a smoothy, buttery, caramel-colored coconut spread.
Nyonya kaya has a similar flavor, but is a green color with a stronger infusion of pandan leaves.
Why Food Playground?
We took a class with Food Playground about six months ago when we were last in Singapore. More than just a cultural cooking school, they help stay-at-home mothers and active seniors re-enter the workforce with confidence and grace. Flexible training and teaching hours aid this vulnerable group to grow with poise.
And since the social mission benefits the community, it is a win-win. As students, we are taught by passionate women who speak our language, referring both to English and to the use of everyday terminology. More importantly, these women bring with them recipes handed down for generations through their families. Tried and true recipes are edited only to make them easily teachable. And, they have stories to go along with the recipe.
Helen, our real-time, online instructor, is a fifth-generation Singaporean. Her grandmother's kaya required three consecutive hours of stirring, but family adaptions brought us to the tasty coconut jam recipe we made in significantly less time.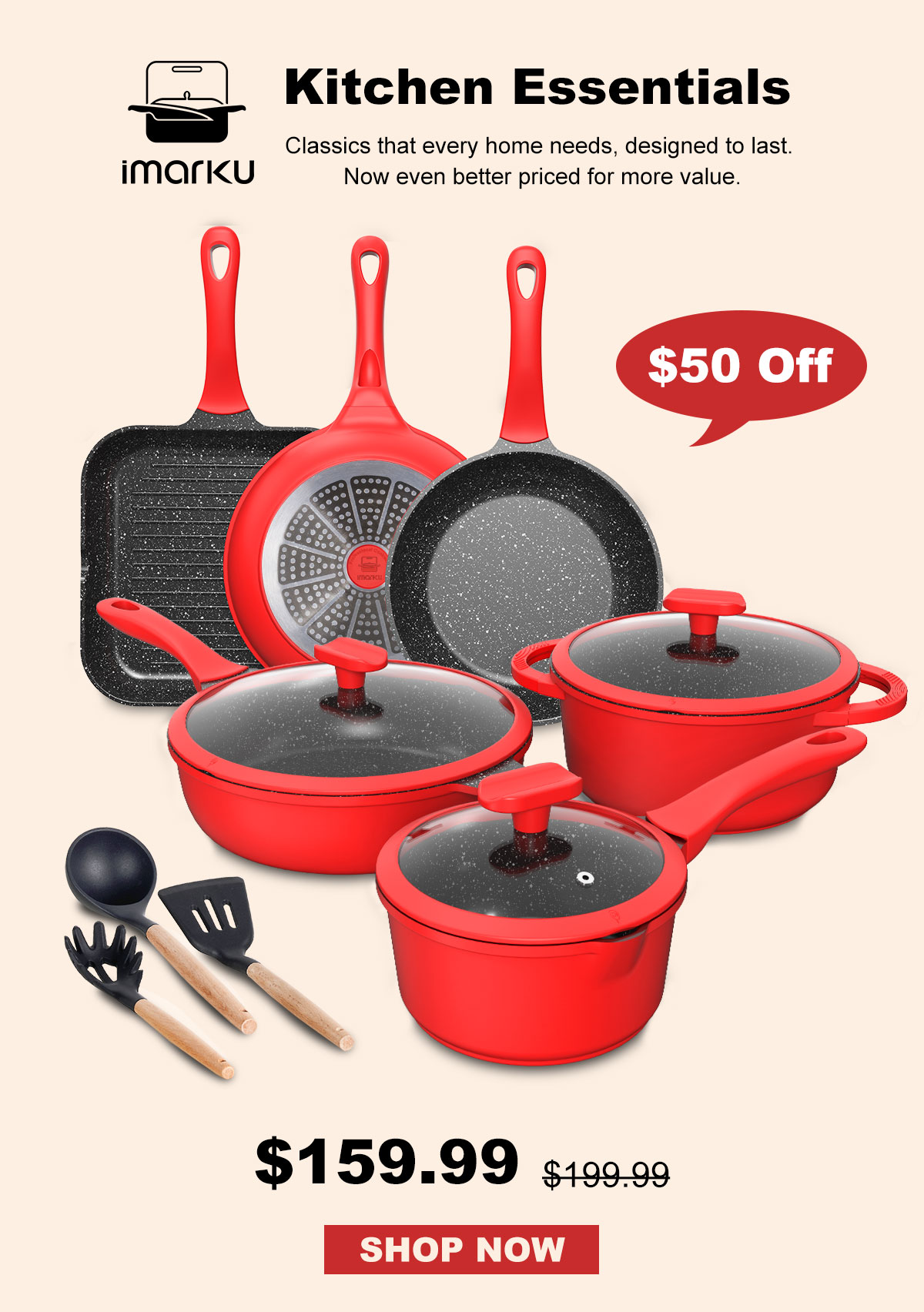 How does an online cultural cooking class work?
Honestly, the process is simple. Sign up online here. Read the email, check or shop for ingredients, and when the time is right, click the link to join the real-time virtual class. For us, we already had everything we needed in the pantry, and the pre-class preparation took less than five minutes.
Our instructor began by introducing herself to our small group of enthusiastic home cooks (maximum 8 per class). She was working from home, allowing us to see a typical Singaporean kitchen virtually, something we can only do online.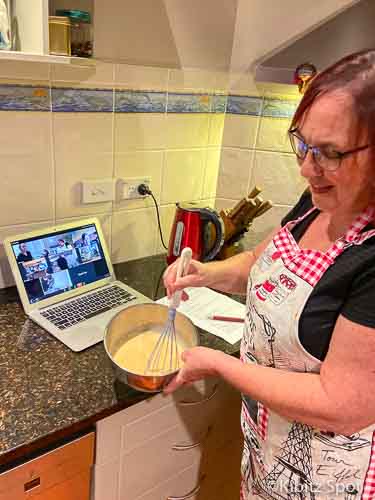 The class is held on Zoom, thus allowing all the participants to see and hear each other, as well as our instructor. We could mute ourselves if needed.
What you will need for this kaya recipe
The kaya ingredients are pretty simple. In fact, we had all we needed in the pantry. Well, all but the optional pandan leaves, but it turns out they are easy to get at an Asian grocery.
Hainanese kaya ingredients:
Coconut milk
White (castor) sugar or brown sugar
Egg yolks
Pandan leaves (optional)
Cooking supplies:
Whisk
Silicon or wooden spoon
Sieve
2 saucepans (small and medium-sized) OR 1 small frypan and 1 medium saucepan)
2 mixing bowls (1 able to sit upon the medium saucepan like a double boiler)
Stovetop and coaster.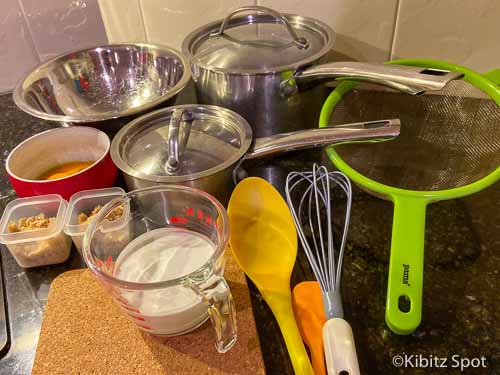 Pandan leaves and the kaya recipe
A traditional Hainanese kaya recipe requires pandan leaves, but we are flexible, and so is Food Playground. One of the huge advantages of having a teacher available when we cook is instant feedback on recipe alterations. We learned that the pandan leaves can be skipped as they only infuse a specific flavor into the final coconut jam. However, ours was fabulous even without the leaves.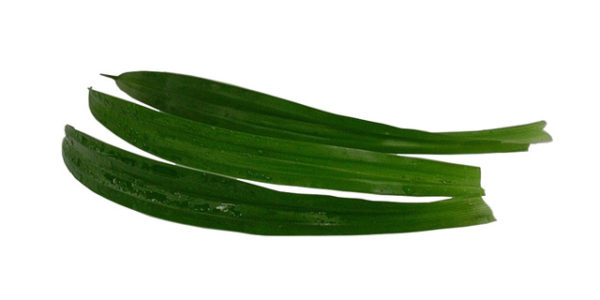 Unrelated to pandan leaves, when one student asked if he could use maple syrup instead of sugar, it was strongly suggested that the result won't be what they had hoped.
Step-by-step: How to make kaya
The step-by-step directions are below with the printable recipe. Having our virtual real-time instructor made the process simple, despite a few techniques that were new to me. Helen looked after our cooking, checking in on our thickness and consistency with clear and easy to understand instructions, and of course by looking at it through the camera.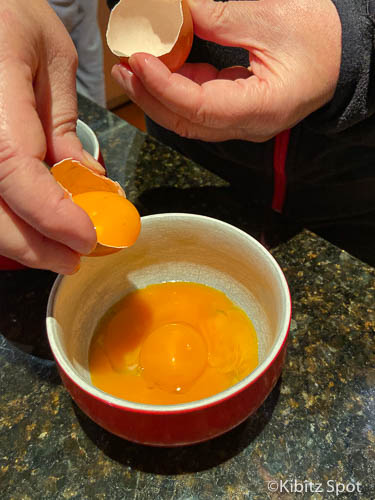 Making the caramel
Who knew you could make caramel from one ingredient – sugar. It turns out to be simple, requiring only a frying pan, sugar, and a bit of focused attention. If you have a food thermometer, you can make it perfect every time.
| Temperature | Caramel result |
| --- | --- |
| 320°F (160°C) | Just starting to melt |
| 338°F (170°C) | Light caramel color and flavor |
| 356°F (180°C) | Dark caramel color and flavor |
| 392°F (200°C) | Burnt |
Hainanese kaya recipe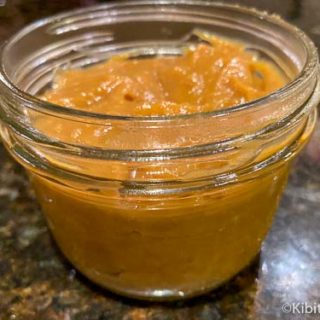 Hainanese Kaya Recipe
This Hainanese kaya recipe produces a small jar of sweet, buttery coconut jam. The recipe is shared by Food Playground, used in a live, online class based in Singapore. It is reprinted here with written permission.
Ingredients
200 ml Coconut milk
2 X 40g White sugar (castor sugar) or brown sugar
4 Egg yolks
2-3 Pandan leaves (optional)
Instructions
In a mixing bowl, whisk coconut milk and 40g of sugar till the sugar dissolves. (Keep the second measure of sugar aside for caramel.)
Add in the egg yolks and whisk gently till well combined and smooth. Strain kaya mixture into a separate mixing bowl that can sit on the saucepan for the double boiler.
Using a medium saucepan, bring the water up to a gentle simmer (you'll see a few gentle bubbles in the liquid). Once the water starts simmering, turn down to the lowest heat setting.
Set up the double boiler and stir the kaya mixture occasionally in the initial stages, and more constantly when it starts to thicken. This process will take 10-15 minutes depending on your equipment setup, your stove setting, and the type of coconut milk used. (Optional: if you have pandan leaves, tie them into a knot, and add into the kaya mixture to infuse the fragrance of the pandan into the mixture.)
When the kaya starts to thicken, remove from the stove. Using the other saucepan, melt the remaining sugar over medium heat. This process will take 5-10 minutes depending on the type of pan and the heat setting. Once all of the sugar has melted, the liquid caramel will start to darken. When it reaches your preferred shade of brown, remove from stove immediately, and place the double-boiler back.
Add the liquid caramel into the kaya mixture slowly, and stir quickly to incorporate the caramel into the mixture. Continue to stir continuously till all of the remaining caramel is melted.
Once the consistency is like a thick pancake batter, your kaya is done. If you have added pandan leaves, now is the time to remove them. Transfer kaya to a jar or container and leave to cool completely.
Notes
The primary mixing bowl should ideally be made of stainless steel. It should sit on top of the medium saucepan as a double boiler. The bowl should nest in a way that prevents the steam from escaping, but not so deep that it touches the water. It is the steam that will cook your kaya.
Take care when pouring the caramel. It is extremely hot.
Clean up tips: Pour hot water directly onto the residual caramel on the pan for a quick and easy clean up.
Storage: Kaya must be stored in an air-tight container in a fridge to maintain its freshness, and can keep well for a week. Be sure to keep it dry and always use a clean utensil for serving.
Nutrition Information:
Yield:

15
Serving Size:

1 Tablespoon
Amount Per Serving:
Calories:

60
Total Fat:

4g
Saturated Fat:

3g
Trans Fat:

0g
Unsaturated Fat:

1g
Cholesterol:

49mg
Sodium:

5mg
Carbohydrates:

6g
Fiber:

0g
Sugar:

5g
Protein:

1g
Nutritional information will vary based on serving size, as well as on coconut milk and sugar used.
Storing the coconut jam
Kaya should be stored in an airtight container in the refrigerator. If you keep it dry, and always use a clean serving utensil, it should keep fresh for a week. Of course, at our house, a single recipe barely lasted for three days before it was gobbled up.
Unfortunately, Kaya does not freeze well.
Kaya serving suggestions
While it goes on anything, kaya is typically eaten with bread or on a biscuit. In Singapore, kaya toast is so popular that many people consider it to be the national breakfast. It can either be slathered thickly on the toast, or the more common way to enjoy it is as a sandwich with a thick layer of kaya jam, a slice of butter, and the crusts removed.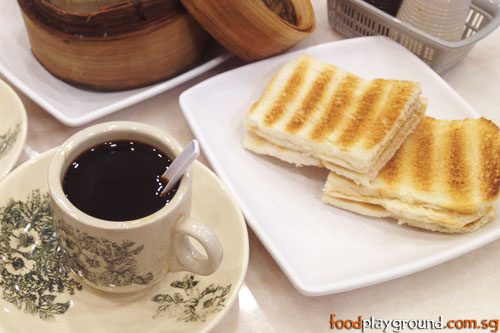 It's also popular to be served at snack time, usually on a biscuit (cookie). But we have heard of people trying it on crackers, homemade bagels, or a sweeter option – on ice cream.
Being out of bread one morning, yet wanting to try a traditional Singaporean breakfast, I decided to try the kaya spread on my gluten-free pancakes. I am here to say that it was divine.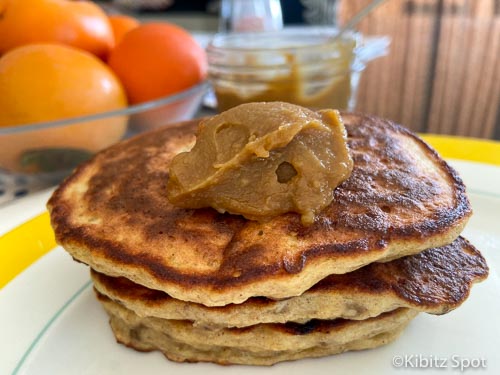 Please share and save for later
If you enjoyed this article, please share it on social media and save it for later on Pinterest.
Will you try this kaya recipe at home, or wait until you are in Food Playground's online cooking class?
More recipes you might like
Disclaimer: I was a media guest of Food Playground's first online cooking class. While we offered our feedback, the opinions here are strictly our own.