Our gluten and dairy-free pancakes are made with bananas and cinnamon. Low FODMAP, this quick and easy recipe makes a single serving of delicious breakfast pancakes.
Great news! I didn't have to give up flavor when I switched to a gluten and dairy-free pancake recipe. In fact, with a bit of recipe tweaking, my pancakes are even better than they were before I had dietary restrictions. With only three ingredients, I can be enjoying delicious gluten and dairy-free pancakes in just 15 minutes from opening the pantry.
Super easy to make and adaptable to a variety of alternative flavors, this is the perfect breakfast recipe.
What you need for gluten and dairy-free pancakes
A word on bananas
Disclaimer: Statements regarding health benefits are not intended to diagnose, treat, cure, or prevent any disease or health condition.
Pancake sweetness is generally dictated by the banana. As bananas ripen and transform from green to yellow, the starch is converted to sugars. If you are following a low FODMAP diet, you can think of ripe bananas as high in oligo-fructans, while unripe bananas remain low in the same oligo-fructans. Monash University explains it in detail here.
The bottom line for this recipe: yellow bananas with brown spots will produce the sweetest gluten-free pancakes. In contrast, a green banana will produce a low FODMAP treat with a starchier flavor and only a tinge of sweetness. I prefer them somewhere in the middle.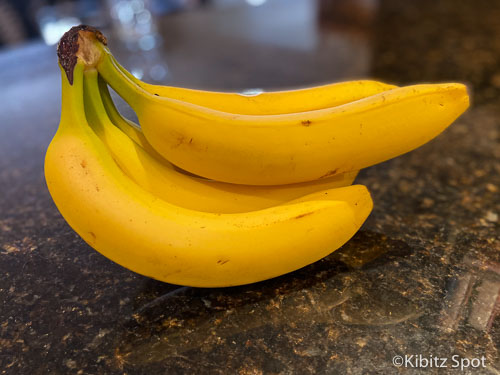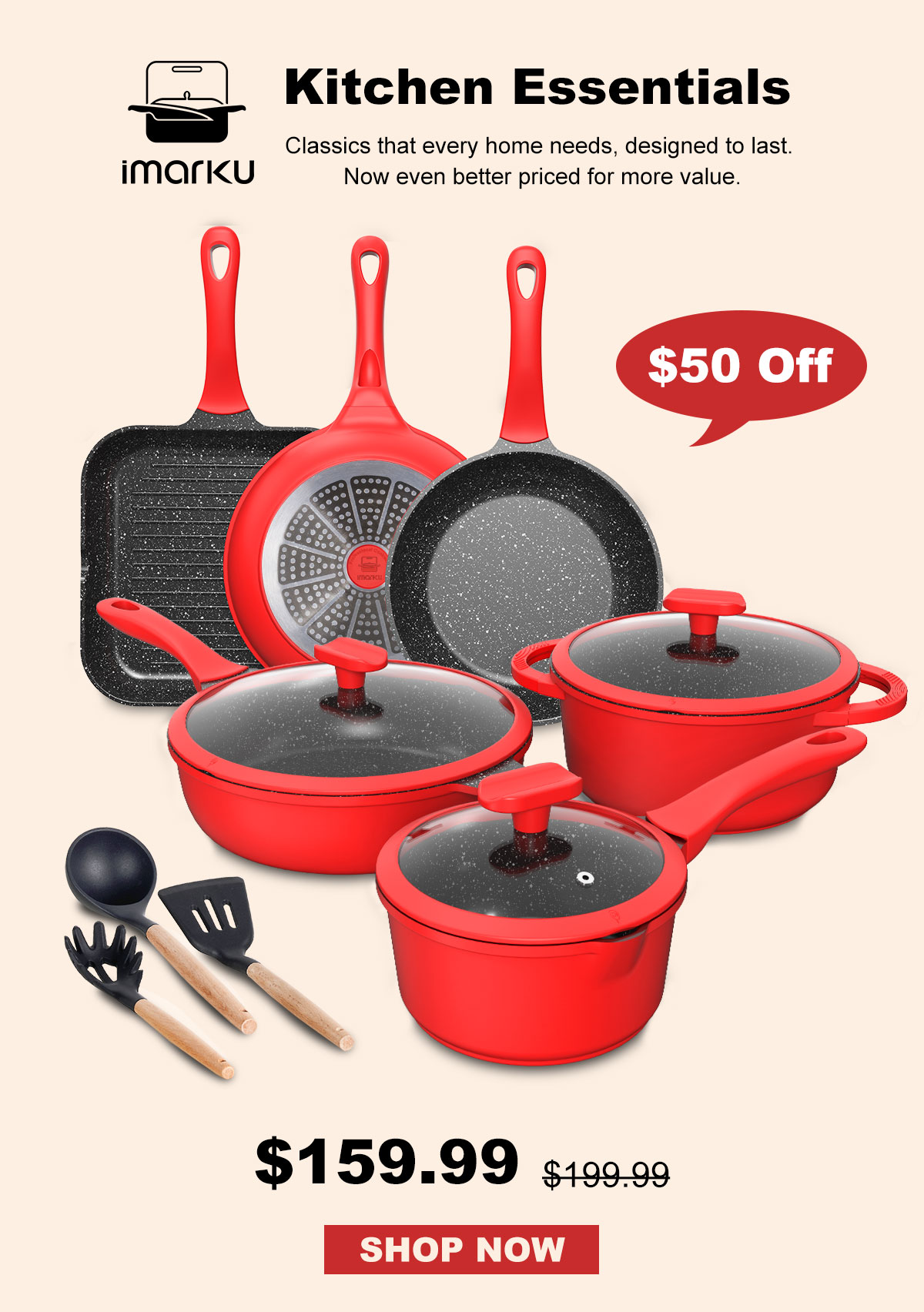 Our gluten and dairy-free pancakes recipe ticks the right boxes
Quick and easy to make
Gluten-free
Dairy-free; therefore, they are lactose-free pancakes
Low FODMAP (with green bananas)
Uses only three ingredients
Makes a single serving
Plenty of options for additions and new flavors
Step-by-step to our gluten and dairy-free pancakes recipe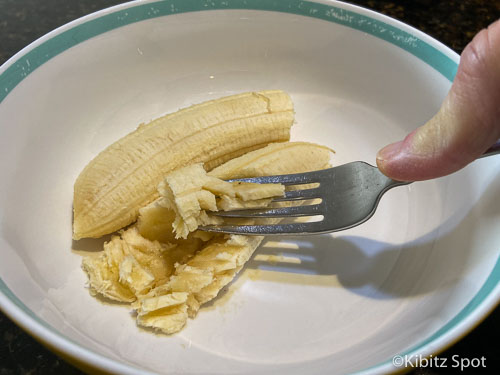 Pancake toppings
To be honest, I often eat them plain, straight from the pan. If the banana was even somewhat ripe, the pancakes are sweet enough for me, but when the bananas are very underripe, then I like a sweet topping. Some of my favorite toppings include:
Maple syrup – a traditional topping reminding me of my childhood.
Strawberry jam – quick and easy, straight from the pantry.
Kaya (coconut jam) – A traditional Singapore breakfast food item, although it is more commonly spread on toast. We make our own kaya.
Blueberry compote – can be frozen or out of a tin, but I find it best heated to room temperature.
Coconut (dairy-free) yogurt – A healthier alternative to the above, yogurt tends to keep me filled up longer than sweet toppings.
Apple sauce – Another quick and easy topping to spoon on.
Peanut butter – While the blend of flavors is great, I find peanut butter a bit dry on the pancakes.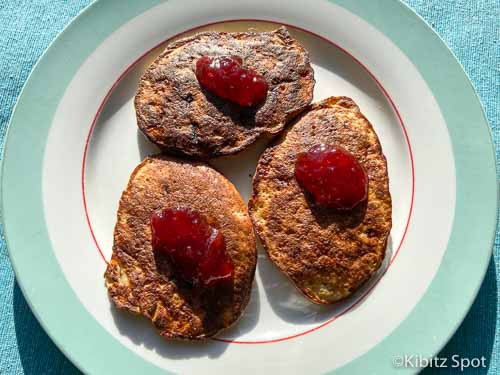 Gluten and dairy-free pancake recipe alternatives
Banana blueberry pancakes
Simply fold in a handful of blueberries into the final batter before cooking. If you use frozen blueberries, there is no need to defrost them before cooking.
Note: cooking time will be longer.
Apple and banana pancakes
We tend to use more spices when we are using apples, and we add the spice with the cinnamon. Tending to free-pour spices (a bad habit), we add about 1/8 teaspoon each of cloves and nutmeg.
You will also need to peel one small apple and chop or grate it into tiny pieces. Add these to the final batter before cooking. These pancakes will be wetter than without the apple and will take an extra couple of minutes to cook.
Vanilla pancakes
My nephew likes to add vanilla and nutmeg to this pancake recipe, reminding us to experiment frequently and try new things.
A grain-free version of these pancakes
In an effort to make it grain-free, we removed the GF flour and added in peanut butter, flax seeds and hemp hearts. See the grain-free recipe here.
Butternut squash pancakes
A delicious creation by my sister, you can try her butternut squash recipe here.
Banana pancake muffins
Using similar ingredients, we also make fabulous gluten and dairy-free banana walnut muffins (and for muffin fans, don't miss my sister's zucchini cinnamon swirl muffins.
Our gluten and dairy-free pancake recipe
This recipe was adapted from a recipe created by Stefanie Rembizewski.
Dairy free gluten free banana pancakes
A quick and easy single-serve breakfast that is gluten and dairy-free. If made with unripe bananas (100g), the pancakes are also low FODMAP.
Ingredients
1 medium banana
1 egg
2 Tablespoons self-raising gluten-free flour
1/8 tsp cinnamon (optional)
Oil spray
Instructions
Mash peeled banana in a shallow bowl. We use the back of a fork to do this.
Add the cinnamon (about 2 shakes from a bottle). Mix.
Add the egg and beat with a fork until the banana and egg are well mixed. There will be some banana lumps.
Add the self-raising gluten-free flour and fold into the egg banana mixture until smooth with no big lumps.
Lightly spray a medium size pan with cooking oil spray and preheat the pan for 2 minutes on high heat.
Lower the pan to medium-low heat.
Scoop the pancake mixture into 3 separate pancakes in the pan.
Flip the pancakes after 6-7 minutes.
Pancakes are finished in about 3 additional minutes.
Notes
Self-rising gluten-free flour substitute:
2 Tablespoons all-purpose gluten-free flour
1/8 teaspoon gluten-free baking powder
Nutrition Information:
Yield:

1
Serving Size:

3 pancakes
Amount Per Serving:
Calories:

329
Total Fat:

19g
Saturated Fat:

3g
Trans Fat:

0g
Unsaturated Fat:

15g
Cholesterol:

186mg
Sodium:

72mg
Carbohydrates:

34g
Fiber:

3g
Sugar:

15g
Protein:

8g
Nutritional information isn't always accurate and it will vary based on the specific ingredients used.
See more recipes by Stefanie
Please share and save for later
If you enjoyed this recipe, please share it on social media and save it for later on Pinterest.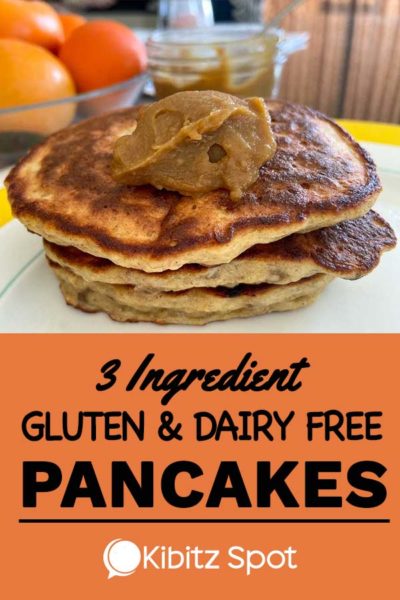 How do you eat your gluten and dairy-free pancakes?
More breakfast recipes you might like