While traditional tabletop menorahs are still the way to go this Hanukkah, there are a few people and cities that go a bit overboard with a giant menorah.
According to Jewish law, 32 feet is the maximum size, but giant menorahs come in a huge range leading up to that. The one that will always be foremost in my mind was made by my dad.
Take a look, and yes, he did build a working menorah from over 200 empty diet coke cans.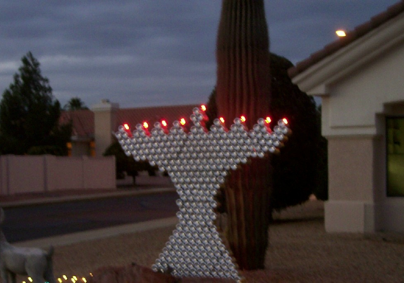 I am pretty sure that when they came up with the slogan "Reduce, Reuse, Recycle," they didn't have this giant menorah in mind.

It took my father years to complete. Made from over 200 caffeine-free diet coke cans, he has even wired it to light the appropriate number of "candles" for each night.
Why a giant menorah . . .
If I remember the story correctly, and I probably don't have it quite right, he was tired of being told by the neighbors that he was the only house without Christmas lights.
One year they went a bit further and asked him to put up some lights. One neighbor even went so far as to give him lights. If you know my dad, it won't surprise you that this was his reaction: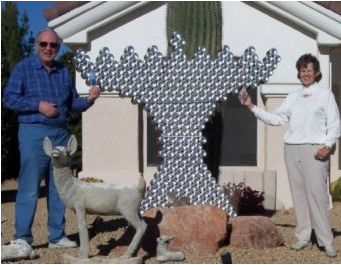 Not what they were expecting, I am sure.

So, what can we conclude from all of this:
Holiday lights come in many different forms
Caffeine-free diet coke cans don't rust
My father is creative and clever
My father clearly drinks too much diet coke
How does dad's giant menorah compare to the world's largest menorahs?
Well, of course, it doesn't. Dad's giant menorah of diet coke cans stands just over five feet tall (153 cm), and the current world's largest menorah stands at 32 feet (975 cm).
Actually, there are two at this height, both in New York. One is in Brooklyn, while the other is in Manhattan.
While the two boroughs battle over which one actually has the largest menorah, the courts settled it in 2016; the title goes to Manhattan.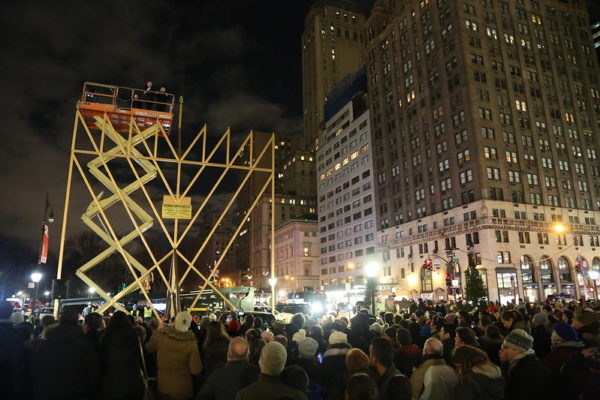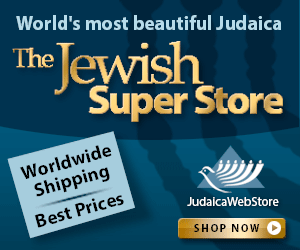 Other giant menorahs from around the world
Various cities around the world have a giant menorah, some just for Hanukkah (9 branches), others as a symbol of Judaism (7 branches). We live in Auckland, New Zealand, which, on some years, hosts a Hanukkah in the Park featuring a candle lighting.
Get your own outdoor decor
If you are looking for some Hanukkah decor outside your house, and you haven't been saving up hundreds of diet coke cans to make a giant menorah, you might like some of these:
See more menorahs
Please share and save for later
If you enjoyed this article, please share it on social media and save it for Hanukkah on Pinterest.
Where have you seen a giant menorah?
More on Hanukkah at Kibitz Spot: