Combining two of my favorite foods: noodle kugel and cherries, you know that this cherry kugel is going to be a real treat. It makes a great side dish and an even better dessert. It was contributed by my friend and amazing cook Suzanne.
We all have holiday favorites, and one of mine is noodle kugel. Fortunately, I am not alone in this and my friend Suzanne not only loves it too, but she has also gone the extra mile and taken an almost impossible step of making it even better.
Her secret is cherries. Imagine the delicious combination of cherry kugel in a sweet side dish or dessert that everyone in the family loves. And, to make it even more exciting, her recipe is easy and she was happy to share it with us.
A note from Suzanne:
My 92-yr. old mom has always loved making kugels, but unfortunately doesn't have the strength to do so anymore. I recently surprised her with this wonderful recipe, and the end result was delicious.
What is kugel?
Kugel is a Yiddish word for a baked pudding or casserole and is a common dish amongst Ashkenazi Jews. It's typically made with a noodle base, but some people choose to make it with a potato base. Generally, kugel is a side dish; although, we have been known to add whipping cream and serve it for dessert.
What you need to make a cherry noodle kugel
While the complete recipe is below, here is a list of what you will need.
Supplies
Ingredients:
Butter
Eggs
Sour cream
Cottage cheese
Frozen cherries
Variations
Thanks to Suzanne for suggesting the following optional substitutes for cherries:
And I have a few ideas too. Although I haven't tried it yet, I imagine it would be great with dried cranberries or frozen blueberries, or even a mix of berries. However, in saying that, I think the real winner will always be the cherries.
Serving suggestions
A perfect holiday treat that will quickly become a family favorite served all year. Cherry kugel can be a side dish to any meat meal like freshly made corned beef.
However, with the fruit, it is sweet and delicious and also makes an outstanding dessert.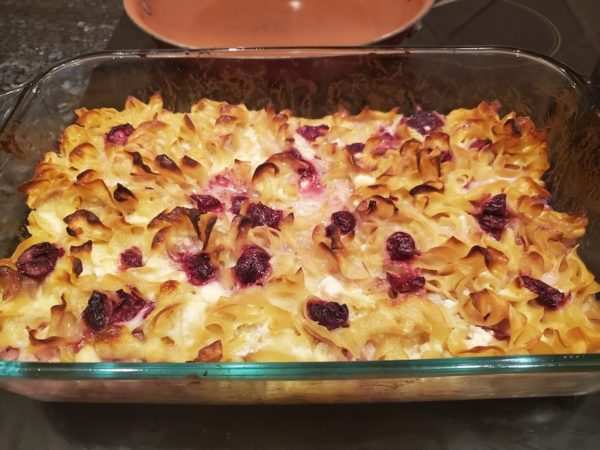 Cherry kugel recipe
This recipe was contributed by my friend Suzanne.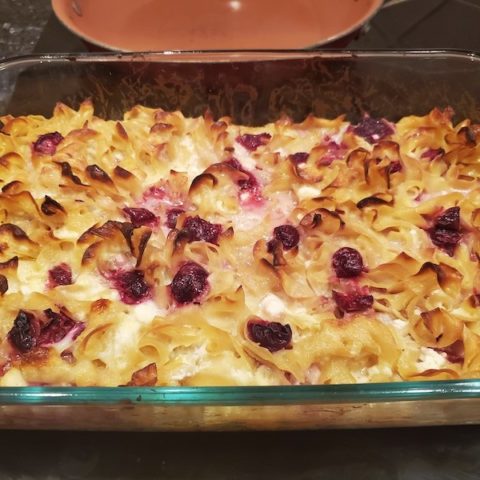 Cherry Kugel
Total Time:
1 hour
20 minutes
Quick, easy, and delicious, this cherry noodle kugel ticks all the boxes for a perfect holiday side dish or even a yummy dessert.
Ingredients
16 ounces wide egg noodles
Butter (for greasing the baking dish)
4 large eggs
1 extra egg white
6 Tablespoons butter, melted (about ¾ stick)
16 ounces sour cream
8 ounces cottage cheese
½ cup granulated sugar
½ teaspoon cinnamon
1 cup frozen cherries, halved (save some for topping)
Instructions
Preheat the oven to 350°F (175ºC) and grease a 9" x 13" baking dish.
In a large pot of boiling water, cook the noodles until al dente (about 5 minutes). Drain.
In a large bowl, mix together the eggs, butter, sour cream, cottage cheese, sugar, cherries and cinnamon, then stir in the noodles.
Pour the mixture into the baking dish, sprinkle some of the halved cherries over the top for decorative purposes, and bake until set.
Notes
Cover the baking dish with aluminum foil if the top starts to get too dark.
Nutrition Information:
Yield:

8
Serving Size:

1 piece
Amount Per Serving:
Calories:

403
Total Fat:

26g
Saturated Fat:

14g
Trans Fat:

1g
Unsaturated Fat:

8g
Cholesterol:

174mg
Sodium:

246mg
Carbohydrates:

33g
Fiber:

1g
Sugar:

17g
Protein:

11g
Nutritional information isn't always accurate and it will vary based on the specific ingredients used.
Please share and save this recipe for later
If you enjoyed this article, please share it on social media and save it for later on Pinterest.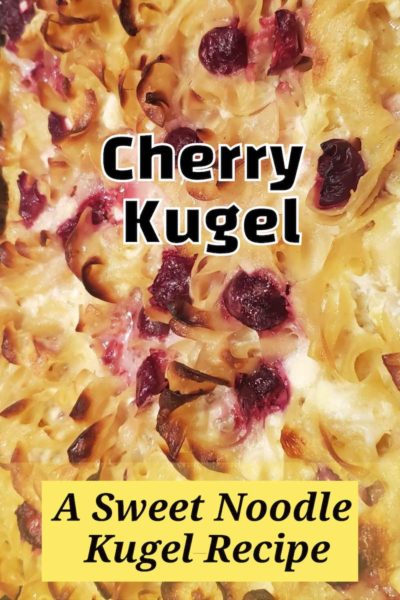 And, be sure to check out this collection of noodle kugel recipes for even more varity.
Do you have a favourite recipe you want to share?
We love sharing recipes! If you have a favorite non-terefah recipe you want to share on Kibitz Spot, please see our contact page for details on how to submit your recipe.
How will you serve this cherry kugel?