Whether you are a student, business traveler, or holidaymaker, if you are going to be away from home during Hanukkah, a travel menorah is the perfect solution. They are small, compact, and often discrete. It is the perfect companion when traveling, or it makes the ideal gift for students and frequent travelers. 
Even if you are not religious, the festival of lights simply isn't the same without lighting the candles. While you can improvise, having a purpose-built travel menorah is easy and fun.
Do-it-yourself travel menorah
If you don't have a travel menorah, and it's too late to order one for this year, a simple solution is to create one yourself. Here are two easy methods. Or, if you want to make something a bit more permanent, check out these ideas at wikiHow.
Ceramic or glass plate and candles
If you ask at your hotel, they will usually lend you a cake-sized plate. If you melt the bottom of the candles just enough to make them soft, you can stick them to your plate. Hold each candle carefully in place until the wax dries. Stay close to your candles when they are burning, just in case they fall over. You don't want to start a fire.
Aluminum foil
A little aluminum foil solved this problem for me when I was a child. By twisting, folding, and bending, my father created a make-shift, single-use Hanukkah travel menorah. The downside was stability. We all had to walk by gingerly, as even a gentle breeze and our creation would tip over, candles and all.
My favorite travel menorahs
Disclosure: This page contains affiliate links. We earn a small commission when you use these links, at no additional cost to you.
Now that we have a travel menorah, this is no longer a problem. There are many on the market to choose from, but I do have a favorite. It's the Magnetic Box Travel Hanukkah Menorah by Laura Cowan.
Magnetic box travel Hanukkah menorah by Laura Cowan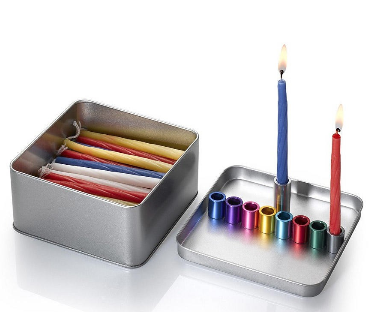 It is compact, portable and self-contained. Colorful anodized aluminum magnetic candle holders won't get lost. Plus, I have fun rearranging the candle holders each night. The artist, Laura Cowan, lives and creates in Israel. Click here for pricing: Box travel Menorah
Adi Sidler anodized aluminum pocket Hanukkah menorah 
If compactness is your top priority, then this pocket travel menorah from artist Adi Sidler is the perfect addition to your holiday collection. The Hebrew on the outside translates to "These candles that we light," (Opening words to the classic Hanukkah prayer.) Click here for pricing: Pocket Menorah
Nadav art anodized aluminum puzzle menorah
Available in 15 different color combinations, this puzzle menorah looks cool on the shelf, or keep it in your travel bag all year long. Created by Israeli artist Nadav from anodized aluminum, it is crafted to last a lifetime. Click here for pricing: Puzzle Menorah
Yair Emanuel wooden travel menorah
Colorful hand-painted (and lacquered) Jerusalem scenes make this ideal for decor when not in use. It opens, with brass inserts for the candles. Artist Yair Emanuel lives and works in Israel. Click here for pricing: Jerusalem menorah
Yair Emanuel folding travel Hanukkah menorah
Available in multicolor or silver with blue, this compact folding Hanukkah menorah is perfect for the traveler. Unlike the one just above, this is made of hammered metal and while closed, it is 4 inches by 1.2 inches. It's also by Artist Yair Emanuel. Click here for pricing: Folding Travel Menorah
World of Judaica rounded travel Hanukkah menorah
Useful at both Hanukkah and Shabbat, these stackable candlesticks are quite versatile. They are made from anodized aluminum and come in three color themes: pink (shown), gold, or blue. Click here for pricing: Rounded menorah
Electric LED menorah
Powered by micro USB or AA batteries, this compact electronic menorah is self-contained so no cleanup or candles needed. It even has different lighting effects blinking, chasing or ripple effect. Click here for pricing: Lite Go Electric Menorah
See more menorahs
Please share and save for later
If you enjoyed this article, please share it on social media and save it for later on Pinterest.
More on Hanukkah at Kibitz Spot: