Whether you are a student, traveler, or holidaymaker, if you are going to be away from home during Hanukkah, a travel menorah is the perfect solution.
They are small, compact, and often discrete. It is the perfect companion when traveling, or it makes the ideal gift for students and frequent travelers.
Even if you are not religious, the festival of lights simply isn't the same without lighting the candles. While you can improvise, having a purpose-built travel menorah is easy and fun.
Do-it-yourself travel menorah
If you don't have a travel menorah, and it's too late to order one for this year, a simple solution is to create one yourself. Here are two easy methods. Or, if you want to make something a bit more permanent, check out these ideas at wikiHow.

Ceramic or glass plate and candles
If you ask at your hotel, they will usually lend you a cake-sized plate. If you melt the bottom of the candles just enough to make them soft, you can stick them to your plate. Hold each candle carefully in place until the wax dries. Stay close to your candles when they are burning, just in case they fall over. You don't want to start a fire.
Aluminum foil
A little aluminum foil solved this problem for me when I was a child. By twisting, folding, and bending, my father created a make-shift, single-use Hanukkah travel menorah. The downside was stability. We all had to walk by gingerly, as even a gentle breeze and our creation would tip over, candles and all.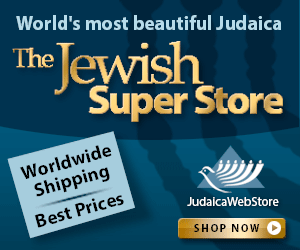 My favorite travel menorahs
A few really cool travel menorahs
There are many travel menorahs out there to choose from, but I don't have a single favorite, but rather a few at the top of my list.
See more menorahs
Please share and save for later
If you enjoyed this article, please share it on social media and save it for later on Pinterest.
More on Hanukkah at Kibitz Spot: