While a mezuzah is traditionally placed in the doorway of a Jewish household, a mezuzah necklace offers protection wherever you go. Mezuzah charms are a recent trend and come in a variety of styles and materials. They are a beautiful addition to any Jewish jewelry collection.
This contemporary mezuzah usage, while not traditional, references back to ancient times when the amulet was carried for protection. It lets its wearer carry the Shema at all times. Shema is a significant prayer in Judaism. It expresses one's devotion and respect for God.
Aside from their inherent beauty, people wear mezuzah necklaces for a variety of reasons. Some wearers feel it brings them closer to God. They touch the mezuzah when they need guidance or use it to find peace. Some wear it as a reminder of God's words while others use it to declare their devotion to the one true God. Many just find them attractive.
This is my mezuzah necklace
The idea of a mezuzah pendant is not a new one, despite its recent popularity. I have had one ever since I was a little girl, and I am pretty sure it once belonged to my grandma. There is one who knows for sure. Here's mine, a style they no longer make, and one which does not contain the scroll.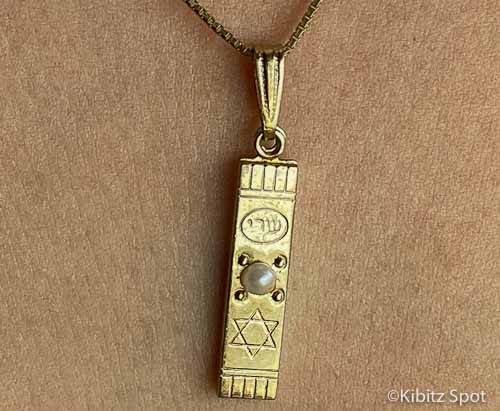 The controversy around wearing a mezuzah necklace
Like all non-traditional religious uses of symbolism, there is some controversy around wearing a mezuzah as a necklace. According to this article from Chabad.org, wearing it as a charm does not fulfill the mitzvah of mezuzah. Also, there are rules to follow before one can take a Mezuzah into any unclean place such as a bathroom.
Check out these mezuzah necklaces
As an Amazon Associate and member of other affiliate programs, I earn from qualifying purchases.
Made in Israel
Material: Jerusalem stone and sterling silver
Height: 1.1 inch (2.8 cm)
Chain: sterling silver in different length options
I thought I would start the list with my personal favorite of the mezuzah necklaces. This sterling silver Star of David on a Jerusalem stone is beautifully colored and unique. Designer Rafael is a celebrated Isreal jewelry artisan.
Made in Israel.
Material: sterling silver with 9K gold accents (letters)
Height: 1.5 inch (4 cm)
Chain: 18 inch deluxe sterling silver with options for a longer chain.
There is something quite beautiful about this cylindrical silver mezuzah necklace. It reads "Shema Yisrael" in gold lettering. It is ornate, but the shape offers a solid, sturdy look to it. The gold letters stand out as the perfect accent.
Material: sterling silver
Height: 1.2 inches (3 cm)
Chain: 17.7 inches (45cm)
This is the least expensive mezuzah necklace we could find that still had decent customer ratings. Stamped 925 confirming it is sterling silver, this one comes with the chain. It's available with the Star of David (as shown) or with a Chai or Hamsa.
Made in Israel.
Material: sterling silver with 9K gold accents (letters)
Length: 1.2 inch (3 cm)
Chain: 18 inch sterling silver chain with options for a longer chain.
The exterior 9k gold letters read "Shema Yisrael." What makes this mezuzah necklace so unique is that inside is the entire Book of Psalms on microfilm.
Material: sterling silver
Height: 1 1/16 inch (2.7 cm)
Chain: sold separately
Beautiful Hamsa cut and oxidized on this sterling silver mezuzah charm. Inside is a mini paper parchment with Torah verses, including the Shema.
Made in Israel.
Material: 14K gold
Length: 0.9 inch (2.4 cm)
Chain: available for an additional cost
An elegant Tree of Life motif on a 14K gold mezuzah pendant designed by Ben Jewelers. A 14K gold chain is available at an additional price.
Material: sterling silver
Height: ⅞ inch (2.2 cm)
Chain: sold separately
It's the cuboid shape that makes this lovely mezuzah necklace special. Made from sterling silver, details are enhanced through oxidation. The miniature parchment inside the charm contains Hebrew verses from the Torah, including the Shema Yisrael prayer.
Made in Israel
Material: sterling silver
Height: (3.3 cm)
Chain: sold separately
I love the modern and unique look to this sterling silver mezuzah necklace. The Hebrew words "Shema yisrael hashem elokaynu hashem echad" (Hear O Israel, the Lord is our G-d, the Lord is one) are wrapped around the cylinder.
Final thoughts on a mezuzah necklace
A doorframe in your home is no longer the only place for a mezuzah. Continually carrying a mezuzah charm showcases your love and devotion to God. Being such an important symbol in Judaism, a mezuzah necklace is a unique way to keep all that it signifies with you at all times.
Want to chat about Jewish food?
Looking for more recipes?
Have questions?
Looking for an online Jewish community?

Click here to join our Kibitz Spot discussion group on Facebook
Save for when you need a gift
If you like the idea of a mezuzah necklace, save this page on Pinterest for later, and please share it on social media.
You might also enjoy: