Are you a traditionalist, or are you ready to add a bit of funk to your Pesach? We fall in the middle. I want to hold fast to tradition, but wrap it up with a more upbeat bent. As a result, we started exploring contemporary seder plates. We can add a touch of color and fun to our Passover experience, while still having dedicated spots for everything that belongs, even on a modern seder plate.
If you're isolating at home with family this year, a modern seder plate will uplift a modest intimate seder in the same way as it will on a large classic table.
Photo Credits:
Intimate Passover seder table image by Juana Manuel.
Formal Passover seder image by Maryland GovPics.
Both licensed under creative commons Attribution 2.0 Generic.
What's on a seder plate?
Prominently placed in the center of the table, the seder plate is the focal point of the Passover meal. Simple or ornate, it can be made from wood, glass, metal, ceramic, paper, or just about anything. Whether it is a modern seder plate or a classic style, what's on a seder plate remains the same.
Much of the traditional readings and ceremony feature the six foods found on the traditional seder plate:
Roasted egg: represents the festival sacrifice or offering
Roasted lamb: shank representing the paschal lamb sacrifice
Karpas: (parsley) to be dipped in saltwater to represent the backbreaking work during slavery
Charoset: (a mixture made of apples, nuts, wine, and cinnamon) symbolizes the mortar and brick used by the Hebrew slaves
Maror: (bitter herbs, often horseradish) to represents the bitterness of slavery
Chazaret: (romaine lettuce) a second bitter herb
Chabad, a pioneer of the Torah, Judaism, and Jewish information on the web, offers a detailed explanation as to the significance of each of the items on the plate.
Modern seder plates
Here is a list of our favorite contemporary seder plates for Passover:
While it is not traditional to bring Passover gifts to a seder, any of the modern seder plates above would make a wonderful wedding or Hanukkah gift.
Passover Paper Plates
Passover paper plates are also a modern holiday idea. With 25 waterproof plates in a pack (shown first in the grid below), they are ideal for kids or anyone. In fact, they are perfect for traditionalists that don't have a set of kosher for Passover dishes. Check out these options, and as a bonus, get ready for quick and easy clean up this year.

Also on the seder table
In addition to the items on the plate itself, a traditional table will also have a matzah plate and wine or grape juice. The matzah plate will have three pieces of matzo, representing the Kohens, Levis, and Israelites. The middle (called the afikoman) is broken early in the Passover readings, the other two will be used later. (Passover matzah is an unleavened bread available for a few months before the holiday begins. We, however, like to make our own matzo.)
Want to chat about Jewish food?
Looking for more recipes?
Have questions?
Looking for an online Jewish community?

Click here to join our Kibitz Spot discussion group on Facebook
Please share and save for later
If you enjoyed this article, please share it on social media and save it for later on Pinterest.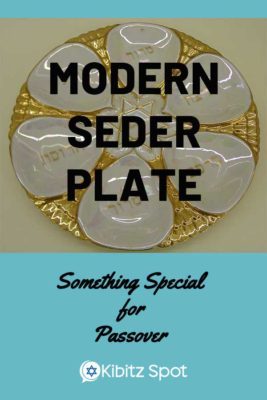 You might also enjoy these Passover ideas: