A fun spin on a classic Jewish flatbread, this Passover chocolate toffee matzo will satisfy your sweet tooth in style.
Let's face it, matzo is not the most exciting of foods. That is, until now. Imagine that crispy cracker dipped and covered in gooey caramel and rich chocolate. What do you think? Does chocolate toffee matzo sound too good to be true? To be honest, it's actually quite easy to make.
If you're anything like me, you look forward to the Passover dinner and all of the delicious foods you get only one week per year. It's fun to cook all of the foods, like making your own matzo. But then after a few days, matzo seems dull, gefilte fish is passé, and I am craving something sweet and delicious.
Of course, there are macaroons, but how many can I eat before they seem boring, too. Don't get me wrong, I actually love macaroons, but a lady needs more variety. (Update: I have learned how to make my own fabulous macaroons! However, that's a story for a different day.)
So, I mentioned it to my sister, who mentioned it to one of her friends, and she seemed surprised that I, someone who firmly believes that anything tastes better dipped in chocolate, didn't already know how to prepare chocolate matzo bark. It's a treat with many names, including chocolate-covered matzo and chocolate toffee matzo.
How did I grow up without ever discovering this chocolate toffee matzo recipe?
Chocolate toffee matzo recipe
Recipe contributed by Jennifer Hazen.
So, If you are looking for a Passover treat this year, whip up a batch of fun with this chocolate toffee matzo recipe. Simple and delicious, it is a gift from the heavens that is even better than simple chocolate-covered matzo.
Chocolate Toffee Matzo Recipe
Yield:
90+ pieces (serving is about 3 pieces)
Total Time:
2 hours
20 minutes
This sweet treat is a favourite during Passover when baked goods are not eaten.
Ingredients
1 box matzo (15 pieces)
2 sticks (1 cup) butter (for Parve, use margarine)
1 cup brown sugar
3 cups chopped chocolate or morsels (for Parve, use non-dairy chocolate)
1 cup chopped nuts (optional)
Instructions
Preheat oven to 300F (150C).
Line two or more baking pans/cookie sheets with foil.
Break each sheet of matzo in half and arrange on lined cookie sheets (It's OK if some matzos overlap).
Melt butter and sugar over low heat, stirring constantly.
Pour over matzo and spread with a spatula (It will not cover the matzo completely).
Sprinkle chocolate over matzo.
Bake for 5 minutes, or until chocolate melts (the morsels of chocolate might not look melted).
Test with a spatula or knife. If not spreadable, bake a few more minutes.
Once spreadable, remove from oven; spread chocolate over matzo.
(Optional) Sprinkle with nuts.
Put trays, uncovered, in the freezer until hardened, about 2 hours.
Break matzo into smaller, uneven pieces and store in zip-lock bags in the freezer.
Notes
This goes quickly, at least it does in my house. The secret is to hide a bit. Not like an afikomen for the kids to find, but for yourself, later.
Recommended Products
As an Amazon Associate and member of other affiliate programs, I earn from qualifying purchases.
Nutrition Information:
Yield:

30
Serving Size:

3 pieces
Amount Per Serving:
Calories:

142
Total Fat:

7g
Saturated Fat:

4g
Trans Fat:

0g
Unsaturated Fat:

3g
Cholesterol:

4mg
Sodium:

27mg
Carbohydrates:

17g
Fiber:

1g
Sugar:

15g
Protein:

2g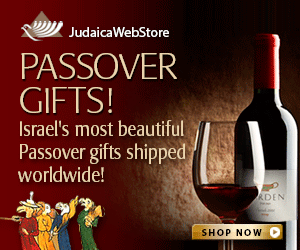 Chocolate matzo the easy way
Yes, there is an even easier way to get chocolate matzo, simply purchase it from the Amazon. It's Kosher for Passover and coated with chocolate and sprinkles. To be honest, I haven't tried it yet, and I don't know that I ever will, as the chocolate-covered matzo recipe above is so simple.
And if you're looking for more Passover sweets, try our farfel cookie recipe.
Here are some popular Passover cookbooks for your holiday cooking needs:
Save the recipe for later
If you want to give this recipe a try, please share it on social media and save it for later on Pinterest.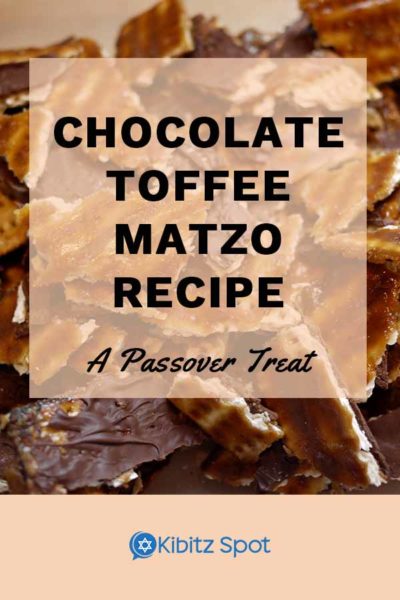 Photo credit on the recipe card and in pin 1: grongar. (CC BY 2.0)
Photo credit on Pin 2: T.Tseng. (CC BY 2.0)
More articles on Passover you might like