Making matzo is easy. After all, one of the reasons we eat Matzo on Passover is to remind ourselves of the rush of the exodus in which our ancestors carried with them only simple dough that didn't have time to rise. As time was the issue, the preparation must have been quick. Today, we share our easy to complete matzo recipe.
Timing is critical for a successful Passover matzo recipe
Time is a significant issue when you make your own matzo. Not more than 18 minutes can pass once the flour and water mix until the matzo baked.
Our Simple Passover Matzo Recipe
Ingredients
3/4 cup white flour*
1/4 cup water
Extra flour for dusting the rollout area
* Kosher for Passover matzo uses kemach shel matzah shamura (flour watched from harvest to packing to make sure it has not come into contact with any moisture).
Instructions
Place a flat pan/baking sheet inside the oven and preheat to 250C (475F)
Mix the flour and water in a bowl (start watching your time now)
Using approximately 2 Tbsp of the mixture, form a ball, and roll out flat on a floured surface
Use a fork to prick the flattened dough all over
Place the flattened dough on the preheated baking sheet in the oven
Cook for a couple of minutes each side or until starting to brown
Remove cooked matzo from the oven.
What could be easier!
Matzo Recipe Tips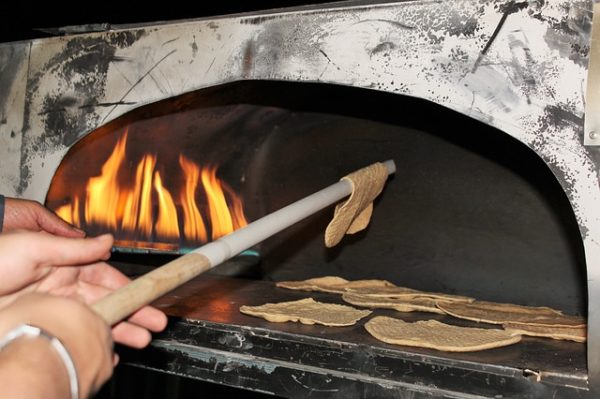 To speed up the process, have three people making it assembly line fashion (one to mix, one to flatten, one to cook).
Check out our other Passover recipes