Our simple and easy charoset recipe is perfect for Passover, or a sweet snack any other time of the year.
My grandma understood our family better than anyone else. When it came to Passover eating, she knew we all loved the sweet treats. We consumed them traditionally during the seder and then savored them for the entire week. Therefore, instead of the traditional charoset recipe with about 3 apples, Grandma's charoset fed us for days.
Charoset is one of the six items on a seder plate during the Jewish holiday of Passover. Each item represents a part of the story of the Passover. The seder retells the story each year. They can be huge community events with even hundreds of people, or small intimate family gatherings. It's the traditions that are important.
Charoset pronunciation: Kha-RHO-set
The charoset represents the mortar used by the Hebrew slaves to make the bricks. It is initially eaten with the bitter herbs called the maror (horseradish). In our family, there is always leftovers, and we enjoy it all week on our homemade Matzo.
Charoset Recipe
A sweet apple and nut mixture used as part of the Jewish Passover seder.
Ingredients
2 1/2 pounds apples
1 1/2 cups walnut pieces
15 ounces raisins
6 ounces honey
Cinnamon to taste
Instructions
Core and dice apples
Mix apples, walnuts, raisins, and honey in a large bowl
Sprinkle cinnamon generously
Notes
If you prefer a more traditional Ashkenazi charoset recipe that is made with wine, you can make the following adjustments:
Reduce honey to only 2 ounces
Add 1 tsp white or brown sugar
Add 1 TBS sweet red wine (like Manischewitz)
Recommended Products
As an Amazon Associate and member of other affiliate programs, I earn from qualifying purchases.
Nutrition Information:
Yield:

40
Serving Size:

¼ cup
Amount Per Serving:
Calories:

85
Total Fat:

3g
Saturated Fat:

0g
Trans Fat:

0g
Unsaturated Fat:

2g
Cholesterol:

0mg
Sodium:

2mg
Carbohydrates:

16g
Fiber:

1g
Sugar:

13g
Protein:

1g
Nutritional information isn't always accurate and it will vary based on the specific ingredients used.
Tips for homemade charoset
If you use a food processor to chop the apples, take caution not to over-process. We always chop them by hand.
Store in the refrigerator, although it's best served at room temperature.
We like it even better on day two after the flavors have all blended together.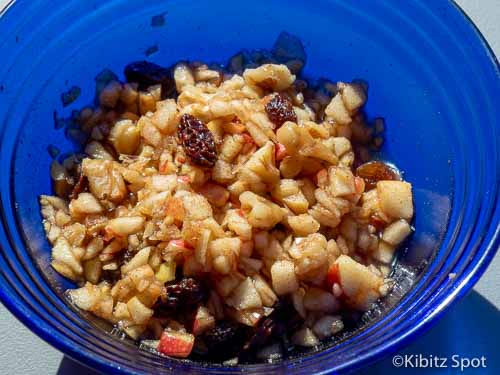 *For the seder, you need finely chopped apples, as it represents the mortar. However, if you are making it for any other time, the chunky tastes just as good and is quicker to make.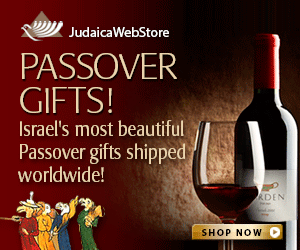 Ashkenazi or Sephardic charoset recipe
There are plenty of charoset recipes out there, each one a bit different. Traditional Ashkenazi charoset recipes have apples, nuts, cinnamon, and red wine. Ours skips the wine and has honey instead. In contrast, a traditional Sephardic charoset recipe will have dates, raisins, walnuts, orange peel, more spices and, of course, apples. Our recommended recipes:
Naturally, we recommend our grandma's recipe above if you want an Ashkenazi charoset recipe without wine,or with the adaptations, if you want the wine.
If you are looking for a traditional Sephardic recipe, check out this one.
Share and save this charoset recipe for later
If you enjoyed this recipe, please share it on social media and save it for later on Pinterest.
More articles on Passover you might like