Jewish people all over the world recognize the sounds of the shofar, a ram's horn that is blown on certain holidays. When not in use, the shofar can be a beautiful display piece, either on its own, or as part of a collection of Judaica. While purchasing a shofar is easy, getting what you want requires a bit of knowledge, all clearly presented below in this shofar buying guide.
We had a shofar on the mantel growing up. It was a wedding gift to my parents, and something they always treasured. We know others that gifted a shofar on Rosh Hoshana, although it's not typically a gift-giving holiday.
Polished and lovely, ours stands on an acrylic base. It is smaller than one of the shofars blown at the temple. but larger than the other. It got me thinking about what I want to know before buying my own shofar.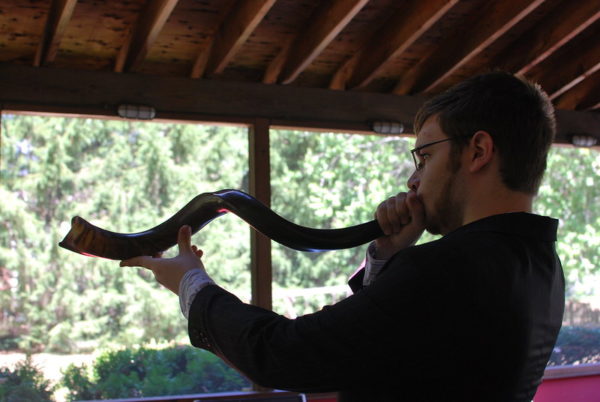 Shofar buying guide details
What is a shofar?
It's a trumpet-like instrument usually made from a ram's horn, and used in certain Jewish religious ceremonies.
What is a 'kosher' shofar?
Only a kosher shofar should be used during the High Holy Days. Amongst many of the rules, a kosher shofar cannot have cracks or holes, even if patched, that have gone through both the outer and inner layers, thus affecting the sound quality. Kosher shofars will be labeled "Hechsher."
Are all shofars made from ram's horn?
While most shofars are made from a ram's horn, the horns of other kosher animals can also be used.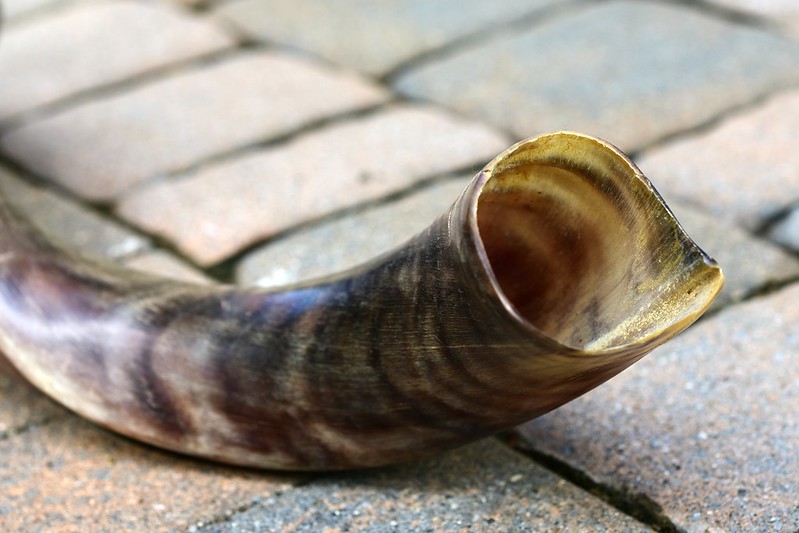 How is a shofar made?
Like many items used in religious ceremonies, there is a rigid process for making a shofar. From the sorting to the prepping, you can read about it all here.
What is the best size for a shofar?
This is a personal question without an answer. What a buyer needs to know is that the shofar is measured along the curve, not from end to end.
What is the difference between a natural and a polished shofar?
The horn can either be polished to a shine, or left natural. Typically, when a shofar has both, the bottom is polished, leading up to a natural top.
Can I get a shofar made in Israel?
Many of the shofars below are made in Israel, and delivered worldwide.
Is it easy to blow the shofar?
Blowing the shofar is a skill. It's not easy and it takes practice. The trick is to tense up your lips and vibrate them against the shofar. Longer shofars tend to have larger mouthpieces; therefore, are easier to play as there is more space for the air to vibrate.
Shofar buying guide
As an Amazon Associate and member of other affiliate programs, I earn from qualifying purchases.
Shofar Buying Guide
A shofar is an ancient instrument typically made from a ram's horn and used as part of a Jewish ceremony. It makes a wonderful wedding or anniversary gift. There are a variety of different shapes and sizes and the right one is the one you want. However, there is some tradition behind what you will most commonly find in various regions.
TWO IMPORTANT NOTES:
1. As an organic, natural product, Shofars vary in color and length; therefore, the one you purchase may be slightly different to that pictured.
2. Also note that shofars are measured around the curve; therefore, may appear shorter than you were expecting.
Classic short curved ram or goat's horn shofar
A short, curved ram or goat's horn is the traditional preference amongst mainstream Ashkenazi and Sephardic Jews.
Photo Credit: judaicawebstore.com
Natural, each shofar is different, yet crafted according to ancient tradition. Made in Israel, this shofar is available in a variety of sizes. This one is 14-16 inches.
Photo Credit: amazon.com
This small rams horn shofar from Israel is only 9-12 inches, measured along the curve.
Photo Credit: amazon.com
Made in Israel and certified Kosher, this is the polished version of the classic shofar. It is made from an authentic rams horn and available in a variety of sizes from 10-12 inches to 20-22 inches.
Photo Credit: amazon.com
The blend from polished to natural is favored by many. Although generally more common in the Yemenite style horn, we were pleased to find this classic-style, half-polished Kosher shofar from Israel. It measures 15-17 inches. It even includes a bag.
Long spiral kudu horn shofar
The traditional Yemenite shofar is an impressive large spiraled horn from a kudu, an antelope of southern and western Africa.
Photo Credit: judaicawebstore.com
Personally, this one is my favorite. I love the natural finish and the long spiral of the kudu horn. It is 22-24 inches and crafted with ancient traditions.
Photo Credit: amazon.com
Available in 11 different lengths, ranging from 20-22 inches to 48-50 inches, this half polished kudu horn fits into any budget. It is crafted in Israel and kosher.
Decorative shofars
While classic shofars have remained virtually unchanged for thousands of years, decorative shofars have emerged in modern times. Many talented artists have created stunning shofars to represent the Jewish faith. While these are attractive on a shelf and make great gifts, many rabbis do not recommend their use during the High Holy Days.
Photo Credit: judaicawebstore.com
The hoshen surrounded by a golden frame and inlaid with 12 colorful gemstones in a 925 sterling silver-plated band is the highlight of this shofar available in sizes ranging from 12-14 inches to 18-21 inches. It's made in Israel by Barsheshet-Ribak, a family business dating back to 14th century Spain.
Photo Credit: judaicawebstore.com
Hand-painted in Israel when ordered, each is unique with a black to white gradient background and intricate details in a dotted design. It's approximately 15.7 inches measured over the curve and takes 15 days from order before it is shipped.
Photo Credit: judaicawebstore.com
This 925 sterling silver-plated polished ram's horn shofar features both the word Jerusalem and the depiction of the city. It's created in 5 lengths, ranging from 10-12 inches to 20-22 inches.
Photo Credit: israel365.com
This one, also made in Israel, is 12-14 inches when measured around the curve.
Shofar stands
If you are planning to display your shofar, you might want to add a stand to your purchase.
Photo Credit: amazon.com
If you are looking for a basic stand for your Yemenite, Gemsbok, or large ram shofar, this is it. The bottom length is 11 inches.
Photo Credit: amazon.com
Made from acrylic, this shofar stand features a detailed laser-cut illustration of Jerusalem. It is suitable for all small size classic shofars, but not for Yemenite shofars.
Photo Credit: amazon.com
Made In Israel, this attractive shofar stand is 100% natural, and a bit different from the traditional acrylic stand.
Photo Credit: amazon.com
If you are looking for a colorful and modern display, check out this one from the studio of Yair Emanuel. It's hand-painted in Jerusalem and based on a creative blend of traditional and ancient motifs with a modern twist.
It is suitable for ram's horn shofars ranging from medium to jumbo in length, however, it is not suitable for Yemenite shofars.
(Yair Emanuel is one of my favourite studios, featuring colourful Judaica ranging from shofar stands to seder plates and menorahs.)
Please share and save for later
If you enjoyed this article, please share it on social media and save it for later on Pinterest.
Did this shofar buying guide help you?
Photo credits:
Shofar image photo credit: slgckgc. License (CC BY 2.0)
Image of the ram's horn shofar used in the pin by faherneit451 from Pixabay.