Our dairy-free coleslaw is gluten-free,and really easy to make. It's a perfect and healthy side dish to many meals.
Naturally gluten-free, and usually dairy-free, coleslaw is a quick, easy, healthy, and delicious side dish, complimenting nearly any sandwich or BBQ meal. My husband's passion for side salads shines through in this easy coleslaw recipe.
By definition, coleslaw is simply chopped or diced cabbage with a dressing. Yet, somehow, there are seemingly endless recipes and add-in options, each resulting in different flavors. Our recipe creates a gluten and dairy-free coleslaw that is crispy, creamy, sweet, and tangy.
I don't know why, but growing up I was never a fan of coleslaw. Now I love it, and I am pretty sure the difference has to do with Jeff's preparation.
This coleslaw ticks all of the boxes
Naturally gluten-free (and celiac safe)
Dairy-free
Easy to make
Prepared from common ingredients already in my pantry and refrigerator
You can prepare it in advance. In fact, it actually tastes better on day two
In this case, spelling doesn't matter – they are all correct:
Coleslaw = cole slaw = slaw
What you need to make coleslaw
We make our coleslaw directly into the serving and storage bowl. As we shake it rather than stir in the final stages, an airtight leak-proof seal is necessary.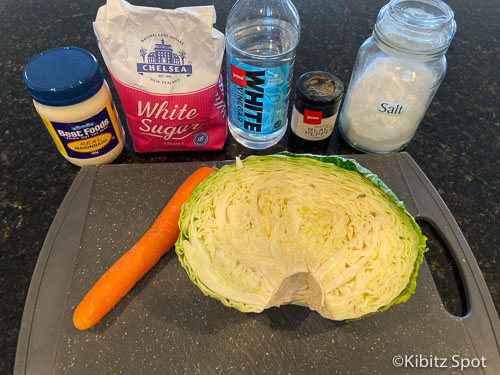 Coleslaw making supplies:
Homemade coleslaw ingredients:
Green cabbage (shredded and diced)
Carrot (shredded)
White vinegar
Mayonnaise
White sugar
Salt and pepper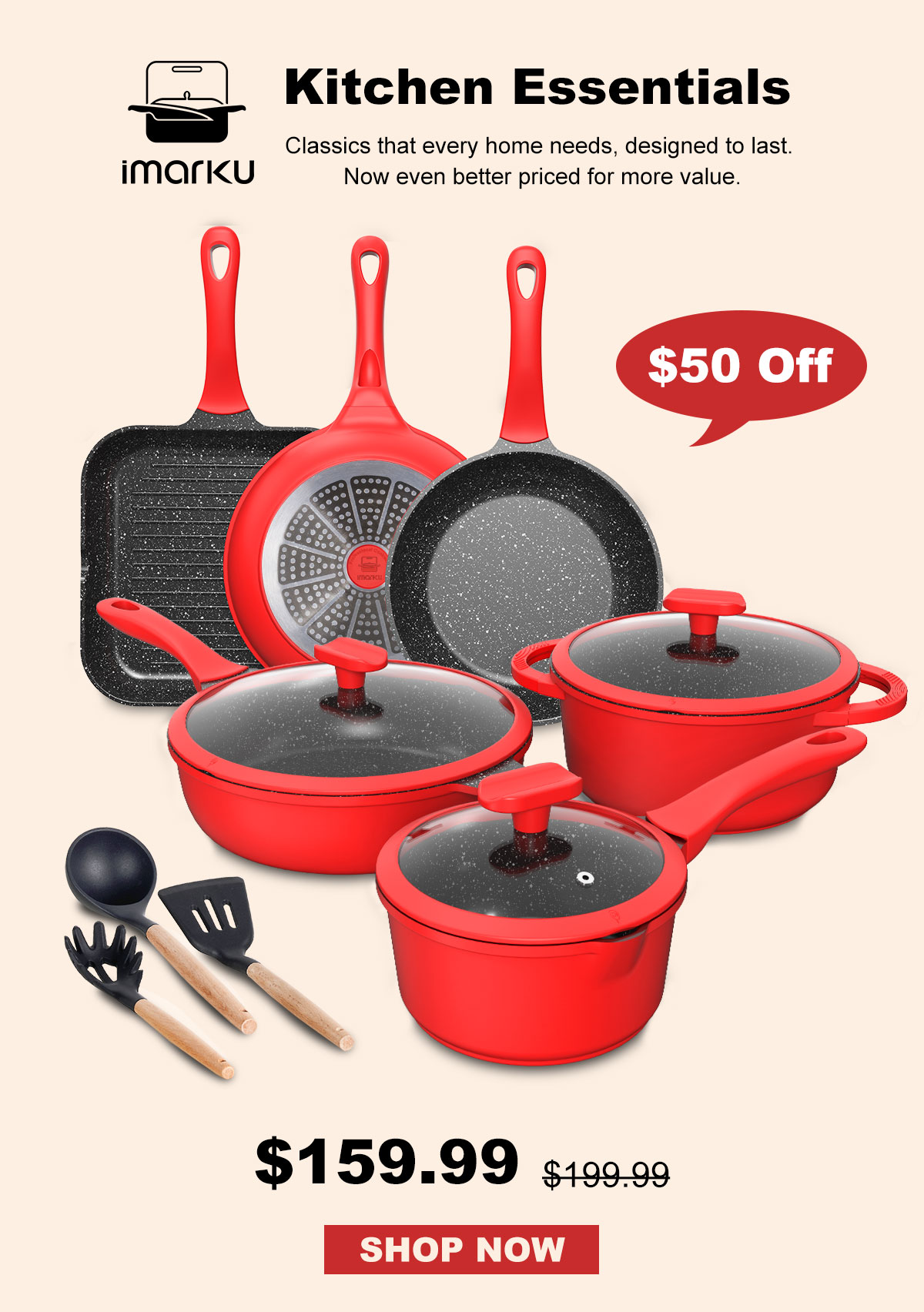 Why we chose our coleslaw ingredients
Disclaimer: Statements regarding health benefits are not intended to diagnose, treat, cure, or prevent any disease or health condition.
Cabbage: We use green cabbage (also called common cabbage) as it is low in fructans. Whereas red cabbage makes for a more colorful salad, a huge portion can affect people limiting their fructans, like me, and sometimes I like to overeat the coleslaw, as it's so tasty.
Vinegar: We use white vinegar as it gives a lighter taste than the apple cider vinegar we see used in many recipes. However, if you prefer a tangier taste, you can substitute the apple cider vinegar in the same proportions.
Sugar: Similarly, we use sugar rather than substitutes, as we find it dissolves well and we like the taste. However, if you are sugar-free, you can replace it with your standard sugar substitute.
Step by Step images to our simple dairy-free coleslaw recipe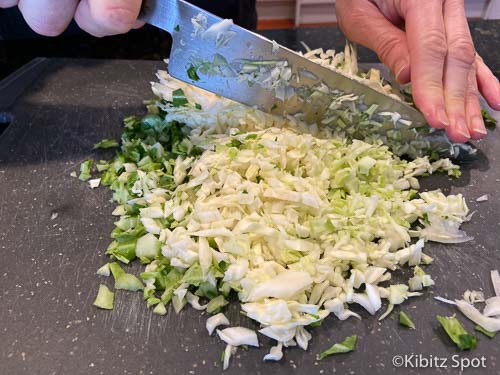 Dairy-free coleslaw serving suggestions
I like coleslaw as a side dish along with a sandwich or freshly made corned beef. Fortunately, Jeff's coleslaw is dry enough to sit on the plate, alongside a sandwich, without the liquid running down the plate and into the bread. But that's not all, at our house we eat coleslaw all sorts of ways:
Alongside a sandwich
On a sandwich
Dual-purpose on a lettuce salad as both a topping and in place of the dressing
As one of many side salads at a BBQ with friends
As a second side dish with sweet potato fries
On top of a meat and bean chili
In a bowl as a snack
The perfect salad to bring to a pot luck dinner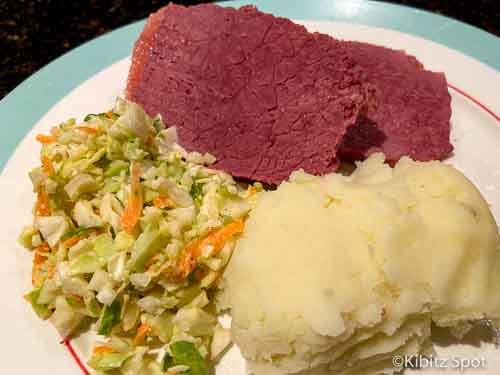 Our gluten and dairy-free coleslaw recipe
This recipe was contributed by Jeff Albom.
Cole Slaw
This classic coleslaw recipe makes a great side dish for BBQs, delicatessen, or any American or Kosher food. It is easy to make, gluten-free, dairy-free, low calorie, and quite tasty.
Ingredients
6 cups (700 grams) shredded and diced green cabbage
1 medium carrot, shredded
1/3 cup vinegar
1/3 cup mayonnaise
1 Tablespoon white sugar
½ teaspoon salt
1/8 teaspoon black pepper
Instructions
Mix vinegar, sugar, salt, and pepper in a large Tupperware bowl* until partially dissolved. Add the mayonnaise to the bowl and continue mixing to remove clumps.
Add half the diced cabbage (about 3 cups) and all the shredded carrot to the bowl. Mix with a fork or spoon. Add the remaining diced cabbage and mix well.
Seal the container and shake, invert, and roll to insure liquid dressing evenly coats the shredded cabbage and carrot.
Serve immediately or refrigerate as the flavor improves after several hours.
Notes
*To simply clean up, we use a Tupperware style bowl with an air-tight lid for both mixing, storing, and serving.
Nutrition Information:
Yield:

12
Serving Size:

1
Amount Per Serving:
Calories:

49
Total Fat:

5g
Saturated Fat:

1g
Trans Fat:

0g
Unsaturated Fat:

4g
Cholesterol:

3mg
Sodium:

129mg
Carbohydrates:

2g
Fiber:

0g
Sugar:

1g
Protein:

0g
Nutritional information isn't always accurate and it will vary based on the specific ingredients used.
Additional coleslaw recipes to try
If it's a Creamy Vegan Coleslaw you are seeking, check out this recipe from Vegan Huggs.
Apple, jalapeno, and green onion are the secrets to this mayonnaise free Red Cabbage Coleslaw with Apple and Carrot option from The Rising Spoon.
For a different flavor, try this Asian Sesame Ginger Slaw from Served from Scratch.
Please share our dairy-free coleslaw and save for later
If you enjoyed this article, please share it on social media and save it for later on Pinterest.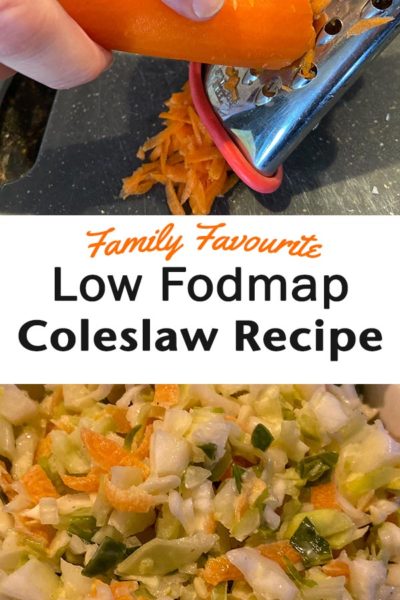 Will you try our dairy-free coleslaw recipe?
You might also like