Steamed beets are a delicious root vegetable that's super easy to prepare. Loaded with vitamins and antioxidants, they are a great addition to salads and sandwiches. In addition, beets may lower blood pressure, reduce cancer risk, and have anti-inflammatory properties.
How did I grow up without discovering the simple process to make our own steamed beets?
I have always enjoyed raw beetroot, but only in small quantities and usually shaved into a salad. However, I was under the misconception that it took heavy processing to create the softer, tender, deeper crimson-colored sliced beetroot found in a can.
While it's not as simplistic as I do at home, many companies add a few ingredients. More importantly, steaming beetroot at home is quick, easy, and the result is more flavorful than what comes in a can.
Honestly, it's so simple, I am almost embarrassed to write about it. But, if I didn't know, maybe you didn't either.
As it turns out, my hubby knew the secret all along. In fact, it's not a secret. Steaming beets is nearly as easy as boiling water. I am only slightly exaggerating about this.
Before we get into the simplicity, let's talk about why we eat beetroot in the first place.
Why eat beetroot?
Disclaimer: Statements regarding health benefits are not intended to diagnose, treat, cure, or prevent any disease or health condition.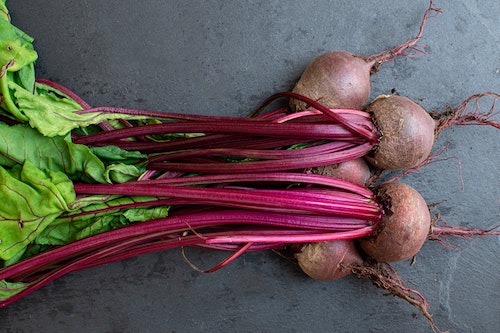 Beets have a multitude of health benefits and are a great source of potassium, manganese, and vitamins A, B9 (folate), and C. According to WebMD, they are one of a handful of vegetables containing betalains, an antioxidant known to reduce inflammation and may even protect against certain diseases including cancers.
WebMD goes on to tell us that beets may:
Increase sports stamina
Prevent heart disease and stroke
Lower blood pressure
Boost the immune system
Supporting all of this, BBC goes on to say that beets may also improve digestive health. You can also get many of the health benefits from beetroot powder. We prefer the Nature Plus You powder as it is organic, gluten-free, and gmo-free.
Serving suggestions for steamed beets
In addition to all the health benefits, there is the personal reason for eating beetroot – beets taste great! Steamed, they are naturally sweet and very tender. Here are some of the ways we eat it:
Hunks of steamed beets on salads
As an ingredient in dips and spreads (such as hummus)
Sliced on top of a hamburger (this is a standard option in New Zealand)
In smoothies.
A reminder: that the deep crimson red beetroot color can stain.

It has no mercy, staining chopping boards, clothes, placemats, carpet, and some porous dishes. And, if you make your own beetroot baby food and let your young toddler enjoy it with their fingers, you will be in for a real mess. We learned this the hard way.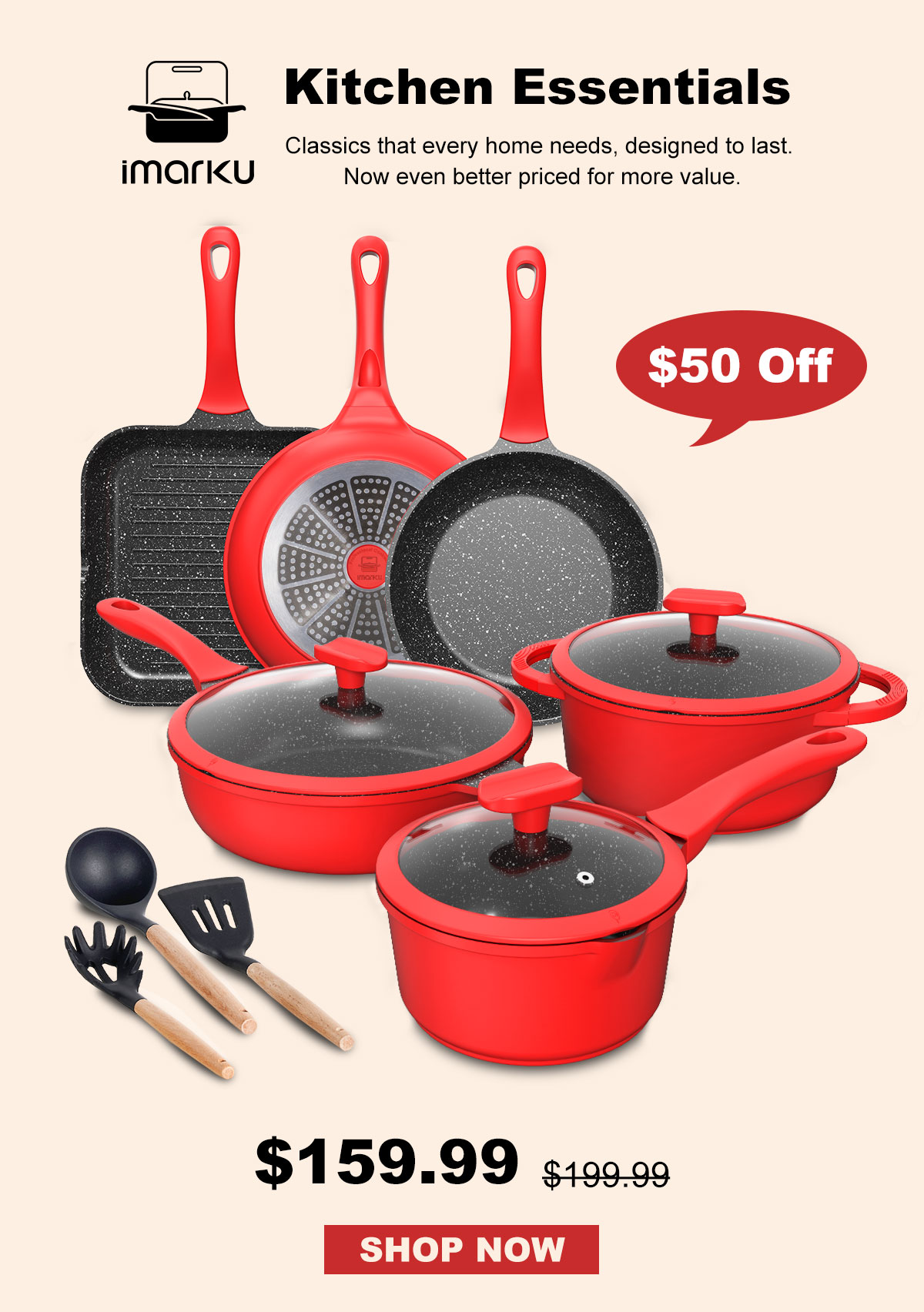 How to steam beets (printable recipe below)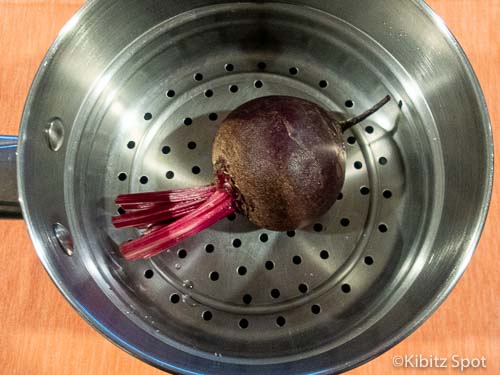 The recipe is embarrassingly simple. All you need is:
Raw beetroot

Boiling water
And the process:
Remove most of the stem and clean the beet bulb. (Remember, it is a root vegetable, so this is the part that was under the dirt. )
Add boiling water to a saucepan topped with a steamer basket containing the beetroot.
Cover and s

team for ½ hour at medium heat

.
R

emove from the stove and let cool

before cutting off the remaining stem and tip. Gently peel or rub off the skin, remembering to be careful where the juice drips as it stains fabric.
Where to get beets
You can purchase freshly grown beets at most grocery stores, vegetable markets, and seasonally at farmer's markets.
Also, in most grocery stores, you can find canned beets. In my opinion, they never taste as good as freshly prepared beets. Plus, as we discussed above, they often have added ingredients ranging from Del Monte with sugar and sea salt to S&W beets that are pickled with red wine vinegar.
Our steamed beets recipe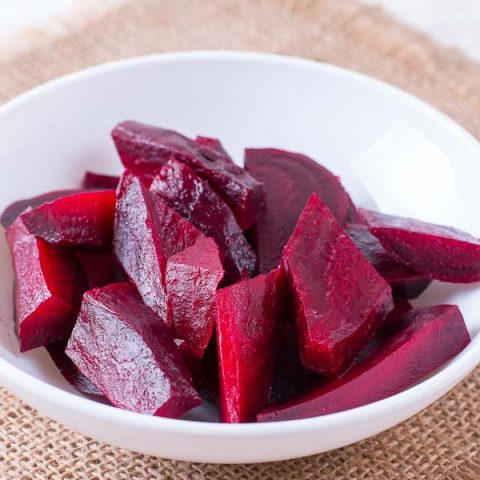 Steamed Beets
Yield:
1 steamed beetroot
Additional Time:
15 minutes
Steamed beets are a healthy ingredient for salads, soups, and dips and as a hamburger topper. Loaded with vitamins and antioxidants, this root vegetable may lower blood pressure, reduce cancer risk, and has anti-inflammatory properties.
Ingredients
1 Beet, medium (2" diameter)
2 cups Water
Instructions
Cut the stem short on the beetroot and lightly scrub clean the stem and bulb.
Add 2 cups boiling water to the bottom of the saucepan.
Place the beetroot in the top of a steamer basket.
Set temperature to medium, cover the pot and steam the beetroot for ½ hour. Remove from the stove.
Once cool, cut off the stem and root tip and peel or rub the skin off.
Notes
Two cups of water is an estimate. Add enough water to the steamer pot so it does not dry out during the ½ hour steaming time.
When peeling or rubbing the skin off, do it over a bowl, pot, or sink so the color does not stain. Your fingers will turn pink but they should easily clean off.
Recommended Products
As an Amazon Associate and member of other affiliate programs, I earn from qualifying purchases.
Nutrition Information:
Yield:

1
Serving Size:

1 beet root
Amount Per Serving:
Calories:

44
Total Fat:

.2g
Saturated Fat:

0g
Cholesterol:

0mg
Sodium:

70mg
Carbohydrates:

10g
Fiber:

2g
Sugar:

8g
Protein:

1.7g
Nutritional information isn't always accurate and it will vary based on the specific ingredients used.
You can use these steamed beetroots in our beetroot hummus recipe.
Please share and save for later
If you enjoyed this article, please share it on social media and save it for later on Pinterest.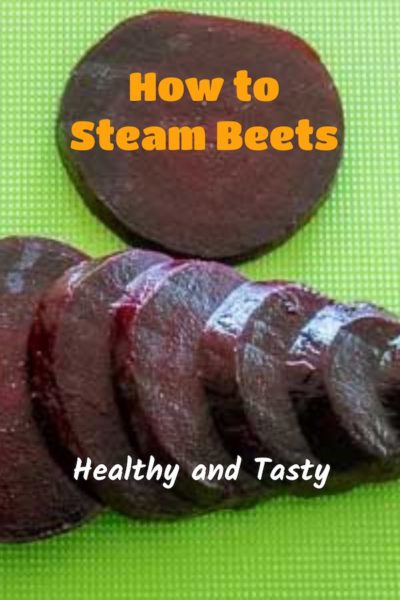 Will you try steamed beetroot in a salad, on a burger, or in a recipe?
More recipes you might like: