Our dairy and gluten-free banana nut muffins are made with walnuts and chia seeds. Low FODMAP, this quick and easy recipe makes a delicious breakfast muffin.
Are you like me and craving the tasty banana walnut muffins from your days of eating gluten? Good news! We have created a solution that goes a step further. Our gluten-free banana nut muffins are loaded with superfoods, dairy-free, low FODMAP, and delicious!
Best of all, it's easy to prepare just one muffin for my breakfast. While it uses only a few ingredients, be aware that you will need one banana per muffin. Five minutes from concept to oven, and then I can enjoy my morning coffee while the house fills with the aroma of fresh baking.
I find the recipe produces the perfect muffin size for breakfast. Some call it Texas muffins, others call it jumbo, while we just call it large-sized. Either way, our dairy and gluten-free banana nut muffins are dense and filling. Plus, it's loaded with healthy banana, walnuts, and chia seeds.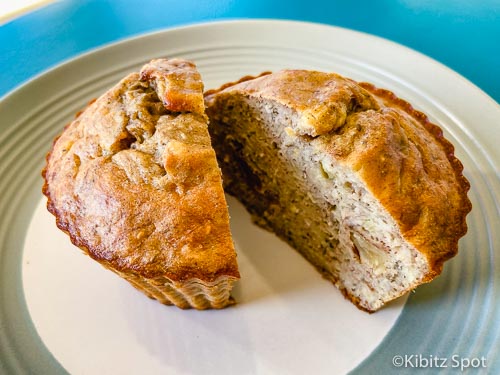 If I am baking for morning tea or an after school snack, or on those mornings when I am just not that hungry, the recipe can be prepared as two normal muffins or six mini muffins.
What you need for our dairy and gluten-free banana chia muffins with walnuts
Banana
Self-rising gluten-free flour
Egg
Walnuts
Chia seeds
Cinnamon
Here's why we included several superfoods
Disclaimer: Statements regarding health benefits are not intended to diagnose, treat, cure, or prevent any disease or health condition.
Walnuts can help reduce the blood pressure response to stress (according to this WebMD article).
Chia seeds are a great source of omega-3 fatty acids and fiber (according to this WebMD article).
Cinnamon may reduce inflammation, fend off free radicals, and fight bacteria (according to this WebMD article).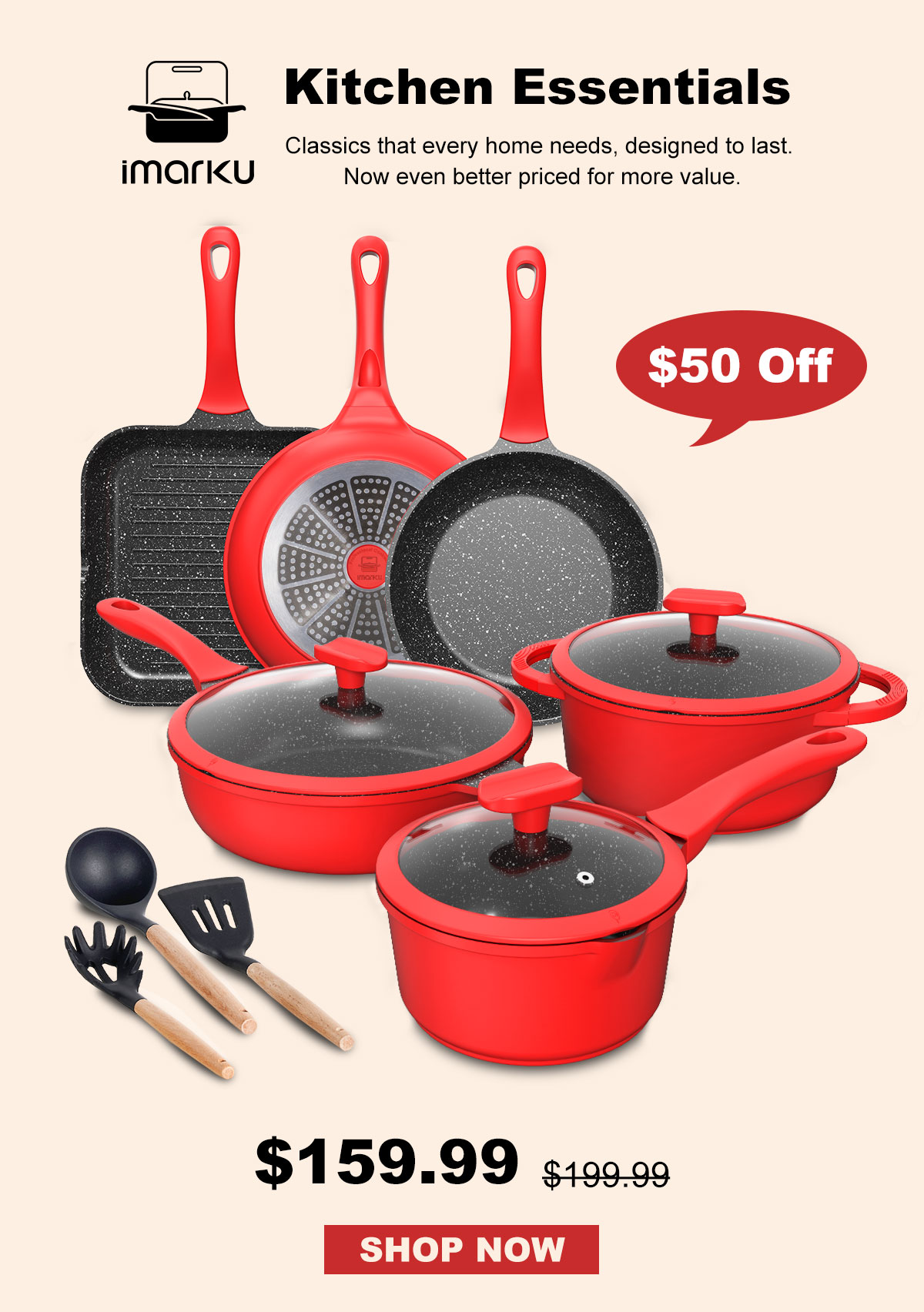 Are you following a low FODMAP diet?
While all of the ingredients in this recipe are listed on the Monash University low FODMAP diet app as being safe in the quantities used in all six FODMAP categories, we want to talk briefly about bananas.
If you are following a low FODMAP diet, choose a greenish banana to use in your muffins. As bananas ripen the starch is converted to sugars. We see this as they transform from green (low in oligo-fructans) to yellow (high in oligo-fructans). Monash University explains it in detail here.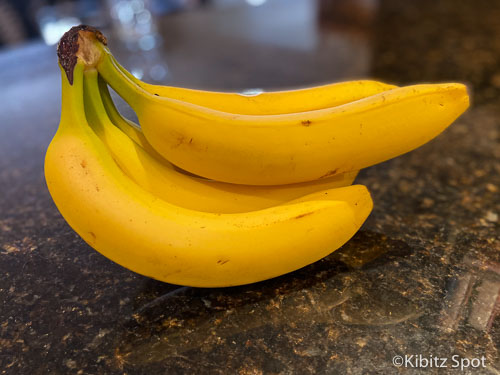 Our dairy and gluten-free banana nut muffins recipe ticks all of the right boxes
Quick and easy to make
Gluten-free
Dairy-free
Low FODMAP (with green bananas)
Makes a single breakfast muffin or multiple snack-size servings
Plenty of options for additions and new flavors
Step-by-step to our dairy and gluten-free banana nut muffins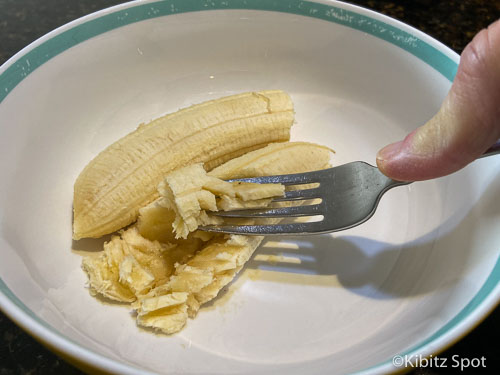 How to adjust the cooking time for smaller muffins
If this is your first time baking gluten-free muffins, you might be surprised by how long they take to cook. As gluten-free banana nut muffins tend to be denser than traditionally made wheat-based muffins, they require extra cooking time.
We cook these muffins at 350ºF (177ºC). Using the quantities in the recipe at the bottom of the page, you will get either:
One jumbo muffin: cooking time = 30 min.
Two regular muffins: cooking time = 20 min.
Six mini muffins: cooking time = 14 min.
*Times and measures calculated based on Delishably.
(Or, if you want something even quicker, we use nearly identical ingredients when we make our mouth-watering gluten and dairy-free banana pancakes. In fact, we sometimes call the current recipe banana pancake muffins.)
Gluten and dairy-free banana muffin options
Banana blueberry muffins
Simply fold in a handful of blueberries instead of the walnuts into the final batter before cooking. If you use frozen blueberries, there is no need to defrost them before cooking, but remember to add about 5 minutes to the cooking time.
Note: If you are following a low FODMAP diet, note that both blueberries and banana have fructans at higher levels.
Banana peanut butter muffins
The basic recipe calls for two tablespoons of self-raising gluten-free flour. My sister substitutes one of the tablespoons equally for PB2, a powdered peanut butter. When I do this, I also like to leave out the walnuts and add in some blueberries.
Crunchy peanut butter banana muffins
Sometimes, I leave out the walnuts and add in a tablespoon of crunchy peanut butter. Cooking time is about 5 minutes longer, but peanut butter fans will love it! And, when I find dairy-free chocolate chips, I add them too.
Our gluten and dairy-free banana nut muffin recipe
This recipe was adapted from a recipe created by Stefanie Rembizewski.
Dairy and Gluten-Free Banana Walnut Muffins - Low FODMAP
A quick and easy single-serve breakfast that is gluten and dairy-free. If made with unripe bananas (100g), the muffin is also low FODMAP.
Ingredients
1 banana (medium size - 100 grams)
1 egg
2 Tablespoons gluten-free flour (self-rising)
1/8 teaspoon cinnamon
1 teaspoon chia seeds
1 Tablespoon walnut pieces (generous tablespoon)
Instructions
Preheat oven to 350ºF (177ºC).
Mash peeled banana in a shallow bowl.
Add the cinnamon (about 2 shakes from a bottle). Mix.
Add the egg and beat with a fork until the banana and egg are well-mixed. There will be some banana lumps.
Stir in chia seeds and walnut pieces.
Add the self-raising gluten-free flour and fold into the egg banana mixture until smooth with no big lumps.
Pour batter into a single silicone muffin mold.
Bake at 350ºF (177ºC) for 30 minutes, until golden brown on top.
Notes
Self-rising gluten-free flour substitute:
2 Tablespoons all-purpose gluten-free flour
1/8 teaspoon gluten-free baking powder
For Microwave oven alternative:
Cook on high for 4-5 minutes until the outer edge appears dry, although it will still be moist inside.
Recommended Products
As an Amazon Associate and member of other affiliate programs, I earn from qualifying purchases.
Nutrition Information:
Yield:

1
Serving Size:

1 muffin
Amount Per Serving:
Calories:

296
Total Fat:

11g
Saturated Fat:

2g
Trans Fat:

0g
Unsaturated Fat:

8g
Cholesterol:

186mg
Sodium:

73mg
Carbohydrates:

42g
Fiber:

5g
Sugar:

15g
Protein:

11g
Nutritional information isn't always accurate and it will vary based on the specific ingredients used.
See more recipes by Stefanie
Please share and save for later
If you enjoyed this recipe, please share it on social media and save it for later on Pinterest.
Will you make one large or several mini gluten-free banana nut muffins?
More breakfast recipes you might like