These dairy and gluten-free cinnamon swirl muffins create a delicious and healthy breakfast with nutritious zucchini, raisins, and several spices with anti-inflammatory properties.
Breakfast, snack time, or dessert, I think my sister came up with a real winner when she modified her favorite muffin mix, thus creating healthy gluten-free cinnamon swirl muffins. Moist and delicious, these muffins will quickly take over as a family favorite.
If you have never baked with zucchini before, don't let this vegetable confuse you. Mixed in with muffins, it is sweet, tasty, and healthy, bringing additional nutrients and antioxidants to every bite.
And that's not all. By adding in cloves, ginger, and nutmeg (along with the cinnamon), these healthy muffins become a bit of a superfood, offering anti-inflammatory, digestive, and anti-bacterial benefits.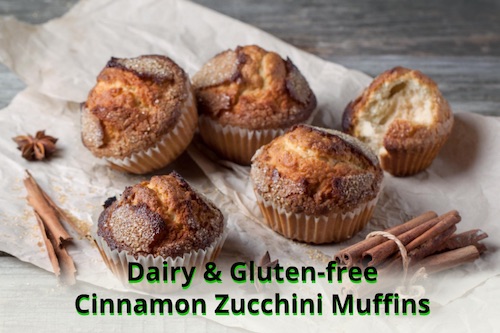 These gluten-free cinnamon swirl muffins tick all of the boxes
Gluten-free and dairy-free
Easy to make
A healthy adaptation from a mix that contains no artificial flavors, colors, or preservatives
Makes great mini-muffins for parties and pot-luck events
Contains cinnamon, ginger, nutmeg, and cloves. Each of these four spices has anti-inflammatory properties, according to Healthline*.
*See Healthline articles here and here.
What you need to make gluten-free cinnamon swirl muffins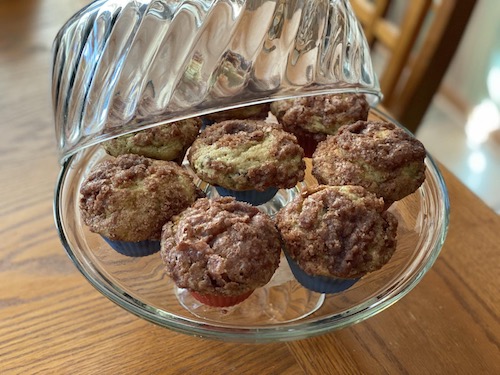 How Krusteaz got their name
My sister shares her research:
"Funny thing, I always thought this was a fancy imported brand from Germany or something, but the story on the box tells of a few women during the depression (1932) that invented an easy pie crust mix and called it "Krusteaz" (crust+ease). I learn something new every day! And now I know how to pronounce it."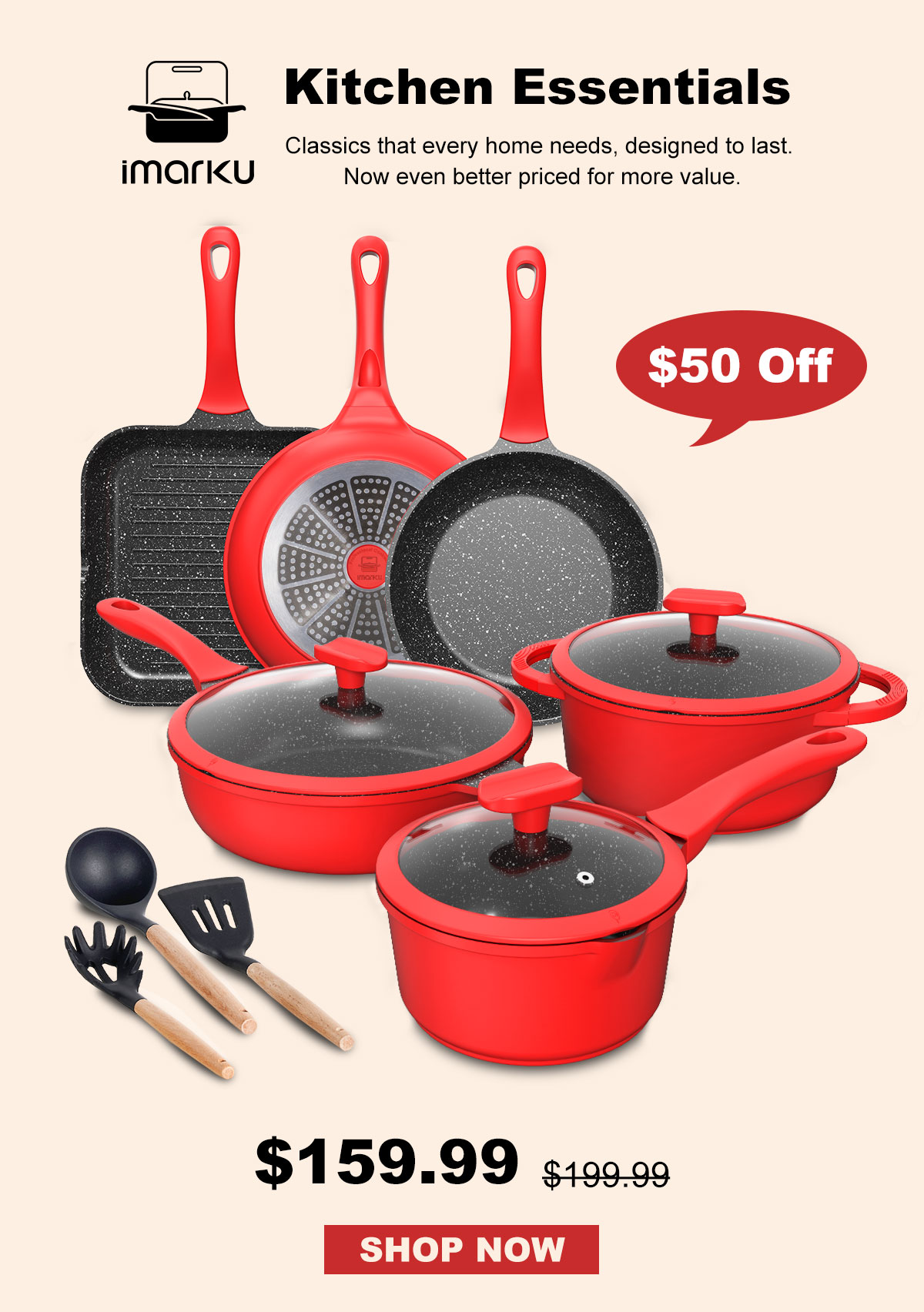 Adjustment from the Krusteaz gluten-free cinnamon swirl mix
These muffins taste quite a bit different from those made directly from the package. We make the following adjustments:
Omit water and one of the five eggs
Add shredded zucchini
Add raisins
Include additional spices: ginger, cloves, and nutmeg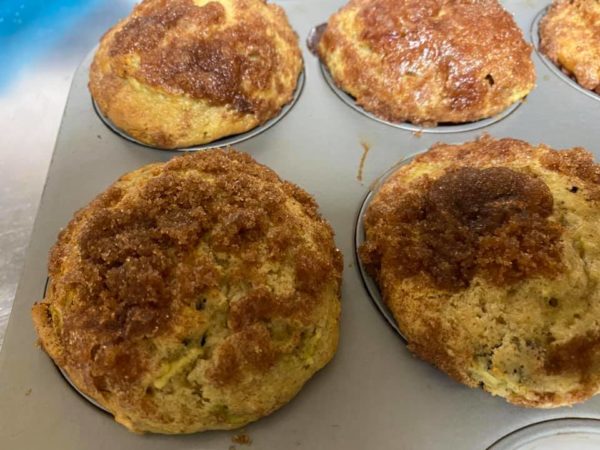 Serving suggestions
I love these muffins for breakfast alongside a turmeric almond milk latte. It keeps my entire meal gluten and dairy-free. And, more importantly, it's delicious!
Gluten-free cinnamon swirl muffins recipe
This gluten-free cinnamon muffins recipe was contributed by Stefanie Rembiszewki, the talented violinist behind Classical Aisles.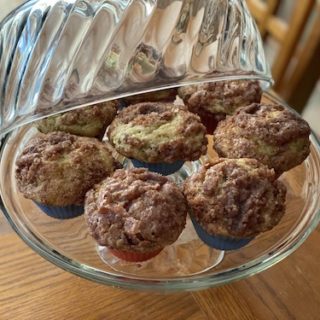 Gluten and dairy-free cinnamon swirl muffins
Easy dairy and gluten-free cinnamon swirl muffins with zucchini and raisins.
Ingredients
1/3 cup vegetable oil
4 eggs
2 cups zucchini (shredded)
1/2 cup raisins
1/4 teaspoon ginger
1/8 teaspoon cloves
1/8 teaspoon nutmeg
Instructions
Preheat oven to 400ºF (200ºC).
Line muffin pan with baking paper or cups (or use a silicone muffin pan).
Pour muffin mix into a mixing bowl. Stir in spices.
Stir in eggs, one by one. Add oil and mix. The batter will be lumpy.
Fold in shredded zucchini and raisins.
To add cinnamon flavor throughout, half fill twelve muffin cups with the batter. Then sprinkle half of the mix's cinnamon topping over the batter.
Evenly spoon the remaining batter onto each muffin and sprinkle the remaining cinnamon mixture on top.
Bake for 14-16 minutes, until golden brown.
Cool on a rack for 5-10 minutes before serving.
Notes
For mini muffins, reduce cooking time to 8 - 10 minutes.
Recommended Products
As an Amazon Associate and member of other affiliate programs, I earn from qualifying purchases.
Nutrition Information:
Yield:

12
Serving Size:

1 Muffin
Amount Per Serving:
Calories:

156
Total Fat:

10g
Saturated Fat:

2g
Trans Fat:

0g
Unsaturated Fat:

8g
Cholesterol:

67mg
Sodium:

73mg
Carbohydrates:

14g
Fiber:

1g
Sugar:

9g
Protein:

3g
Nutritional information isn't always accurate and it will vary based on the specific ingredients used.
See more recipes by Stefanie
Please share and save for later
If you enjoyed this article, please share it on social media and save it for later on Pinterest.
Breakfast or snack time, when will you enjoy these cinnamon swirl muffins?
More breakfast recipes you might like
Disclaimer: Statements regarding health benefits are not intended to diagnose, treat, cure, or prevent any disease or health condition.