A collection of 32 gluten-free dairy-free cookie recipes covering a full range from chocolate chip to peanut butter and a lot of other options.
Chocolate chip cookies, meringues, lemon drops, macaroons, and so many other tempting cookies are still part of my diet, despite being dairy and gluten-free. With just a little creativity in the kitchen, even traditional food eaters can't tell the difference.
Best of all, you don't need to do the experimentation yourself. Below are 32 of the best gluten-free, dairy-free cookie recipes we can find.
This collection covers the full gambit of options, starting with my favorite chocolate chip cookies and including classics like sugar cookies, amaretti, ANZAC biscuits, and peanut butter balls. And, yes, all are gluten-free dairy-free cookie recipes.
Get ready for a sweet adventure!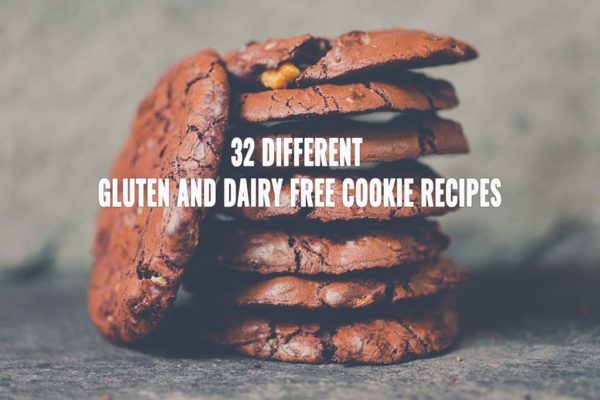 Be sure to read the ingredient labels
Disclaimer: Statements regarding health benefits are not intended to diagnose, treat, cure, or prevent any disease or health condition.
There are so many different dietary requirements these days. Some are for personal choice. Others are medical. If you are baking for other people with dietary restrictions, it's best to ask them for their requirements for ingredients and preparation. Here are a few words to keep an eye out for on the package.
Vegan: By definition, vegan products are dairy-free.
Paleo: Products labeled paleo should be both gluten-free and dairy-free.
Keto: keto-friendly offers no information on either gluten or dairy. You will need to read the ingredients.
'May contain traces' or 'Made in a factory that also produces' (gluten, dairy, milk, soy, tree nuts, or any other items): Some people with dietary restrictions can eat these, while others cannot. Best to ask if the cookies you are making are not for you.
Gluten-free: Please note that some of the recipes contain oats. While not gluten, many people who are gluten-free avoid eating oats.
32 Gluten-free dairy-free cookie recipes
To make it easy to find what you are looking for, this list is divided into sections based on flavors. However, please note that there is some overlap in several categories. Combinations like chocolate and peanut butter are clear favorites.
While some of the recipes are flourless, others use general all-purpose gluten-free flour, almond flour, coconut flour, or oat flour.
Other less traditional cookie ingredients include avocado, banana, pumpkin, and a few surprises.
The list of gluten-free dairy-free cookie recipes is divided as follows:
Chocolate chip cookies
Peanut butter cookies
Chocolate cookies
Coconut cookies
Banana-based cookies
Other gluten-free, dairy-free cookies
Please share and save for later
If you enjoyed this list of gluten-free dairy-free cookie recipes, please share it on social media and save it for later on Pinterest.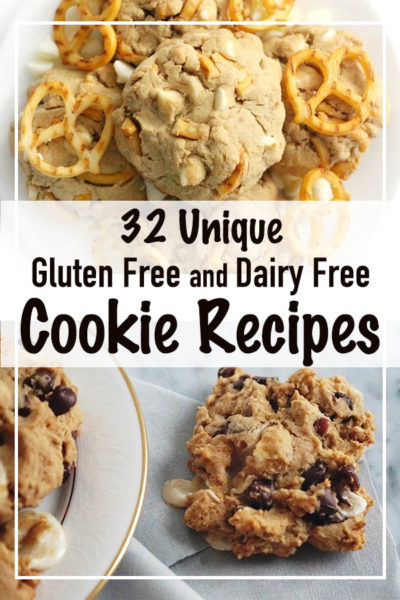 Final thoughts
Dietary restrictions never stop me from heavenly sweets, they just alter the list of options. I hope you found what you were looking for in this list of 32 different gluten-free, dairy-free cookie recipes. Each is tried and true, full of flavor, and if made following the directions, safe for those who avoid gluten and dairy.
If it's brownies you are looking for, check out our favorite 18 dairy and gluten-free brownie recipes.
Which of these gluten-free dairy-free cookie recipes will you try first?
Gluten-free desserts you might like . . .