Our Grandma's quick and easy fluffy matzo ball recipe is a family favorite and a family secret. Luckily, my friend Esther also makes fabulous light and airy matzo balls and is happy to share her recipe with us. With only a few ingredients, it doesn't take much to make a perfect matzo ball for your chicken soup.
I don't know how your family operates, but here, every year, it's the same debate. Should the matzo balls be small or large, solid or airy? Everyone has an opinion.
But regardless of who wanted what, in our family, for Passover, grandma was in charge. Our family matriarch liked her matzo balls soft and fluffy, and that is the matzo ball recipe that we share today.
Lucky for me, soft, airy, and light is exactly the way I like my matzo balls. So for me, it was like winning the debate every year. As we do, I grew up, as we do, and wanted to make my own food, at least some of the time.
It took years of pleading with her, but eventually, Grandma agreed to share the secret of her light and airy matzo ball recipe.
Thankfully, I have friends to fill in the gaps …
Grandma's matzo balls recipe
Grandma's matzo ball soup was perfect … every time. She knew the secret.
Being a classic bubbe, she loved her grandkids as much as she loved to kibitz. It seemed she would happily share her recipe. And, she happily agreed.
However, every holiday conversation was the same. "Grandma, call me before you make the matzo balls so I can come over and learn how to do it. "
"Of course dear."
"Do you promise this time?" This would be followed by another, "Of course dear."
And then the day would come to make the soup. As promised, the phone would ring and grandma would tell us she was going to make matzo balls. She lived about 45 minutes in traffic but would promise to wait for us. 
Year after year we arrived to find matzo balls already in the simmering soup.
"The secret is to let it simmer for hours." – No that wasn't it, the secret was something else. And she never told us.
And the secret left this world with grandma.
Fortunately, my friend Esther seems to have mastered the skill from somewhere. She insists my grandma didn't teach her the secrets, but I sometimes question it.
What you need to make light and airy matzo balls
While Esther's complete recipe is below, here is a list of what you will need for her delicious matzo ball recipe.
Supplies
Ingredients
Eggs
Oil (light tasting type)
Matzo meal
Salt
Soup stock or salted water
Tips for a successful fluffy matzo ball recipe
Here are a few tips for light and fluffy results everything. While some of these are grandma's tips, others we have discovered over time.
Before rolling the balls, place your mixture in the refrigerator for at least 30 minutes.
Keep your balls small, before you boil them.
Don't fondle your balls. Form them, put them aside, and when the water is boiling, drop them in.
Cook soup and matzo balls separately.
Make sure the water is vigorously boiling before you add the matzo balls.
Here are more tips from this discussion in the Facebook Kibitz Spot group:
You can add a bit of baking powder, club soda, or seltzer water. (KosherCooking.com offers an interesting discussion on the use of baking powder during Passover).
If you use a recipe that includes water (ours does not), you can substitute the water with seltzer water.
Separate the eggs. Then beat the egg whites, before slowly re-adding yolks, oil, then matzo meal. 
Several group members suggested just getting the Manishewitz Matzo Ball mix, which now even comes in a gluten-free version.
You can make your own matzo with our easy recipe.
Best Fluffy Matzo Ball Recipe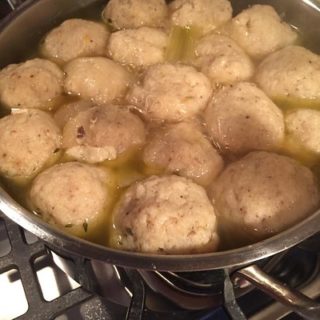 Fluffy Matzo Ball Recipe
Additional Time:
30 minutes
Total Time:
1 hour
15 minutes
Light and fluffy matzo balls every time.
Ingredients
6 eggs
3/4 tsp salt
3 Tbsp oil (light tasting type)
1 1/2 cups matzo meal
1-quart soup stock or salted water
Instructions
Separate eggs, placing egg whites in one bowl and yolks in the other.
Beat the egg whites until stiff.
In the other bowl, beat the egg yolks and salt together.
Combine the beaten yolks and the stiff whites.
Stir in oil.
Gradually add the matzo meal and stir until smooth.
IMPORTANT: For the soft result you want, place your mixture in the refrigerator for at least 30 minutes.
Wet hands with cold water.
Roll the mixture with your palms into small balls, a bit smaller than golf balls.
Carefully drop each ball into rapidly boiling clear soup stock or salted water (1 teaspoon salt to 1-quart water).
Cover and cook at a slow boil for 30 minutes, leaving the lid on the entire time (this is THE secret).
Notes
After 30 minutes, you should find your fluffy matzo balls floating at the top of your boiling water. It is most commonly served at Passover in chicken soup with carrots and celery, as in the photo above.
Recommended Products
As an Amazon Associate and member of other affiliate programs, I earn from qualifying purchases.
Nutrition Information:
Yield:

9
Serving Size:

2 Matzo Balls
Amount Per Serving:
Calories:

277
Total Fat:

10g
Saturated Fat:

2g
Trans Fat:

0g
Unsaturated Fat:

7g
Cholesterol:

127mg
Sodium:

395mg
Carbohydrates:

36g
Fiber:

1g
Sugar:

2g
Protein:

11g
Save for later
If you love this recipe, save it on Pinterest for Passover.
Light and soft, or small and hard? Do you have any tips to add to our list?
More breakfast recipes you might like
Do you have a favorite recipe you want to share?
We love sharing recipes! If you have a favorite non-trayf recipe you want to share on Kibitz Spot, please see our contact page for details on how to submit your recipe.