Our simple gluten-free microwave apple crumble recipe is a perfect antidote for your sweet tooth. Quick and easy to make, it only uses four common ingredients.
Delicious apple crumble doesn't have to be complicated. In fact, with this individual apple crumble recipe, I can be enjoying a warm and comforting gluten-free treat in less than 15 minutes from thinking about it. It uses only four ingredients that are normally in my pantry. Historically a winter treat, our microwave apple crumble recipe is great all year.
We use royal gala apples as they are sweet, crisp, and great for either eating or cooking. However, just about any apple will do. Just remember, tart apples will produce a tart dessert.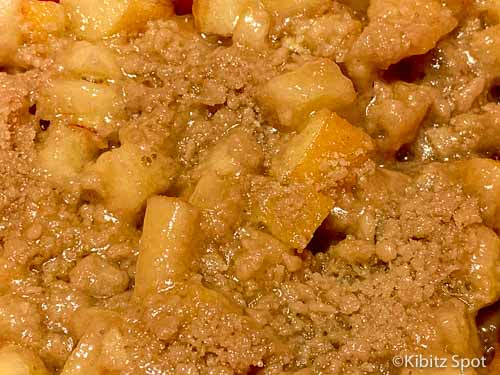 This microwave apple crumble ticks all of the boxes
This is one of my favorite gluten-free recipes. Aside from being the perfect mix of tart and sweet, it meets all of my needs.
Gluten-free (and celiac-safe)
Quick and easy to make
Uses only four common ingredients that are already in my pantry
Creates a single serving
Apple crisp vs apple crumble
Often used interchangeably, there is a subtle difference between an apple crisp and an apple crumble. While both are a fruit dessert topped with a flaky crust, an apple crisp typically includes oats in the topping, while a crumble does not.
If you are making apple crisp for a gluten-sensitive person, including those with celiac disease, be sure to ask whether or not they eat oats. While technically not gluten, they metabolize similarly in the body, and therefore many gluten-sensitive people avoid oats. Similarly, many eat it without issue. Importantly, today's recipe is gluten and oat free; therefore, an apple crumble.
Interestingly, in New Zealand where I live, and in nearby Australia, both desserts are typically referred to as a crumble.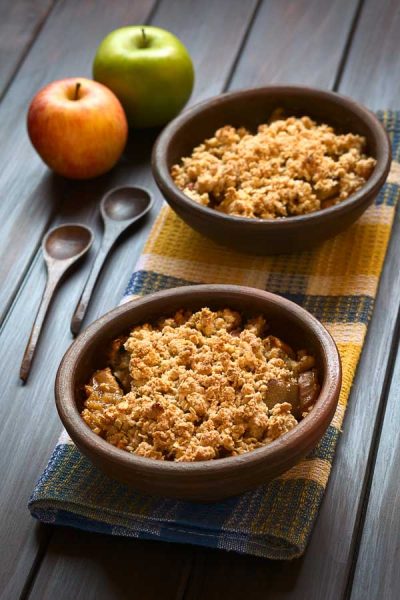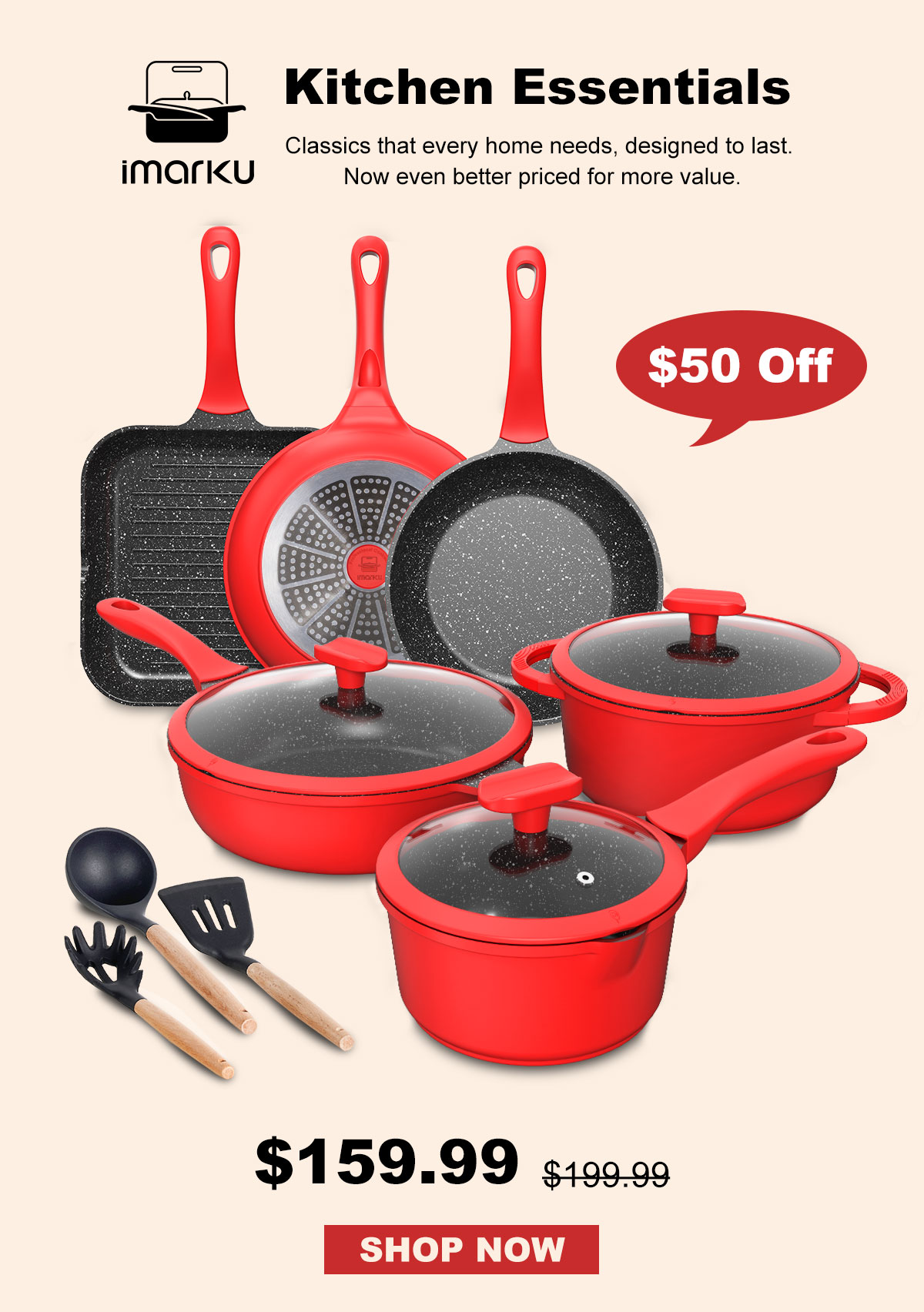 What you need to make an individual apple crumble
With only four ingredients, this single-serving microwave apple crumble needs only:
Apple
Butter
Microwave safe mug, bowl, or ramekin
Step by step to our gluten-free apple crumble recipe
To peel or not to peel?
I can't help but notice that nearly every other apple crumble recipe calls for peeled apples. And to be honest, we used to peel our apples too. Then, one day, in a moment of laziness, we decided to see what would happen if we didn't.
Sure enough, it was just as good and a bit more colorful. And, because we chopped the apple into small enough cubes, the skin didn't seem tough or get caught in our teeth.
More importantly, we maintain the nutrients that are held in the apple skin.
Our gluten-free individual apple crumble recipe
This recipe was contributed to Kibitz Spot by Sarah Albom.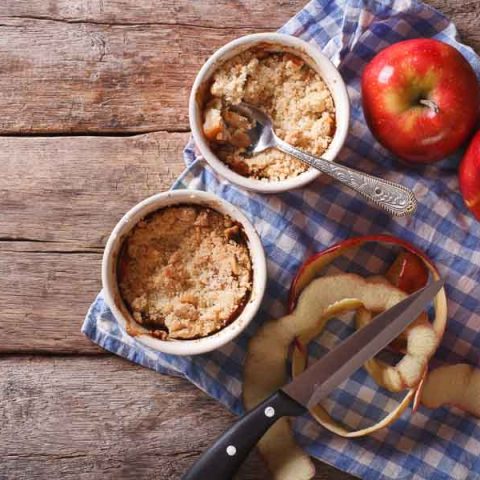 Microwave Apple Crumble
Yield:
1 (single serving)
Additional Time:
5 minutes
Quick, easy, and delicious.
Ingredients
Filling
1 diced apple, medium
2 teaspoons brown sugar
Topping
3 Tablespoons all-purpose gluten-free flour
1 Tablespoon brown sugar
¾ Tablespoon butter
Instructions
Filling:
Dice apple into ½ to ¼ inch cubes and place into a microwave-safe bowl.
Add brown sugar and mix together.
Set aside.
Topping
In a separate bowl, combine the dry ingredients (flour and remaining brown sugar).
Cut in butter (either with a knife or your fingers) until small pebbles form.
Sprinkle topping over apple / brown sugar mixture.
Cover and microwave on high for between 1 and 1.5 minutes.
Carefully remove the lid and let cool for at least 5 minutes before eating.
Nutrition Information:
Yield:

1
Serving Size:

1
Amount Per Serving:
Calories:

244
Total Fat:

6g
Saturated Fat:

4g
Trans Fat:

0g
Unsaturated Fat:

2g
Cholesterol:

15mg
Sodium:

53mg
Carbohydrates:

49g
Fiber:

5g
Sugar:

37g
Protein:

1g
Assumes an average size apple. Final nutritional information will also depend on brand of flour used.
Serving suggestions
In addition to being gluten-free, I am lactose-free but can handle butter without a problem. However, if I were making this for other family members, I would top it with a big scoop of ice cream.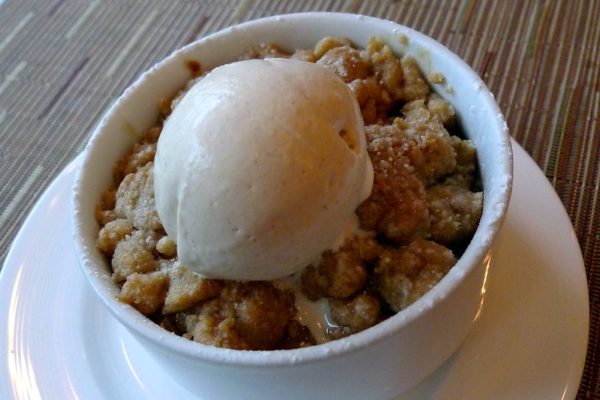 Additional apple recipes we love
Please share on social media
If you enjoyed this article, please save it on Pinterest.
Will you try this microwave apple crumble recipe?
Gluten-free desserts you might like . . .