See Jane schlep . . . Schlep, Jane. Schlep. Do you remember Fun with Dick and Jane? Now there is a very different version. Yiddish with Dick and Jane is a parody of the classic children's learn-to-read book. It's the same format, with a twist that offers a hilarious bit of adult based Jewish fun.
I learned to read with the original. It was a long time ago, but I still remember: See Dick. See Dick run. Run Dick run.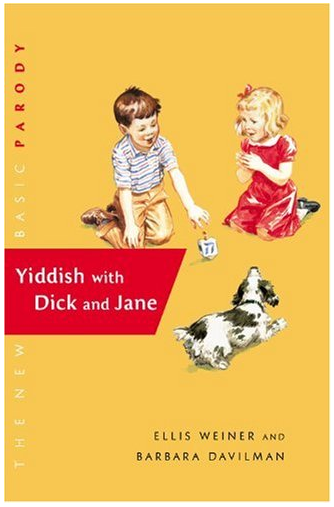 Yiddish with Dick and Jane is a parody, and it's pretty funny. Especially to those of us who grew up with a few Yiddish words floating around the family conversations.
Dick and Jane are not kids any longer (just like those of us who are old enough to know the original story). In fact, they are grown up. They live in the real world and all its tsuris (troubles). That's the premise of this 112-page book. It is both a humorous tale and a genuine guide to the Yiddish language with a sentiment and worldview all its own.
The abridged version Yiddish with Dick and Jane:
Jane is married to Bob.
Jane is in real estate and must frequently schlep the Open House signs to the car. See Jane schlep. Schlep, Jane, schlep.
Dick schmoozes with business people over golf. See Dick schmooze. Schmooze, Dick, schmooze.
Their sister, Sally, who teaches a course in "Transgressive Feminist Ceramics," can see that life is not perfect, even though Dick and Jane cannot.
Their mother has a stroke ("Oy vey, Jane," says Dick when he learns the news).
Bob's best friend's wife is having an affair because the best friend is gay ("'Tom is more than gay, Sally,' says Dick. 'He is overjoyed.'… 'Oy Gotenyu oh, God help us,' sighs Sally.")
More Fun With Dick and Jane:
Get your own copy of Yiddish with Dick and Jane from Amazon.com.
Want more laughs? Check out: Interpreting Jewish Hieroglyphics (a joke) or check out these Yiddish Slang expressions.
Read Next: Lost Jewish Belief in the Healing Power of Crystals and Gemstones
You might also like: