Do you know what makes a great bagel? It's boiling. And in truth, learning how to make bagels is easy. Especially, with this recipe.

A great bagel is boiled before it is baked. After several revisions, I believe we have perfected a boiled bagel recipe.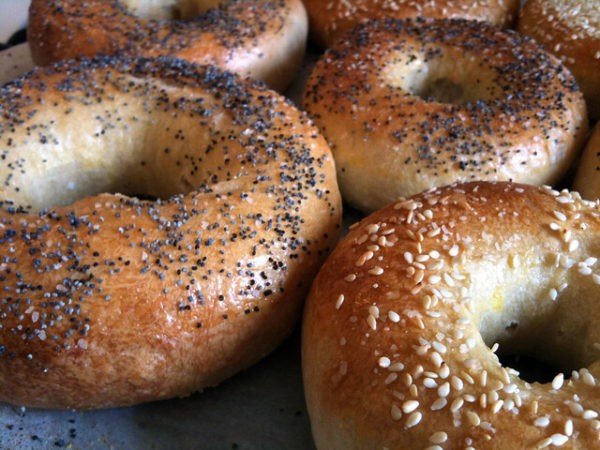 Boiling makes a bagel great!
I grew up in the suburbs of Chicago and people there knew how to make bagels. Now, I live in New Zealand. While I do have a clean, green living, so far I have been stuck with only chewy commercial bagels. I certainly can't speak for every bagel here and if you happen to have found a good one, please let me know.
How go make bagels: our boiled bagel recipe
Boiled Bagel Recipe Ingredients
1 1/2 cups cold water
1/2 teaspoon salt
1 tablespoon sugar
3 teaspoons yeast
2 tablespoons olive or canola oil
3.5 cups white flour
1/2 cups wheat flour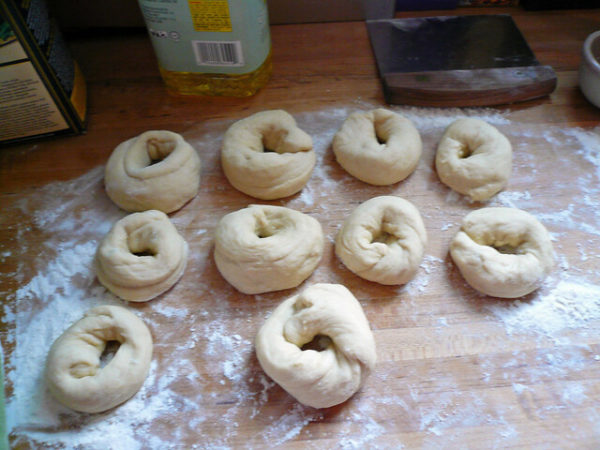 Boiled Bagel Recipe Instructions
Mix water, salt, sugar, yeast in a large bowl and let sit for 10 min.
Add remaining ingredients. Mix until it forms a single dough ball.
Knead the dough for 10 minutes.
Measure out 100 grams per bagel and form into rings.
Place bagel rings on a baking paper lined baking sheet. Let rise for 40-50 min.
Boil bagel rings one minute on each side.
Place on a wire rack to allow water to drip off (about 5 minutes).
Place the boiled bagel on the baking paper lined baking sheet.
Bake 20 minutes at 180C (350F) or until golden brown.
How to boil bagels
Boiling bagels is exactly what it sounds like. A bit intimidating the first time, it's actually no more difficult than boiling eggs.
Photo credit: Brian Boucheron
How to eat bagels
First, bagels need to be carefully sliced into two halves. For some unknown reason, this is a big challenge to a lot of people and often results in cut fingers requiring stitches. If you are one of these people who struggle with bagels, there is a bagel guillotine solution. Not only does it protect your fingers, but it also gets your bagel cut perfectly every time.
Now that you have your two bagel halves, you can either make a bagel sandwich or eat two open-faced half sandwiches. Either way, here are my two favourite options.
Bagels and Lox
For each sandwich you will need:
One toasted bagel
Cream Cheese
60-80 gm lox
6-8 capers
tomato slice
red onion
Most people prefer to toast their bagel before they begin. We then let our cool before smearing on the cream cheese so it doesn't melt.
First, spread that cream cheese on only one half of the bagel, putting the other aside momentarily. If you add your capers next, they will stick to the cream cheese rather than falling out onto your plate when you try to eat. On top of the capers, spread out the strips of lox, so they cover the bagel, not the bagel hole. Finally, add the onion, tomato, and the other half of the bagel.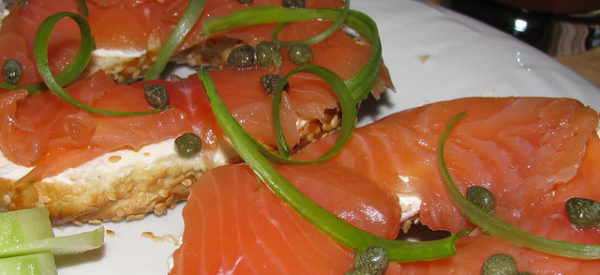 Peanut butter and banana
For each sandwich you will need:
One toasted bagel
Peanut butter
Sliced banana
Cinnamon
Drizzle of honey
Similar to the above bagel sandwich in construction, however, this one is best served open-faced. Cover each half of the bagel with peanut butter. Add a layer of sliced banana, sprinkle cinnamon, and finally drizzle honey over the top.
Really anything goes
Honestly, the answer to "how to eat a bagel" is "any way that you want." You can even cover it with macaroni and cheese and corn chips if you want.
Please share on Pinterest
Related links: