Our tasty boiled bagel recipe is a simple, classic Jewish treat perfect for any occasion.
Do you know what makes a great bagel? It's boiling. And, it's not just my opinion. By definition, a traditional bagel recipe includes boiling. In truth, learning how to make bagels is easier than you might imagine, especially when using this boiled bagel recipe.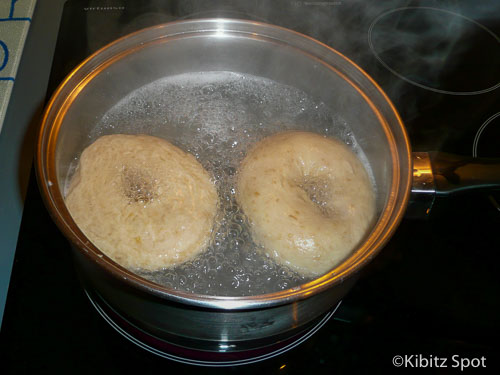 Best of all, once in the oven, they fill the house with the fresh-baked aroma of simpler days. And, warm from the oven, they bring the family together for some are pure bagel paradise.
Bagel: noun
bā·​gel
Definition: a firm doughnut-shaped roll traditionally made by boiling and then baking.
Source: Merriam-Webster dictionary

Definition: historically spelled beigel, is a bread product originating in the Jewish communities of Poland. It is traditionally shaped by hand into the form of a ring from yeasted wheat dough, roughly hand-sized, that is first boiled for a short time in water and then baked.
Source: Wikipedia
My bagel-making legacy
I remember the first time that I thought about homemade bagels. It was a long time ago, back in high school in suburban Chicago. Out of the blue, my best friend suggested that we try out a traditional Jewish bagel recipe. I thought it very odd that we would boil bread dough, but she said that's how it's done.
We kneaded, rolled, boiled, and baked. We had fun. Our bagels – they needed some work, but not too bad for teenagers. More to the point, I am sure she was the lead. After all, back then my ability to boil water was questionable, so boiling bagels was probably well beyond my capability. But as best friends go, she was patient and I remember the day being a success.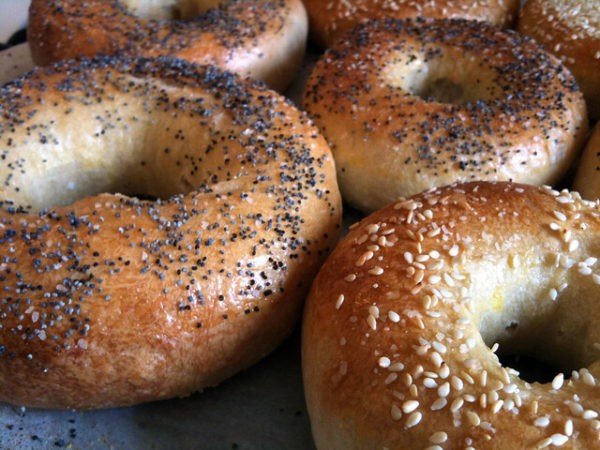 As time went by, I simply added bagels to my weekly shopping list. For years, I did it the easy way, with store-bought bagels. Then, two things happened. First, I baked more, including my own bread; second, we moved to New Zealand. Suddenly, good bagels became more difficult to find, and the memory of that day with my friend seemed like a good idea.
It had been 20 years, but I attempted it again, and again, and again . . . until our ever-changing recipe reached perfection. We share that version today.
How to make bagels: our boiled bagel recipe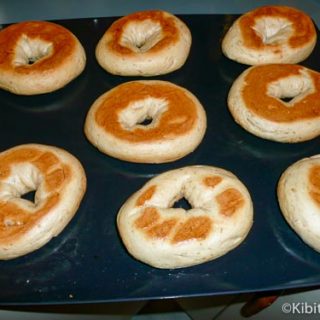 Easy Boiled Bagel Recipe
Ingredients
1 ¼ cups lukewarm water
1 teaspoon salt
1 Tablespoon brown sugar (okay to substitute white sugar)
1 Tablespoon yeast
2 tablespoons olive, canola, or other light oil
4 cups white flour
Instructions
Mix water, salt, sugar, and yeast in a large bowl and let sit for 10 minutes.
Add remaining ingredients.
Mix until it forms a single dough ball.
Knead the dough for 10 minutes.
Measure out 100 grams per bagel and form into rings by rolling in your palm and connecting the ends.
Place bagel rings on a baking paper-lined baking sheet. Let rise for 40-50 minutes.
Boil bagel rings one minute on each side. (We boil two at a time and use a flat spatula to flip them in the water and remove them from the pot.)
Place on a wire rack to allow water to drip off (about 5 minutes).
Place the boiled bagel on an oiled baking sheet (okay to use baking paper instead of oil).
Bake 20 minutes at 350°F (180°C) or until golden brown.
Notes
We have seen in several other recipes that an alternative to forming the ring is to simply stick a finger through the center of your dough ball and flatten. However, we found these bagels to come out as an odd shape.
Recommended Products
As an Amazon Associate and member of other affiliate programs, I earn from qualifying purchases.
Nutrition Information:
Yield:

8
Serving Size:

1
Amount Per Serving:
Calories:

256
Total Fat:

3g
Saturated Fat:

0g
Trans Fat:

0g
Unsaturated Fat:

2g
Cholesterol:

0mg
Sodium:

284mg
Carbohydrates:

50g
Fiber:

2g
Sugar:

2g
Protein:

7g
Nutritional information isn't always accurate and it will vary based on the specific ingredients used.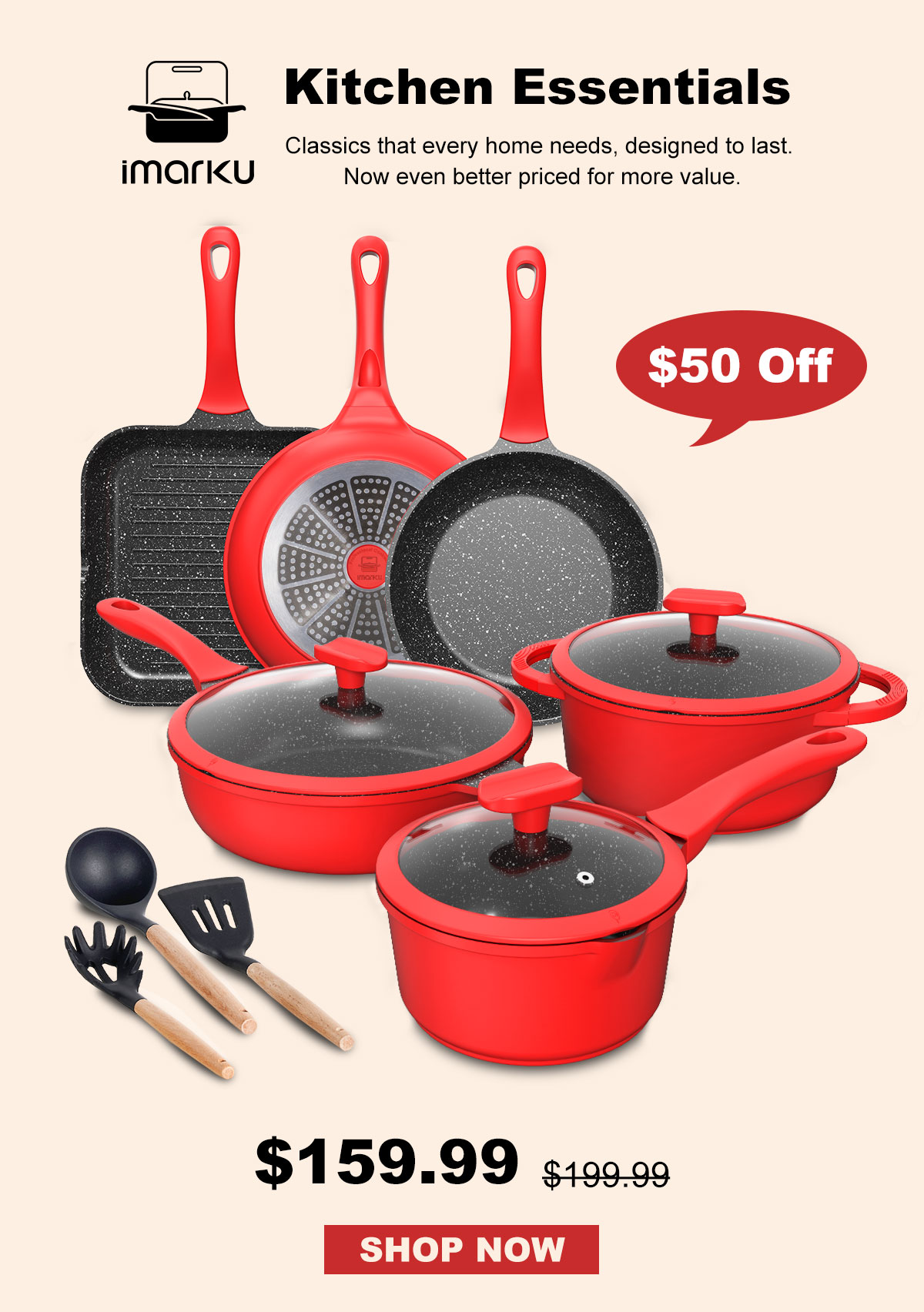 Now what?
There is nothing quite like a fresh from the oven bagel cut in half and dripping with butter (unless you are like the rest of my family, and you will load it with cream cheese). But that's not all. Click here to check out all of our favorite bagel toppings.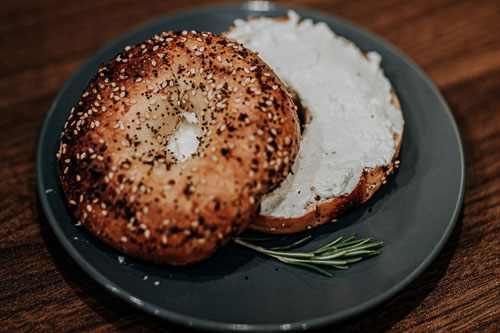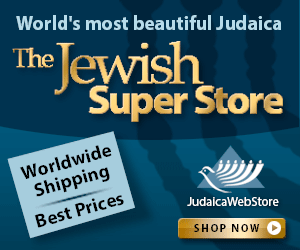 Boiled bagel recipe varieties
Even back in high school, bagels came in flavors. Then, it was just poppy or sesame seed, onion, cinnamon raisin, and everything. Today, bagels are available in lots of flavors, including some fruit varieties like blueberry. However, in our kitchen, we are still traditionalists.
Here are tips on how to make your own bagels with minor changes to the above bagel recipe.
Whole wheat bagels (our best bagel recipe)
Additional ingredients: whole wheat flour
Plain or whole wheat, we still use 4 cups of flour, it's the proportions that are different. In the above recipe, we use all white flour. However, our most popular family recipe uses 3 ½ cups of white flour and ½ cup whole wheat flour. If you are a big fan of whole wheat bagels, you can substitute up to 1½ cups of the white flour. Beyond this, we found the bagels to taste too grainy, almost as if we had used barley.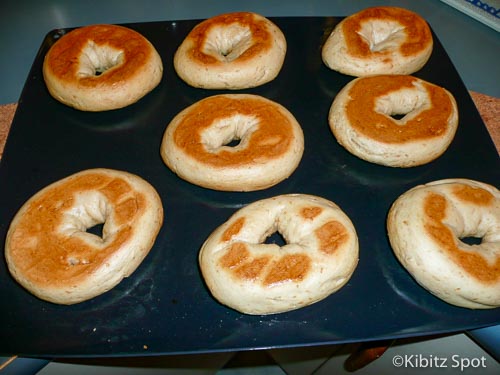 Sesame seed, poppy seed, everything, or salt bagels
Additional ingredients:
⅓ cup desired seeds, everything mix, or coarse salt
Egg glaze made from 1 egg white beaten with 1 Tablespoon of water.
After boiling and before baking, brush each bagel with the glaze and then generously sprinkle on the seeds, mix, or salt, using the ⅓ cup to cover 8 bagels. Bake as normal.
Cheddar cheese bagels
Additional ingredients:
⅓ cup and ¼ cup grated cheddar cheese
Egg glaze (same as for seeded bagels above).
Simply add the ⅓ cup grated cheese at step 2 with the flour. Follow normal directions above. Then, after boiling, but before baking, brush glaze on bagels and sprinkle the remaining ¼ cup on top of the bagels before baking.
Gluten-free bagel recipes
There is a huge variety in homemade gluten-free bagel recipes. While we haven't tried any yet, here are several that are well rated and sound great:
Here are two quite similar recipes using almond flour based Fathead dough and the same five ingredients, only in slightly different quantities. One from Oh So Foodie, the other by Kimspired DIY.
If you prefer coconut flour, check out this Keto option by Low Carb Yum.
If you are also seeking dairy-free, start with this allergy-friendly bagel recipe from Strength and Sunshine.
Please share and save for later
If you enjoyed this article, please share it on social media and save it for later on Pinterest.
Have you tried a boiled bagel recipe?