Easy to prepare, these delicious gluten-free potato pancakes are an alternative version of my grandma's traditional Hanukkah latkes. Depending on the toppings you use, they are also dairy-free.
Potato latkes are one of my favorite Hanukkah foods.
Covered in apple sauce or sour cream, they were one of the things I thought I would miss when I changed my diet. But, a bit of tweaking, and we have perfected our gluten-free potato pancakes. And, while no longer traditional, we still call them latkes.
Best of all, they still taste just like the latkes grandma used to make. A little bit crispy, and just greasy enough to taste authentic. In fact, our gluten-free potato pancakes are so good, no one at the table even realized we altered grandma's recipe.
These gluten-free potato pancakes tick all of the boxes
Gluten-free
Dairy-free, if served without sour cream
Vegan
Fun and easy to make
Taste just like the traditional latkes that grandma made
Best prepared in advance and reheated
So good, people will question whether or not they are gluten-

What you need to make our gluten-free potato pancakes
While the complete recipe is below, this will give you an idea of what you will need.
Supplies needed: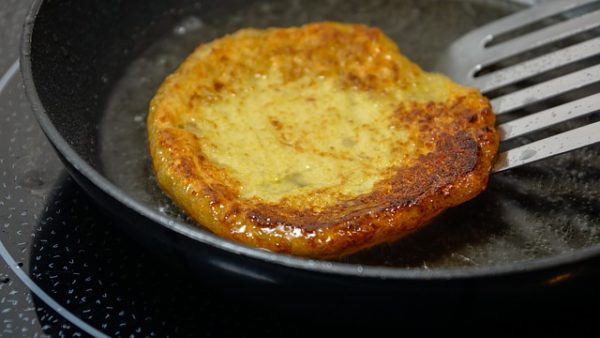 Gluten-free potato pancake ingredients:
Russet potatoes (or any other variety that is high in starch and low in water)
Onions
Eggs
Baking powder
Salt and pepper
Optional toppings:
Apple sauce
Sour cream
Nothing at all. Sometimes I like them just out of the pan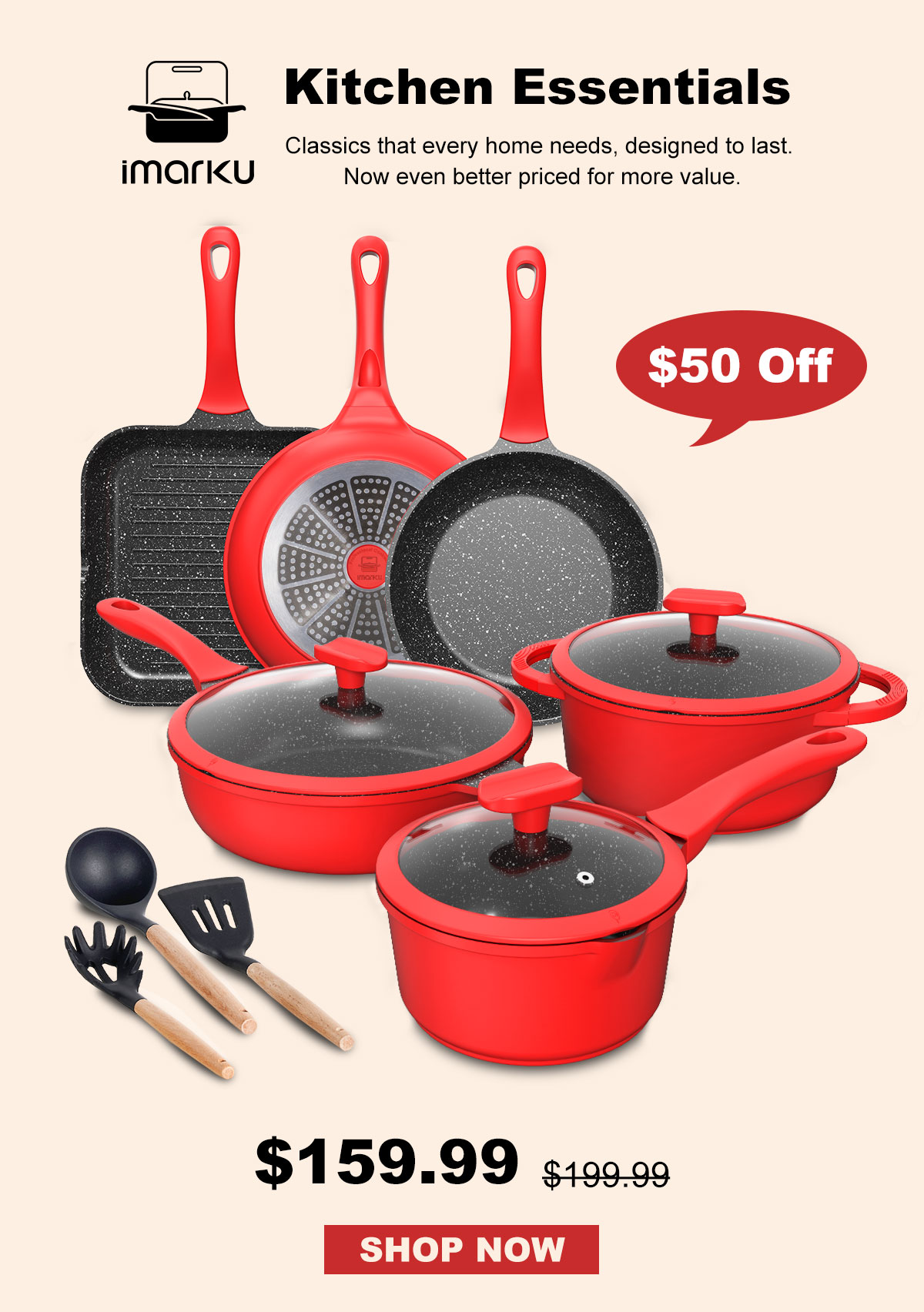 Peeling potatoes – heed our warning
First, a word on peeling potatoes. We do this manually. Actually, I don't know any other way. Last time we made a double batch to share with family, and still have some stored away for later in the week. So, we spent about 30 minutes peeling potatoes.
It was a family thing, so we had lots of laughs and made the entire process fun. Then we looked at this mound of potato peel in the sink and were instantly glad we had a garbage disposal. Well, heed my warning. This is a very bad idea, as we were soon to discover.
It started out good, running water, a wooden spoon to guide the peel down the drain, lots of chopping noise, until there wasn't. Puzzled, we stopped pushing the peel down the drain, turned off the disposal, and watched the water fill up the sink.
To make a long story short, we needed a plumber to resolve this mess. But on the bright side, out gluten-free potato pancakes were not harmed.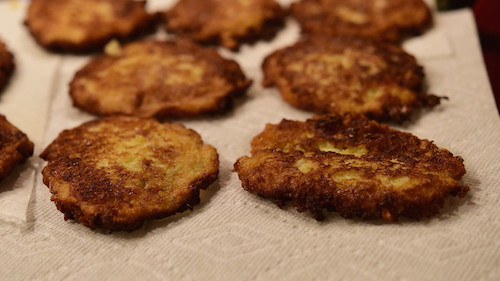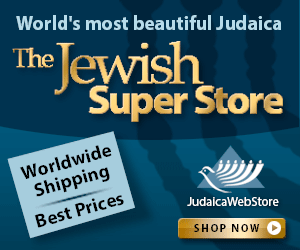 Serving suggestions
Two main ways to serve latkes: with applesauce or with sour cream. Or, the third way – both. Personally, I like applesauce, and we often make our own. Here are a few of our favorite recipes: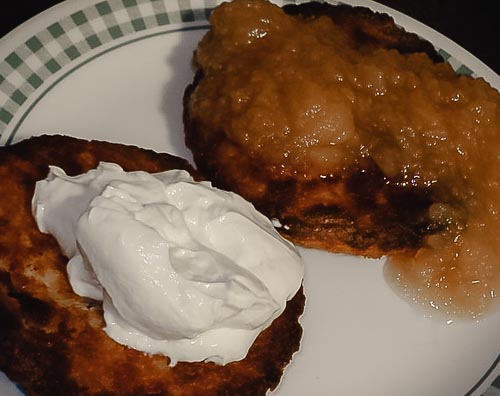 We love potatoes
I'll admit, latkes are one of my favorite Hanukkah treats, although we have been known to eat them the rest of the year. Then, we simply call them gluten-free potato pancakes. Over the years, we have collected several other recipes for our favorite latke varieties, and sometimes we even turn to our favorite Jewish cookbooks for even more options.
At our house, potatoes are a staple item. Sometimes, they are even the main course of our dinner. The rest of the time, they are a quick and easy side salad.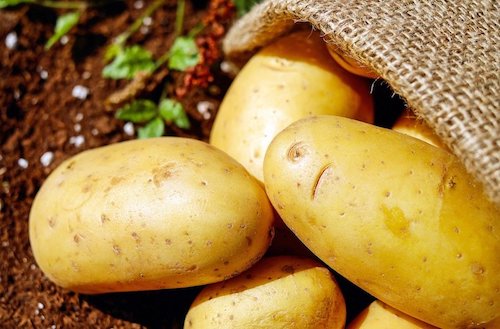 Our gluten-free potato pancakes recipe
This recipe is a family tradition.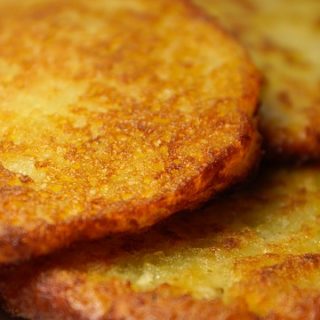 Easy Gluten-Free Potato Pancakes
Additional Time:
5 minutes
Total Time:
1 hour
5 minutes
A gluten-free alternative to traditional potato latkes.
Ingredients
2 lbs. potatoes (1 kg)
1 medium onion
2 eggs
3 Tablespoons gluten-free flour
1 teaspoon salt
½ teaspoon baking powder
¼ teaspoon ground pepper
Oil for pan frying
Instructions
Peel potatoes and onion.
Alternating between potato and onion, grate both with a food processor until grated.
Pour into a large mixing bowl and press and drain out some of the liquid.
Return to the food processor.
Add eggs and process on low until mixed.
Mix in flour, baking powder, salt, and pepper.
Form balls about ⅓ cup size from the mixture, and squeeze out any excess liquid in the process. It's okay to add extra flour if they don't hold together well.
Pre-heat skillet on the stovetop and add oil.
Place balls one by one on the hot oil, pressing flat with a spatula. We can usually cook 3-4 potato pancakes at a time. Cook on each side for about 3-4 minutes.
Place completed pancakes on a paper towel lined cookie sheet while you prepare the next batch.
Notes
We think they are best made ahead of time and stored in the refrigerator with paper towels between each layer. Reheat in the oven at 350ºF (180ºC).
We often make a double or triple batch to have plenty of leftovers.
Recommended Products
As an Amazon Associate and member of other affiliate programs, I earn from qualifying purchases.
Nutrition Information:
Yield:

6
Serving Size:

1 latke
Amount Per Serving:
Calories:

195
Total Fat:

3g
Saturated Fat:

1g
Trans Fat:

0g
Unsaturated Fat:

1g
Cholesterol:

65mg
Sodium:

352mg
Carbohydrates:

37g
Fiber:

4g
Sugar:

3g
Protein:

7g
Nutritional information isn't always accurate and it will vary based on the specific ingredients used.
Please share and save for Hanukkah
Read next: Chickpea flour falafel recipe
If you enjoyed this article, please share it on social media and save it for later on Pinterest.
Are you ready to make gluten-free potato pancakes?
More on Hanukkah at Kibitz Spot:
Photo Credits
Photos on this page are either shot by our team and watermarked as such, in the public domain, or some stock photos were supplied by DepositPhotos.