Colorful and delicious, this gluten-free egg casserole is the perfect one-pan brunch and it's naturally dairy-free.
I love brunch. It's a perfect time to relax with family and friends. One of our favorites is our gluten-free egg casserole.
Colorful and fun, our friends and family like it even before we start to serve. Actually, they are predisposed by the time it comes out of the oven, as the aroma from the warming spices is comforting and tempting.
It's easy to make, and with the entire meal in one pan, you know everything is ready at the same time.
This gluten-free egg casserole ticks all of the boxes
Gluten-free, dairy-free
Easy and fun to make
Is a complete meal in a single pan
Prepared from common ingredients already in my pantry
Colorful, and looks great on the plate, making it perfect for guests or family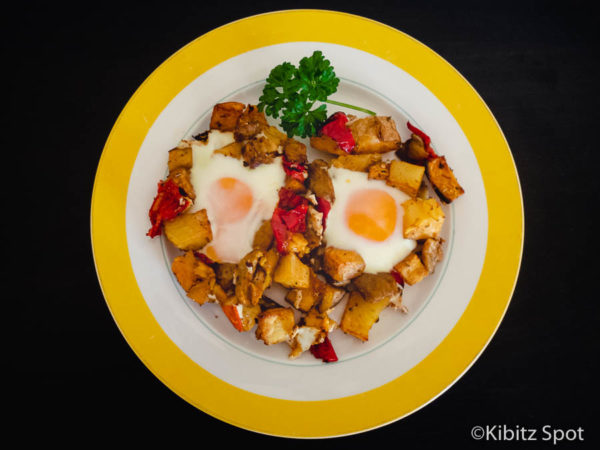 What you need to make our gluten-free egg casserole
Both large and small mixing bowls
A 9″x13″ pan – preferably a glass or ceramic that will look nice on your table for serving
Several sweet potatoes and baking potatoes
Vegetables – our favorites are either one eggplant or one zucchini or a mix of the two
Red or green pepper
A can of black beans, drained
Six eggs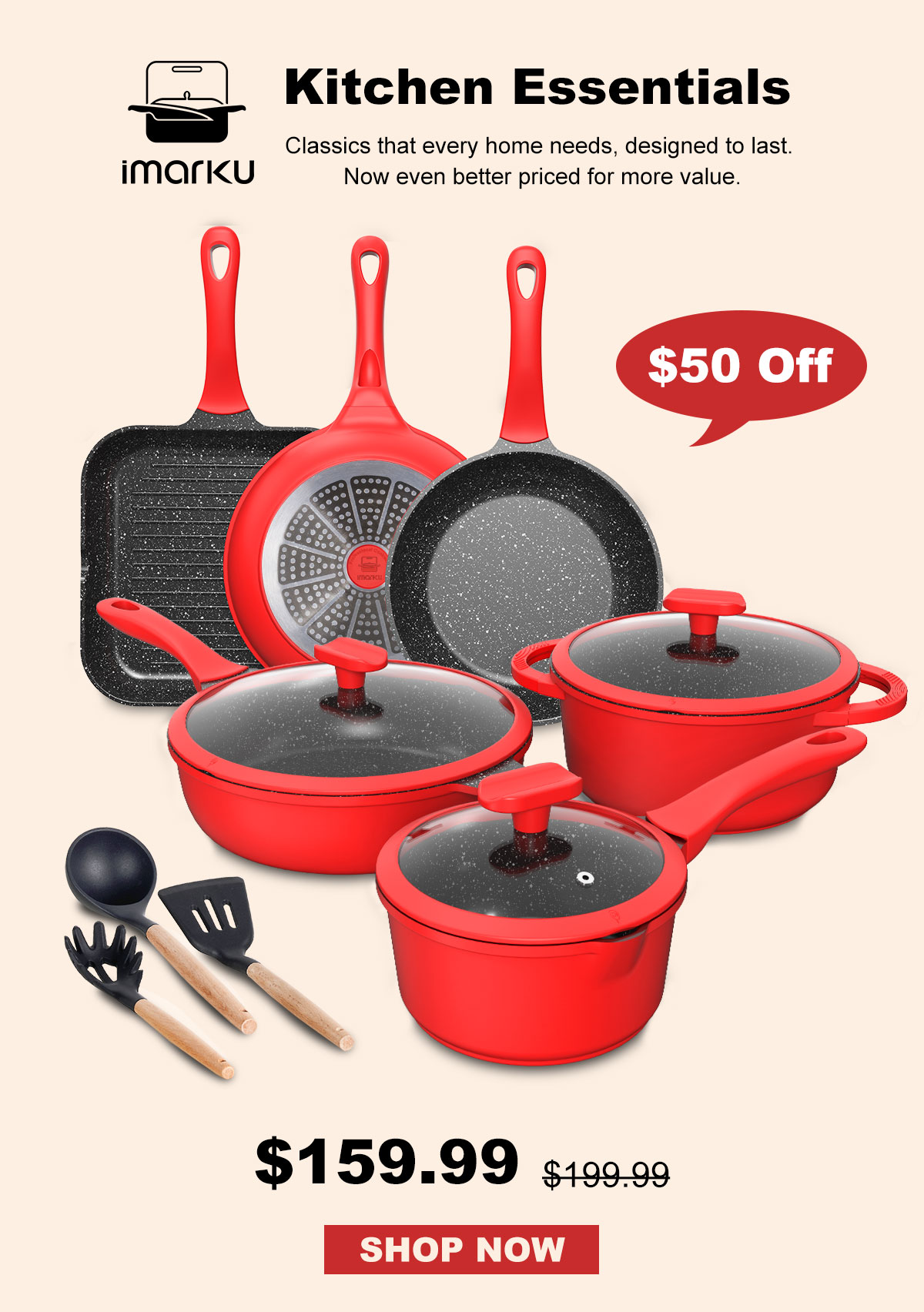 How to make our gluten-free egg casserole
We like to leave the skin on our potatoes as it is so loaded with nutrients. Therefore, we start out scrubbing the skin well and removing any eyes.
Similarly, we wash the vegetables, and depending on which ones we use, we treat them differently.
We generally leave the skin on zucchini, and sometimes we peel the eggplant, although it's more colorful with the skin on (see images). We remove the stem and seeds from the inside of any peppers. Then we chop the potatoes and vegetables into ½" (1cm) pieces and place them in a large mixing bowl.
While we could add the spices directly to the veggies, we have found the flavors infuse better when the spices are first mixed in a small bowl before we stir them into the veggies. Then, we add the olive oil and toss it again.
Next, we spread the mixture evenly in a baking pan and pop it into the oven.
We have tried the shortcut of mixing everything in the baking pan, thus skipping the mixing bowls, but we find it to be too much food to handle in the short-sided pan (compared to the mixing bowl). As a result, it usually ends up making a mess.
After about 35 minutes (when the potatoes are soft) we remove the pan from the oven. Create six wells, evenly spaced, and crack one raw egg into each "hole."
Get ready to enjoy …
Return the pan to the oven and bake for another 6 minutes, being careful not to overcook the eggs. The photo below is actually from a different day when we included zucchini instead of eggplant. All other ingredients were the same.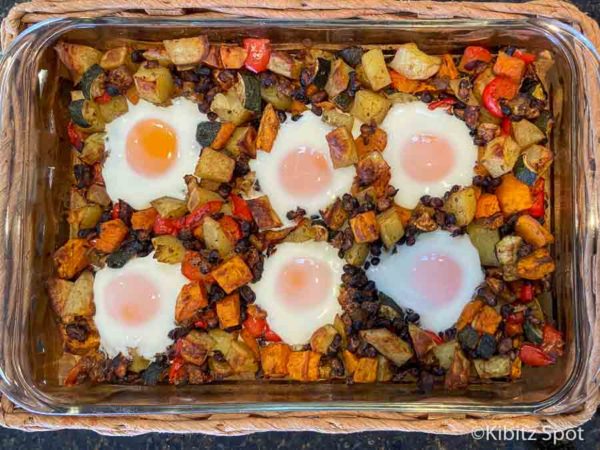 Remove the pan from the oven and serve two eggs plus vegetables per person.
Add some variety to the gluten-free egg casserole
We love this recipe and make it often. To keep the family from getting bored, we frequently change the vegetables adding things like parsnip, carrots, and different colored peppers.
Or, when we want to spice it up, we add chilis, jalapenos, or even bird's eye peppers (although these are way too hot for me). Are you brave enough to give it a try? We generally use all baking potatoes (no sweet potatoes) when we do this, and often serve it with salsa or guacamole on the side.
Also, adding variety to our menu, we sometimes enjoy our gluten-free egg casserole for dinner.
Tips for Success
An easy and forgiving recipe, we have only a few tips for success:
Do not overcook the eggs for two reasons. First, we think it's best with runny egg yolk. Secondly, and possibly more important, if the eggs are overcooked, they taste a bit rubbery.
Therefore, if we anticipate leftovers, we only make wells and cook eggs that we intend to eat during the first serving. Then, when reheating the potato and vegetable mixture, we add fresh eggs, again making sure not to overcook them.
The beauty of a one-dish meal is that serving and clean up is easy.
Serve it on your smaller dinner plates, as the portions tend to look small, but are actually quite filling.
The egg casserole also goes great with a salad.
After the meal, enjoy a warm beverage. My favorite is a dairy-free turmeric latte.
Our gluten-free egg casserole recipe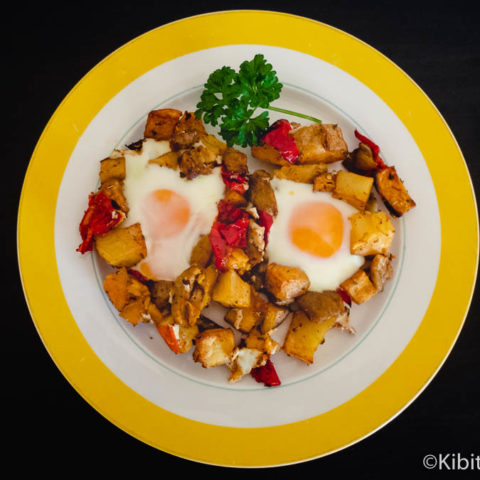 Gluten free egg casserole
A great gluten-free dairy-free all-in-one pan main meal. It is similar to shakshuka without tomatoes, onions, and garlic.
Ingredients
1 sweet potato, about ⅔ pound
2 potatoes, about ⅔ pound
2 zucchinis
1 red pepper
1 can black beans, 15 ounces drained
6 eggs
4 Tablespoons olive oil
Spice mix
1 teaspoon cumin, ground
½ teaspoon paprika, smoked
1 teaspoon oregano
¾ teaspoon salt
Instructions
Chop the sweet potato, potato, zucchini, and red pepper into ½" (1cm) pieces and place in a large mixing bowl.
Mix the spices together and add to the large mixing bowl. Stir through.
Add olive oil to the mixing bowl and stir through.
Spread the mixture evenly into a 9" x 13" oven-safe pan and place it in the oven at 400°F (200ºC) for 35 minutes or until the potatoes are soft.
Remove the pan from the oven and make six evenly spaced 'holes' in the vegetables. Crack one egg into each hole.
Return the pan to the oven and bake for another 6 minutes or until the egg whites are solid, but the yolk is still a bit runny.
Remove the pan from the oven and serve 2 eggs plus vegetables per person.
Notes
Avoid overcooking the eggs as they will become hard and rubbery.
Nutrition Information:
Yield:

3
Serving Size:

2 eggs
Amount Per Serving:
Calories:

610
Total Fat:

29g
Saturated Fat:

6g
Trans Fat:

0g
Unsaturated Fat:

21g
Cholesterol:

372mg
Sodium:

1247mg
Carbohydrates:

64g
Fiber:

16g
Sugar:

9g
Protein:

27g
Nutritional information isn't always accurate and it will vary based on the specific ingredients used.
Egg lovers might also enjoy: Gluten-Free Shakshuka Recipe: A Healthy and Flavorful Meal
If you enjoyed this article, please share it on social media and save it for later on Pinterest.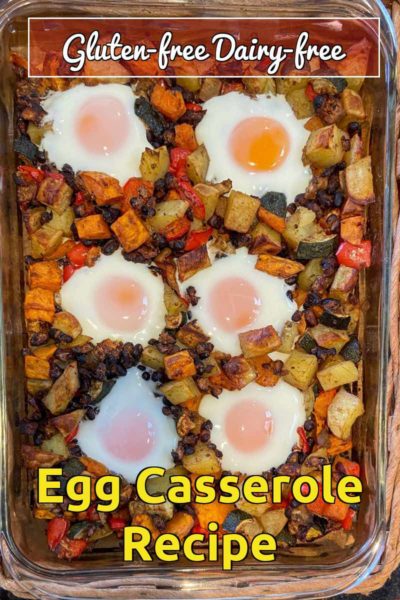 Which vegetables will you add to your gluten-free egg casserole?
More breakfast recipes you might like