This creamy guacamole recipe is quick and easy to prepare. The results are a smooth and delicious dairy and gluten-free side dish that can be used as a dip, a topping, a salad dressing, or an ingredient. The best results start with ripe avocados and a powerful mixer (for a creamy result).
I love avocado, so it should be no surprise that our family has a quick and easy creamy guacamole recipe.
A good healthy fat, it meets all of our family's dietary needs. It's gluten and dairy-free and both Paleo and Keto-friendly. But more importantly, it's delicious and takes only 5 minutes to create.
We stumbled upon this creamy guacamole recipe almost by accident when we overprocessed a traditional lumpy-style version. It wasn't quite right and needed some tweaks, which are all included below.
How to find ripe avocados (the secret to our creamy guacamole recipe)
Honestly, if you do one thing to improve your guacamole-making skills, it would be to learn how to find ripe avocados. Avocados should be ripe but not overripe. This is the secret to success.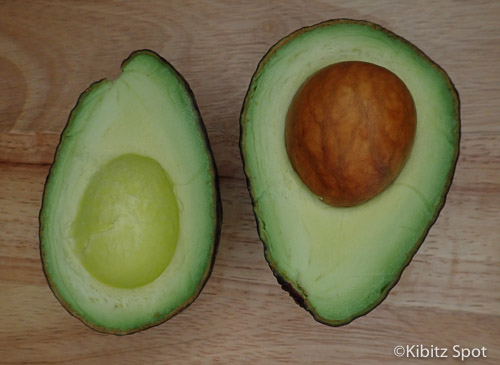 Tips to finding ripe avocados
First, look at the avocado's color. They get darker as they get ripe.
Next, feel the avocado skin. Bumpy skin is more ripe than smooth skin.
While it's in your hand, give it a gentle squeeze. If it yields a bit, it might be ripe. If it's still hard as a rock, it needs more time to ripen. And, on the flip side, if mushy, it's probably overripe.
Next, check and see if the 'cap' pops off easily. This is the bit at the top, where the avocado once attached itself to the tree. If not, leave it to ripen longer. However, if it pops off easily, then look at the color underneath. Green or yellow suggests ripe and ready-to-use. Bits of brown indicate it is over-ripe.
Health benefits of the main ingredients
Disclaimer: Statements regarding health benefits are not intended to diagnose, treat, cure, or prevent any disease or health condition.
Avocado
Avocados are high in monounsaturated fats, which, according to BBC Good Food may protect against heart disease and lower blood pressure. In addition, avocados are a good source of potassium, folate, and fiber.
Cilantro
Cilantro has a surprising number of health benefits ranging from lowering anxiety and blood sugar levels to protecting against food poisoning, colon cancer, and cardiovascular disease, according to Aspen Integrative Medicine.
What you need for this creamy guacamole recipe
There are two secrets to a super successful creamy guacamole recipe outcome. The first is ripe avocados, the second is a powerful food processor. We use a Nutribullet, a small, powerful, high-speed blender/mixer. As it is traditionally used for making smoothies, we are careful not to over-blend our guacamole.
Ingredients
Ripe avocados (2)

Onion

(optional – if not following a low FODMAP diet)
Cilantro
Lemon juice
Salt
Tips for success
I don't know about you, but chopping onions by hand always results in tears for me. Therefore, I start the process by chopping the onion in the Nutribullet, along with the cilantro.
Next, we add the avocado, lemon juice, salt, and about a tablespoon of water and give it a quick mix.
We have tried adding all the ingredients together initially, but the timing is off. As a result, either the onion pieces remain too large or the avocado ends up too runny.
Serving suggestions
I use guacamole on tons of things. Some of my favorites include:
As a dip with corn chips, carrots, or celery
On top of a salad, as a dressing
Alongside (and usually slathered on top) of quesadilla, chimichanga, or nachos
Inside a burrito
Include it amongst the topping options on a baked potato bar
With carne asada – Mexican-style steak
Mixed into rice (although I get teased sometimes for this one, it's really delicious.)
Scoop a dollop on top of spicy chilli to cool it down a bit.
Dare I admit, sometimes I just eat it with a spoon.
Our creamy guacamole recipe
This recipe was contributed by Jeff Albom.
Creamy Guacamole
A creamy guacamole that is quick and easy to prepare. Great for dips, toppings, salad dressing, or as an ingredient.
Ingredients
2 avocados, ripe
½ onion (optional)
2 Tablespoons cilantro
1 Tablespoon lemon juice
¼ teaspoon salt
Instructions
Chop the onion and cilantro in the food processor.
Cut the avocados in half, remove the pit, scoop the flesh out with a spoon, and add it to the food processor.
Add the lemon juice and salt.
If using a Nutribullet or equivalent processor, add a tablespoon of water to help liquefy.
Following your food processor's directions, blend until smooth.
Notes
If you want a more traditional lumpy guacamole:
Chop all ingredients by hand and place in a bowl. (Do not add water)
Mash with a fork.
Optional - add chopped tomato and stir in gently.
Nutrition Information:
Yield:

6
Amount Per Serving:
Calories:

143
Total Fat:

13.1g
Saturated Fat:

2.8g
Sodium:

102mg
Carbohydrates:

7.1g
Fiber:

4.8g
Sugar:

1.1g
Protein:

1.5g
Nutritional information isn't always accurate and it will vary based on the specific ingredients used.
This guacamole is a great topping for corn chips or on our gluten-free seeded crackers.
Please share and save for later
If you enjoyed this article, please share it on social media and save it for later on Pinterest.
How will you enjoy this creamy guacamole?
More recipes you might like
Photo Credits
Photos on this page are either shot by our team and watermarked as such, in the public domain, or some stock photos were supplied by DepositPhotos.