We fill our delicious gluten-free, dairy-free, and grain-free pancakes recipe with goodness from bananas, peanut butter, and superfoods like hemp hearts and flax seeds.
I love pancakes. When my diet changed, we experimented until we created tasty grain-free pancakes. From the start, I knew we would succeed, after all, it includes two of my favorite healthy foods (peanut butter and banana).
My dietary restrictions and requirements have refined over the years, from eating everything to first losing gluten, then dairy. Last year, DNA testing suggested more changes.
Initially, the most difficult seemed like it would be avoiding grains and certain other carbohydrates in the early part of the day.
Rather than feeling sorry for myself, we just refined our best recipes. These grain-free banana pancakes are no exception.
We started with our simple GF-DF pancake recipe with only three ingredients: banana, egg, and gluten-free flour. Clearly, the last one had to go.
My sister had told me she sometimes substitutes peanut butter powder for flour, so starting there, we experimented, but with creamy peanut butter rather than powder. A one-to-one substitution didn't work.
Plus, we wanted to add some more healthy superfoods, so out came a bunch of different seeds.
I won't bore you with the list of fails, just with our end result, a tasty grain-free pancake that is also gluten-free, dairy-free, and low FODMAP when made with greener bananas.
What you need to make our grain-free pancakes
Health benefits of the key ingredients
Disclaimer: Statements regarding health benefits are not intended to diagnose, treat, cure, or prevent any disease or health condition.
Banana
Did you know that bananas may support gut and heart health while giving us an energy boost and mood support? They may even aid in managing heartburn. Source: BBC Good Food
Peanut butter
This heart-healthy choice is known to foster strong bones while lowering the risk of some cancers and diabetes. In addition, peanut butter may aid in the prevention of gallstones while protecting against neurodegenerative diseases (like Alzheimer's). Source: NDTV Food
Flax seeds
These tiny seeds are full of heart-healthy fats, according to Health.com. It goes on to say that they may lower blood pressure, improve cholesterol levels, and support digestive health.
Hemp hearts
Hemp hearts, or hemp seeds, may improve heart health and skin conditions while reducing inflammation and relieving symptoms of arthritis. Source: Hemp Wellness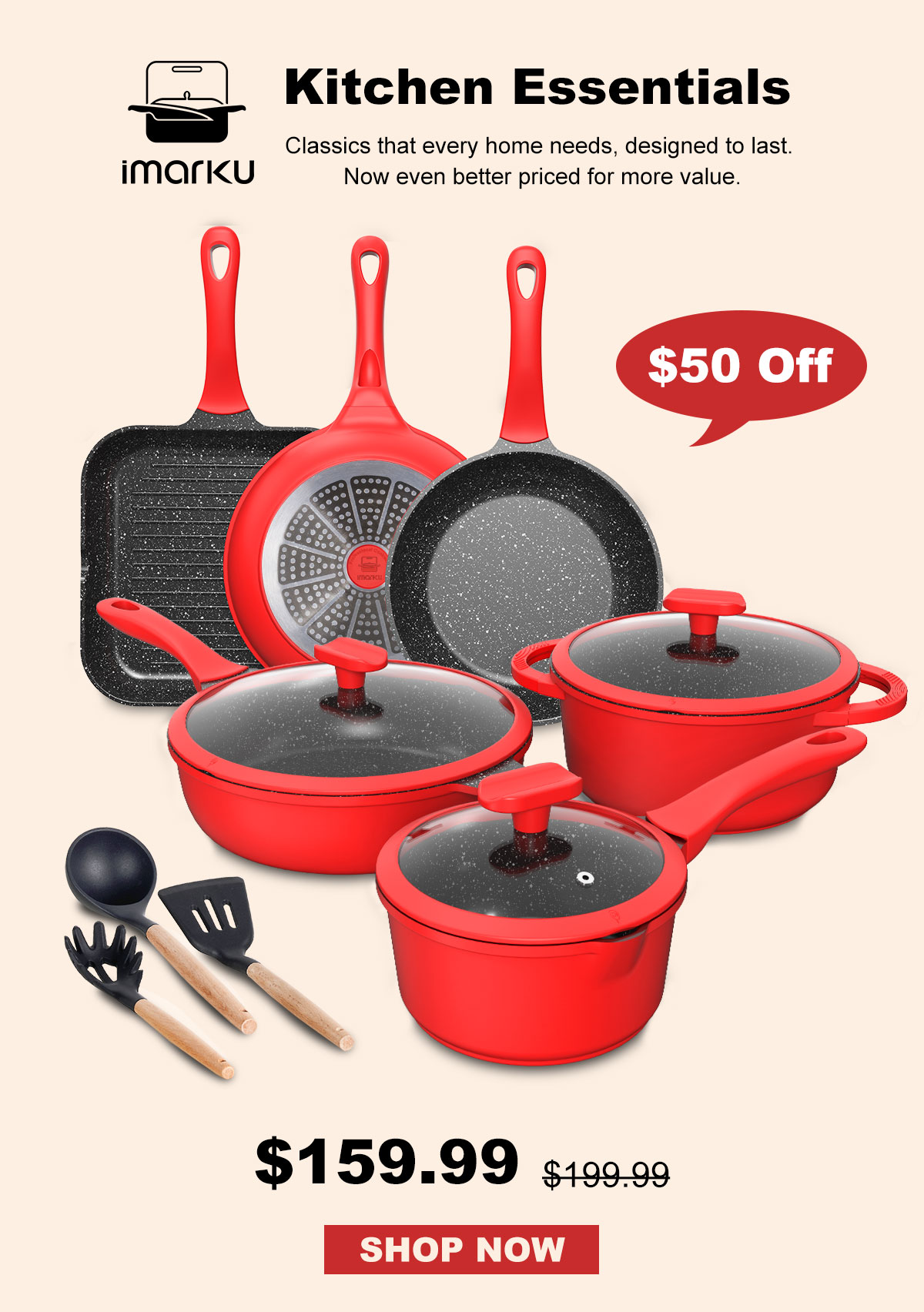 Step-by-step to our grain-free pancake recipe
While the full recipe details are at the bottom of the page, here are the basic steps:
Add ingredients in this order, mixing in each one before adding the next:

Banana (mashed)
Cinnamon (optional)
Egg
Flaxseed
Peanut butter
Hemp hearts

Preheat a lightly sprayed pan for 2 minutes on high heat, then lower to medium-low heat before adding batter as three pancakes.
Flip the pancakes after 6-7 minutes, then cook for an additional 3 minutes.
Tips for making these grain-free pancakes
Our grain-free banana pancake sweetness is related to the ripeness of the banana. As bananas ripen shifting from green to yellow, the starch is converted to sugars. As a result, yellow bananas (with some brown spots) are sweeter, while greener bananas taste starchier.
If you are following a low FODMAP diet, you can have more green banana than yellow. Monash University explains it in detail here.
The banana will always be a bit lumpy, but this is okay.
It works best if you stir in each ingredient one at a time.
While you want to mash the banana with your fork, you want to stir the peanut butter. As we learned the hard way, attempting to mash in the peanut butter only results in it getting stuck in the tines.
While we have used the ingredients of our base recipe to make banana muffins, it doesn't work so well with this recipe. It's clearly better suited for pancakes.
Serving suggestions
Personally, I like them exactly the way they come out of the frying pan, especially if the banana was only slightly green. They are sweet and delicious, and for my palette, don't need another thing.
However, I also like variety, which either comes from additions before cooking, in the pan, or as a topping added afterward.
To the raw batter:
Add cut-up strawberries (or blueberries if you are not following a Low FODMAP diet) or walnuts pieces.
At the start of cooking – after putting it in the pan, before it solidifies:
If I am craving sweets (and not concerned about sugar), I will add some gluten-free, dairy-free dark chocolate chips to each pancake.
As a topping:
Strawberry jam.
I am not a fan of maple syrup on pancakes, as I think it makes them too sweet.
Our grain-free pancakes recipe
This recipe was created by Rhonda and Jeff Albom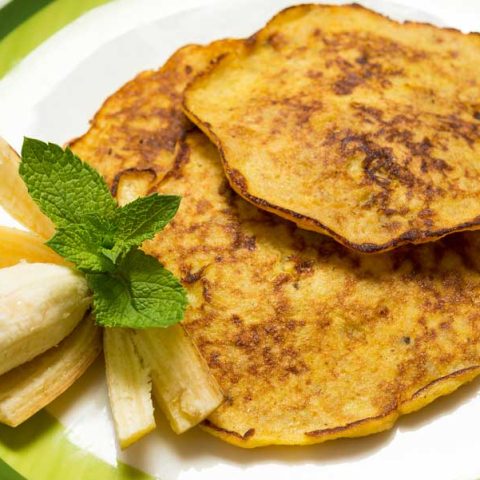 Grain free banana pancakes
A quick and easy single-serve breakfast, light lunch, or snack that is grain-free, gluten-free, dairy-free, and low FODMAP if made with unripe bananas (100g).
Ingredients
1 medium banana
1 egg
1 Tablespoon creamy peanut butter
1 Tablespoon ground flaxseeds
1 teaspoon hemp hearts
1/8 teaspoon cinnamon (optional)
Oil spray
Instructions
Mash peeled banana in a shallow bowl. We use the backside of a fork to do this.
Add the cinnamon (about 2 shakes from a bottle). Mix.
Add the egg and beat with a fork until the banana and egg are well mixed. There will be some banana lumps.
Add ground flaxseed and mix.
Add peanut butter and stir in and mix well.
Stir in hemp hearts.
Lightly spray a medium size pan with cooking oil spray and preheat the pan for 2 minutes on high heat.
Lower the pan to medium-low heat.
Scoop the pancake mixture into 3 separate pancakes in the pan.
Flip the pancakes after 6-7 minutes.
Pancakes are finished in about 3 additional minutes.
Nutrition Information:
Yield:

1
Serving Size:

3 pancakes
Amount Per Serving:
Calories:

414
Total Fat:

29g
Saturated Fat:

4g
Trans Fat:

0g
Unsaturated Fat:

22g
Cholesterol:

186mg
Sodium:

149mg
Carbohydrates:

32g
Fiber:

4g
Sugar:

16g
Protein:

12g
Nutritional information isn't always accurate and it will vary based on the specific ingredients used.
Please share and save for later
If you enjoyed this article, please share it on social media and save it for later on Pinterest.
What do you think, are you ready to give these grain-free pancakes a try?
More breakfast recipes you might like