A classic side dish, this fast, easy potato salad is wonderful. Importantly, it meets many dietary requirements as it is gluten-free, dairy-free, low FODMAP, and has a vegan option.
I believe there is a home for potato salad at every BBQ, potluck, or buffet. It's also a perfect accompaniment alongside a delicatessen sandwich or with any casual meal. As we perfected our basic recipe, we created a fast, easy potato salad that tastes great as is or can be altered with a variety of additional optional ingredients.
Regardless of what you add, our tangy dressing complements the flavor of the potatoes and reminds me of the one my grandma used to make. It's a bit of a twist on the old-fashioned side dish, as it combines the best of the mayonnaise-based cold American version with its vinegar-based yet warm rival from Germany.
It can be made well in advance of when it's needed or on the spot if you have the basic ingredients. Either way, I suggest doubling the amount you think you need, even more, if you want leftovers. This crowd-pleaser goes fast.
This simple potato salad ticks all of the boxes
Quick and easy to make
Gluten-free, dairy-free, and celiac-safe
Low FODMAP if you use only the top (green) portion of the green onions
You can prepare it in advance and store it in the refrigerator overnight
Which type of potato is best?
As we want our potato to hold its firmness and not get mushy in our salad, we look for a potato that is low in starch. Often called waxy potatoes, they have a thinner skin, which we leave on in our finished product. Good choices in the USA are Red, Baby, New, White, Yukon Gold, or All-Purpose potatoes. Here in New Zealand, we look for Draga, Frisia, or Nadine potatoes for the best result.
This is the opposite approach to creating a baked potato bar, where you are would seek starchy potatoes.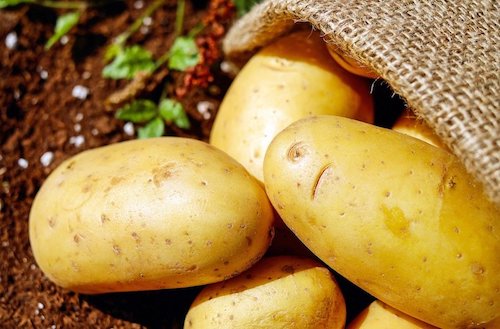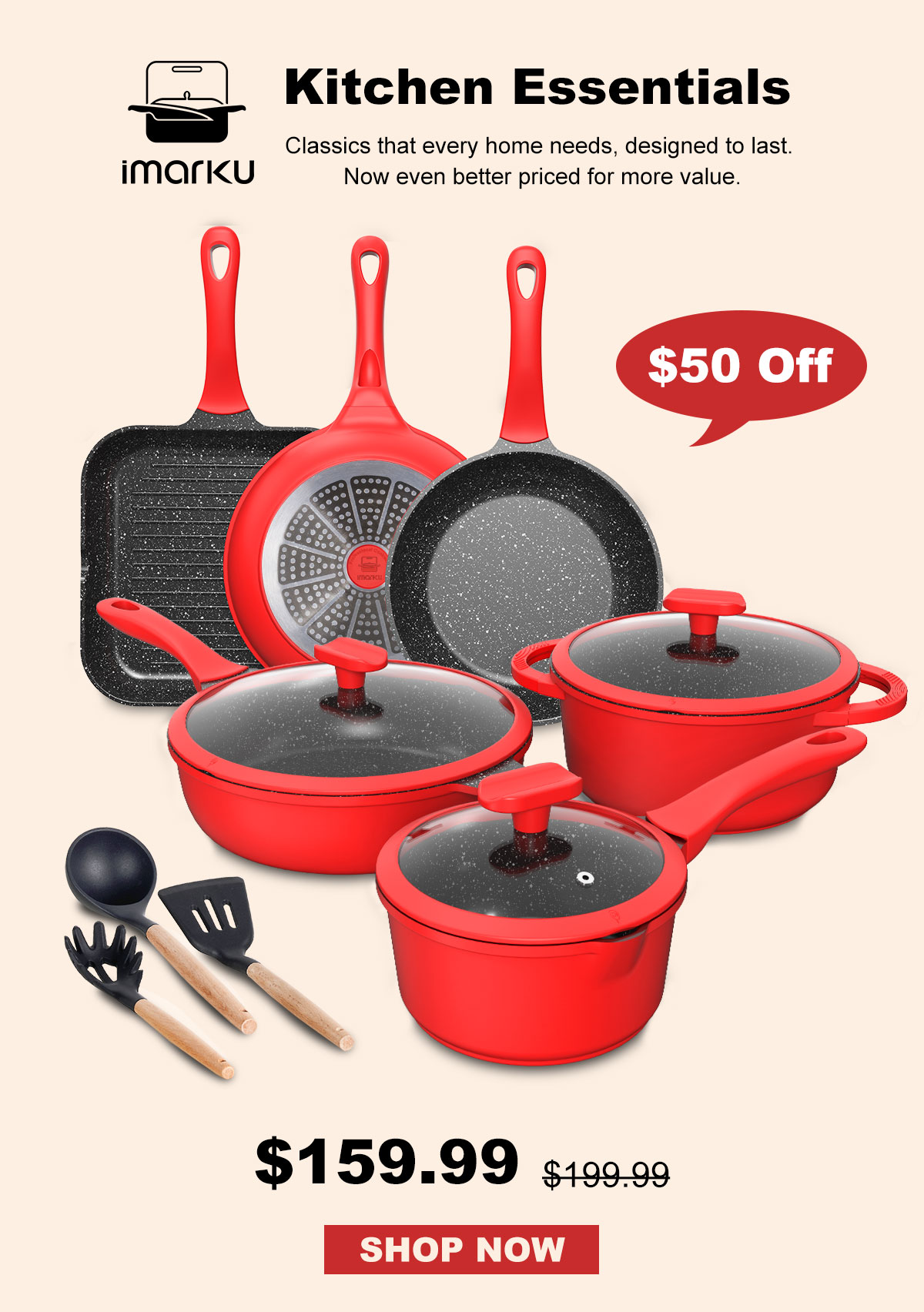 What you need for this recipe
Supplies
Tip: this recipe can easily be made in a dual purpose mixing and serving bowl.
Base ingredients
2 pounds potatoes (900 grams)
1 stalk celery
Ingredients for the dressing
Step by step to our simple potato salad recipe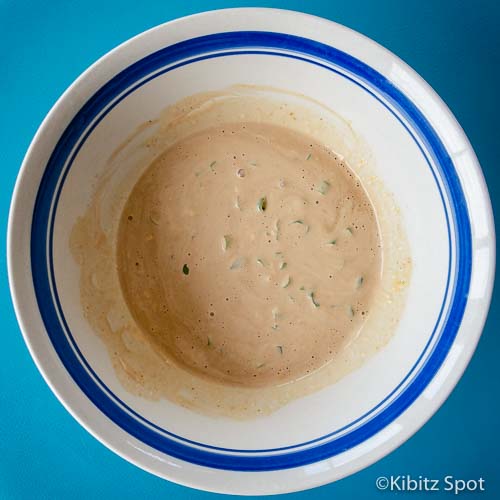 Serving suggestions
We love potato salad with any barbecue meats or deli meats like our homemade corned beef. It's a summer staple at our house, joining the popularity of our dairy-free coleslaw. We are big fans of side salads. In fact, we have several alternative recipes that we also enjoy.
Our fast easy potato salad recipe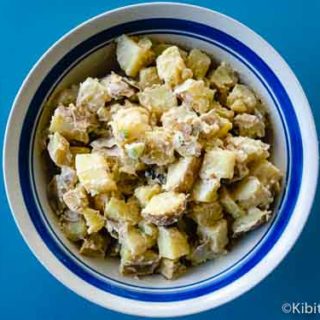 Potato Salad
This gluten-free, dairy-free side dish is a tangy favorite at barbecues, pot lucks, and buffets.
Ingredients
2 pounds (900 grams) potatoes
1 stalk celery, diced
Potato salad dressing
¾ cups mayonnaise, gluten and dairy-free
1 teaspoon prepared mustard, American style
1 tablespoon white vinegar
1 tablespoon balsamic vinegar
½ teaspoon salt
¼ teaspoon black pepper, ground
2 green onion tops, chopped
Instructions
Clean and cut potatoes in half. Boil in water until they are still firm but just start to soften, about 15 - 20 minutes
While potatoes are boiling, make the dressing in a large bowl. Stir together the mayonnaise, mustard, white and balsamic vinegars, salt, and pepper.
Add the green onion tops to the bowl and mix.
Remove the potatoes from the boiling water and cool under running water until cool enough to touch.
Cut the potatoes into bite-size pieces and dice the celery. Add both to the dressing, gently mixing until the potatoes are fully coated.
Serve or refrigerate for later.
Notes
Additional ingredients that can be added include diced hard boiled egg, diced onion, green peas, red peppers, and/or corn kernels.
A teaspoon of celery seed can be substituted for the stalk of celery.
Red wine or apple cider vinegar can be substituted for the balsamic/white vinegars.
Nutrition Information:
Yield:

10
Serving Size:

1
Amount Per Serving:
Calories:

200
Total Fat:

13g
Saturated Fat:

2g
Trans Fat:

0g
Unsaturated Fat:

10g
Cholesterol:

7mg
Sodium:

229mg
Carbohydrates:

20g
Fiber:

2g
Sugar:

2g
Protein:

3g
Nutritional information isn't always accurate and it will vary based on the specific ingredients used.
Are you craving a fast and easy potato salad?
Please share and save for later
If you enjoyed this article, please share it on social media and save it for later on Pinterest.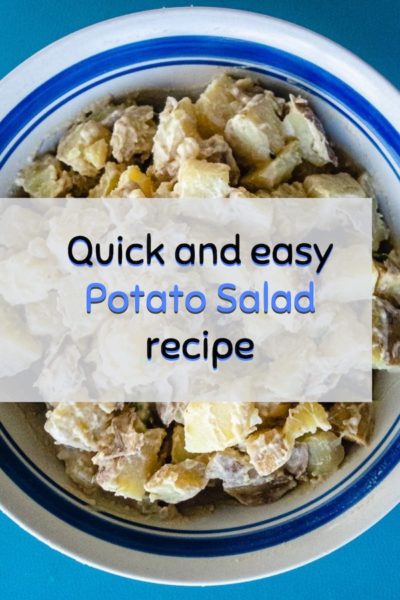 More recipes you might like