Below find our variation of a classic gluten-free pad thai recipe that is also dairy-free using ingredients easy to find in most western stores.
This quintessential dish from Thailand satisfies our entire family's craving for the exotic flavors of Asia. Pad thai is inherently gluten and dairy-free.
Our version differs from the classic pad thai as it includes lots of vegetables and replaces the tamarind with a soy peanut maple-based sauce.
Pad thai is a popular noodle dish that was invented by the prime minister of Thailand in the 1930s. While conceived to promote nationalism, this stir-fried noodle dish has become symbolic of Thai cuisine, and variations can now be found all over the world.
Many consider it to be a national dish, and it is served in street markets as well as upscale restaurants throughout Thailand. We tried it in Bangkok.
Our homemade pad thai ticks all of the boxes
Gluten-free and celiac safe
Dairy-free
Prepared from easily obtainable ingredients
Delicious and not too spicy
What you need to make our gluten-free pad thai
The detailed recipe for our gluten-free chicken pad thai is below and printable. It uses a variety of ingredients. Be sure that each ingredient is gluten-free if the meal is for someone following a gluten-free diet.
You will need to prepare both the pad thai sauce and the stir fry.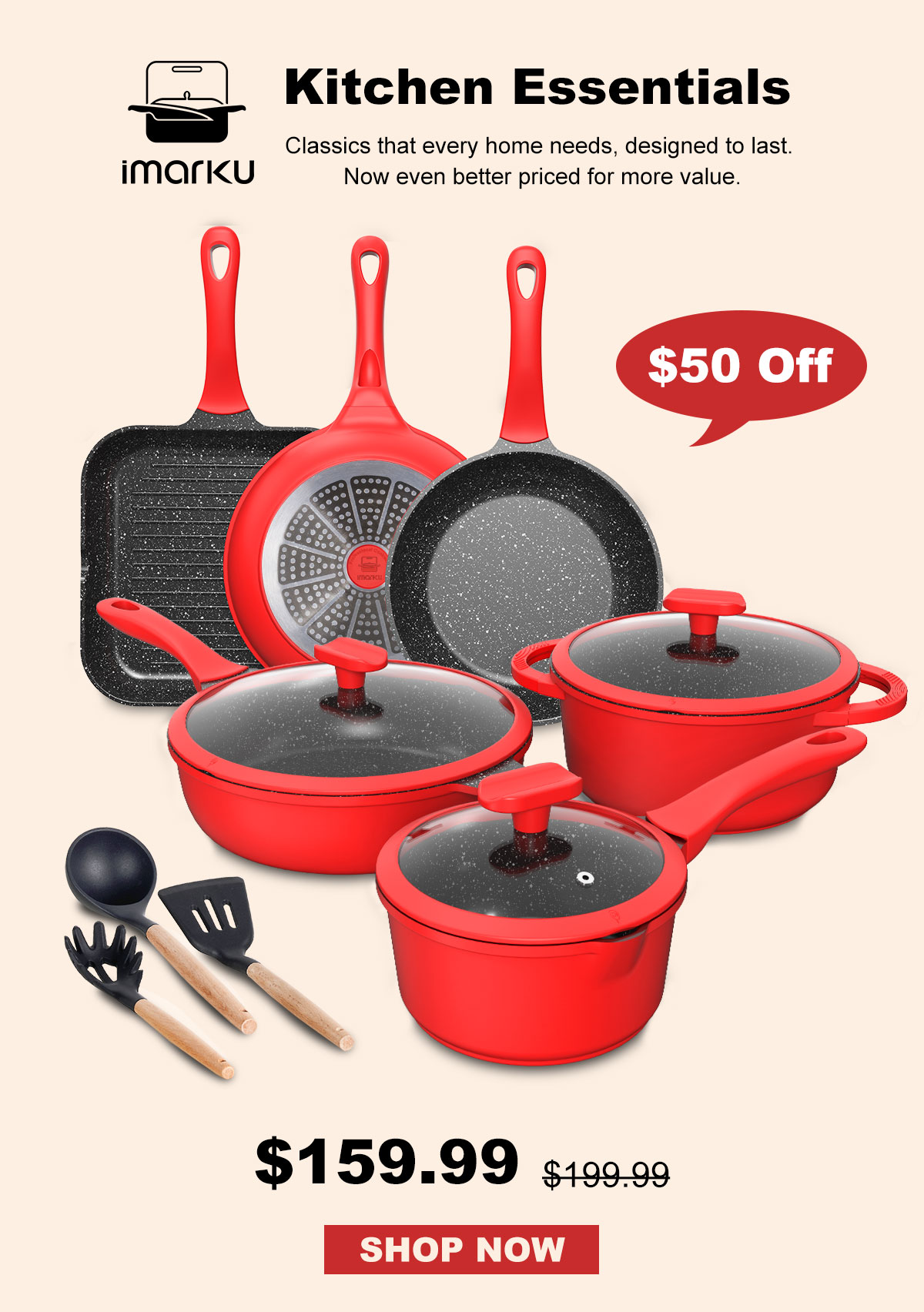 What you need to make our soy peanut maple sauce
Lemon(preferred) or lime juice
What you need to make the chicken and vegetable stir fry
Chicken breast
Olive oil, garlic-infused or plain
Eggs
Ginger
Chili pepper (optional)
Zucchini
Carrot
Bean sprouts
How to make chicken pad thai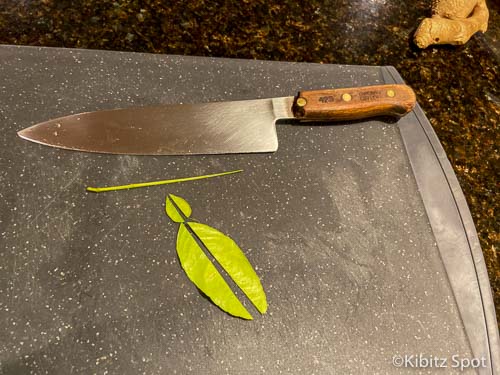 Our chicken pad thai recipe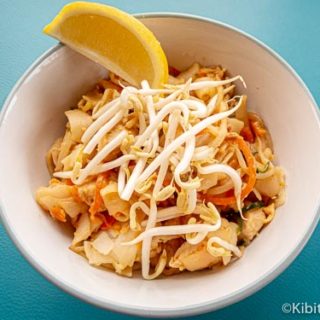 Gluten Free Pad Thai with Chicken
This variation of the classic Thai dish is gluten and dairy-free. It uses ingredients that are easy to find in most western stores.
Ingredients
Homemade pad thai sauce (soy peanut maple sauce)
¼ cup gluten-free soy sauce
2 Tablespoons creamy peanut butter
1 Tablespoon maple syrup
2 Tablespoons lemon or lime juice
1 teaspoon fish sauce
1-2 kaffir lime leaves, finely chopped OR zest of 1 lime/lemon
Stir Fry
7 ounces (200 grams) pad thai rice stick noodles
8 ounces (225 grams) chicken breast, cubed (about 2 breasts)
1 Tablespoon olive oil, garlic-infused or plain
2 eggs, beaten
2 teaspoons ginger root, minced
1 chili, finely sliced (optional)
2 zucchini, spiralized or finely sliced
1 carrot, spiralized or finely sliced
1 cup mung bean sprouts
Optional garnish Ingredients
4 green onion tops, chopped
½ cup coriander leaves, chopped
¼ cup peanuts, chopped
4 lemon slices
(Additional) mung bean sprouts
Instructions
Homemade pad thai sauce
Mix soy sauce, peanut butter, maple syrup, lemon/lime juice, fish sauce, and chopped kaffir lime leaf in a bowl and set aside.
Stir fry
Cook rice noodles according to the package instructions, about 4-6 minutes. Drain, rinse with cool water, and set aside.
In a large pan, heat 1 tablespoon of the olive oil on medium and add the cubed chicken, stirring constantly till all sides are cooked (white in color).
Add beaten eggs to the chicken and stir constantly until the chicken is coated and the eggs are cooked. Transfer to a bowl and set aside.
Add the remaining olive oil and heat for 1 minute.
Add the ginger and optional chili and fry for 1 minute until aromatic.
Add the zucchini, carrot, and bean sprouts and stir for about 4 minutes.
Gently mix in the cooked rice noodles and the chicken/egg mixture with the vegetables.
Pour in the soy peanut maple sauce and stir through.
Serve on plates and top with chopped green onions, coriander, chopped peanuts, mung bean sprouts and/or lemon slices as desired.
Notes
Kaffir lime leaf is a common ingredient in Thai cuisine and adds a lovely fragrant lime flavour.
For those with citrus sensitivity, omit the lime/lemon juice and lemon slices.
Cooked rice stick noodles are delicate so add them as late as possible with minimal stirring so they don't fall apart.
Nutrition Information:
Yield:

4
Serving Size:

1
Amount Per Serving:
Calories:

476
Total Fat:

13.3g
Saturated Fat:

2.2g
Trans Fat:

0g
Cholesterol:

154mg
Sodium:

473mg
Carbohydrates:

55.2g
Fiber:

2.8g
Sugar:

7.3g
Protein:

34.1g
Nutritional information isn't always accurate and it will vary based on the specific ingredients used.
Serving suggestions
What amazes me is the flexibility in ingredients. Change the vegetables or meat, and you still have a flavourful dish that summons up visions of street food in Bangkok.
A vegetarian version can be made by replacing the chicken and egg with tofu and omitting the fish sauce. Or, the chicken can be replaced with shrimp or prawns. (I know this is traif, but I won't tell.)
Tips:
– Make extra, so you have enough for lunch the next day (it tastes even better).
– If you're really hungry, this dish goes great with a bowl of either Chicken Tom Kha soup or our vegetable miso soup.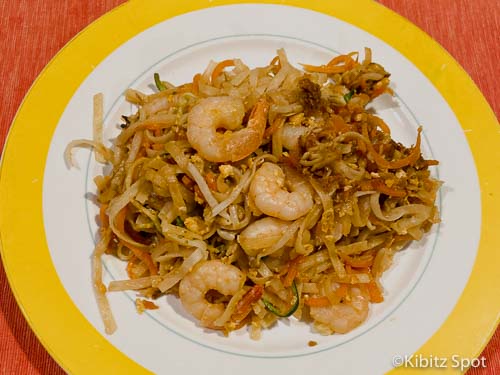 Please share and save for later
If you enjoyed this article, please share it on social media and save it for later on Pinterest.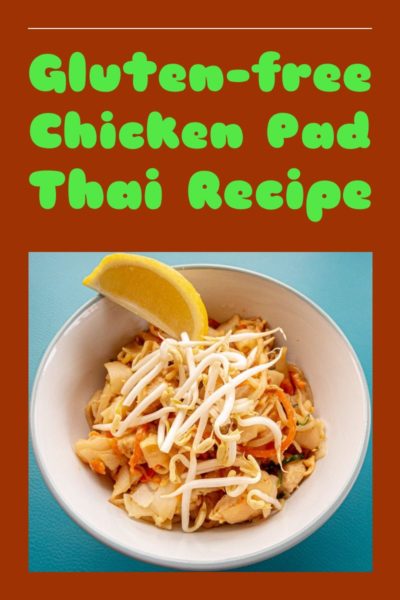 Will you try this gluten-free pad thai recipe with chicken or shrimp?