Our dairy and gluten-free peanut satay chicken stir fry recipe is simple to make and bursting with flavour.
I am fortunate to have a daughter who loves to cook and also eats gluten-free. Last night, she prepared one of her simple signature dishes for the family, a peanut satay chicken stir fry. Lucky for you, she agreed to share it here.
Bursting with flavor, this peanut chicken stir fry contains plenty of vegetables and lean chicken, thus creating a healthy and hearty dinner.
To be honest, just writing about it is making me hungry. It may not be an authentic Thai chicken satay but rather one adapted to local flavors and dietary requirements. This one-pot homecooked peanut chicken satay stir fry is a real treat.
What is stir fry?

Stir fry is a common preparation of Asian cuisine where foods are cut into small, even-sized pieces and then quickly cooked in a lightly oiled hot wok or frying pan whilst stirring continuously.
This peanut satay chicken stir fry ticks all of the boxes
A perfect balance of flavors without being overly spicy
Gluten-free, celiac-safe, and dairy-free
Easy to make
Adaptable to seasonal vegetables
Colorful and attractive on the plate.
What you need to make the peanut sauce
The detailed recipe for our satay chicken stir fry is below and printable. It uses a variety of ingredients. Be sure that each ingredient is gluten-free if the meal is for someone following a gluten-free diet.
Smooth peanut butter
Sweet Thai chili sauce
Soy sauce
What you need to make the chicken stir fry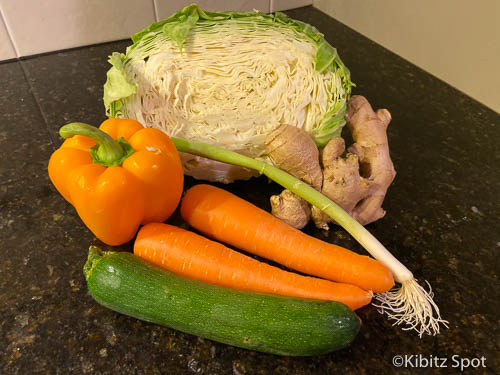 Chicken, cubed
Diced ginger
Two oils: rice bran oil and toasted sesame oil
Chopped vegetables: Any from your pantry. We typically use a mix of carrot, zucchini, spring onion, cabbage, bok choy, mushrooms, mung bean sprouts, bell peppers, or broccoli.
We serve this healthy satay chicken stir fry over brown rice. White rice makes a fine substitute. Either is gluten-free.
The process
Storage suggestions
Let's be honest, this dish is easy to eat and so tasty. As a result, we have never had any leftovers. However, if we were cooking for two, we could easily save half of the meal in an airtight container in the refrigerator. As it contains chicken, we wouldn't keep it longer than the recommended three to four days.
As my daughter knows firsthand, it also keeps in the freezer for up to three weeks (probably longer, but that's all she has tested).
Peanut satay chicken stir fry recipe
This recipe and the photos are contributed by Sarah Albom.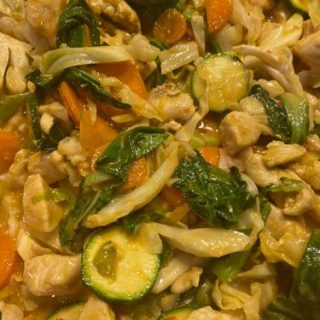 Simple Gluten Free Peanut Satay Chicken
Simple and tasty peanut satay chicken stir fry that can be made with a combination of different vegetables.
Ingredients
Peanut Sauce Ingredients
Chicken Satay Stir Fry Ingredients
650 grams chicken, cubed 1 inch
1 Tablespoon (5 grams) diced ginger
2 carrots, thinly chopped
1 zucchini, chopped
10 grams spring onion, sliced
230 grams cabbage, chopped
80 grams bok choy, chopped
Instructions
Peanut Sauce:
In a bowl, mix together the peanut butter, sweet Thai chili sauce, and soy sauce. Add a small amount of hot water to make the mixing easier. If making this dish gluten-free, ensure that all of these ingredients are GF.
Chicken Satay Stir Fry
Pre-heat a large pan over medium/high heat. Add the rice bran oil to the hot pan. Then, add the cubed chicken and diced ginger. Seal the chicken - this should take about 5 minutes. Stir regularly.
Add the carrot and cook 5-10 minutes until the carrots are soft, stirring regularly. (Carrot is harder than other vegetables and will take longer to soften.)
Add the remaining vegetables, then immediately pour the sesame oil over the top, and cover. Lower the temperature to medium heat and cook for 10 minutes.
Add the peanut sauce and mix thoroughly. Wait a few minutes for the flavors to blend.
Serve over rice.
Notes
It is possible to make this dish with a variety of different vegetables, depending on what is in your pantry. Possible variations include mushrooms, mung bean sprouts, bell peppers, or broccoli.
Chicken can be substituted with tofu.
Nutrition Information:
Yield:

4
Serving Size:

375 gm
Amount Per Serving:
Calories:

571
Total Fat:

36g
Saturated Fat:

8g
Trans Fat:

0g
Unsaturated Fat:

24g
Cholesterol:

153mg
Sodium:

641mg
Carbohydrates:

19g
Fiber:

4g
Sugar:

11g
Protein:

45g
Nutritional information will vary based on the specific ingredients used.
Additional gluten-free peanut chicken stir fry recipes to try
Chinese Cashew Chicken is made with cashews instead of peanuts and is too good not to share. From Strength and Sunshine, it is gluten and soy-free.
Asian Peanut Spaghetti Squash Stir-Fry is loaded with vegetables, chicken, and a peanut sauce for a delicious dinner from Snappy Gourmet.
Chicken Satay Rice Bowls is super quick, ready in only 15 minutes, this one is from Our Happy Mess.
Please share and save for later
If you enjoyed this article, please share it on social media and save it for later on Pinterest.
Will you try this peanut satay chicken stir fry recipe?
More recipes you might like
If it's a main with chicken you are seeking, check out our tom kha gai or Vietnamese grilled chicken. Or if you are gluten-free, don't miss one of these:
Gluten-free recipes you might like:
Disclaimer: Statements regarding health benefits are not intended to diagnose, treat, cure, or prevent any disease or health condition.