Roasted figs with balsamic vinegar and honey are a quick and easy side dish that is delicious on salads, alongside fish, served with soft cheeses, or as a snack. Best of all, this naturally dairy and gluten-free treat is loaded with health benefits. It's a favorite amongst our ripe, nearly ready, and still green unripe fig recipes.
We planted our fig tree when we first moved to New Zealand. Now prolific, it produces beautiful fruit that mostly all ripens at once. Year after year, we start picking some too early, despite knowing that they don't continue ripening once off the tree. And, when we practice patience by waiting for the deep purple color, we are rewarded with a honey-like sweetness complemented by an earthy berry-like flavor.
Typically unripe fig recipes are for a jam, but we are not big fans and wanted something a bit different. Enter roasted figs with balsamic and honey. A bit of experimentation and we have a new favorite. A way to turn these slightly underripe figs into a sweet treat that we can use in salads, as a side dish or just on their own.
Roasted figs with balsamic and honey ticks all of our boxes
Gluten-free, dairy-free, and vegan
Low FODMAP (up to 20 grams)
Paleo-friendly
Easy to make
Uses only three ingredients
What you need to make roasted figs with balsamic and honey
This simple recipe uses only three ingredients, all found in its name: fresh figs, balsamic vinegar, and honey. Even the preparation doesn't require much.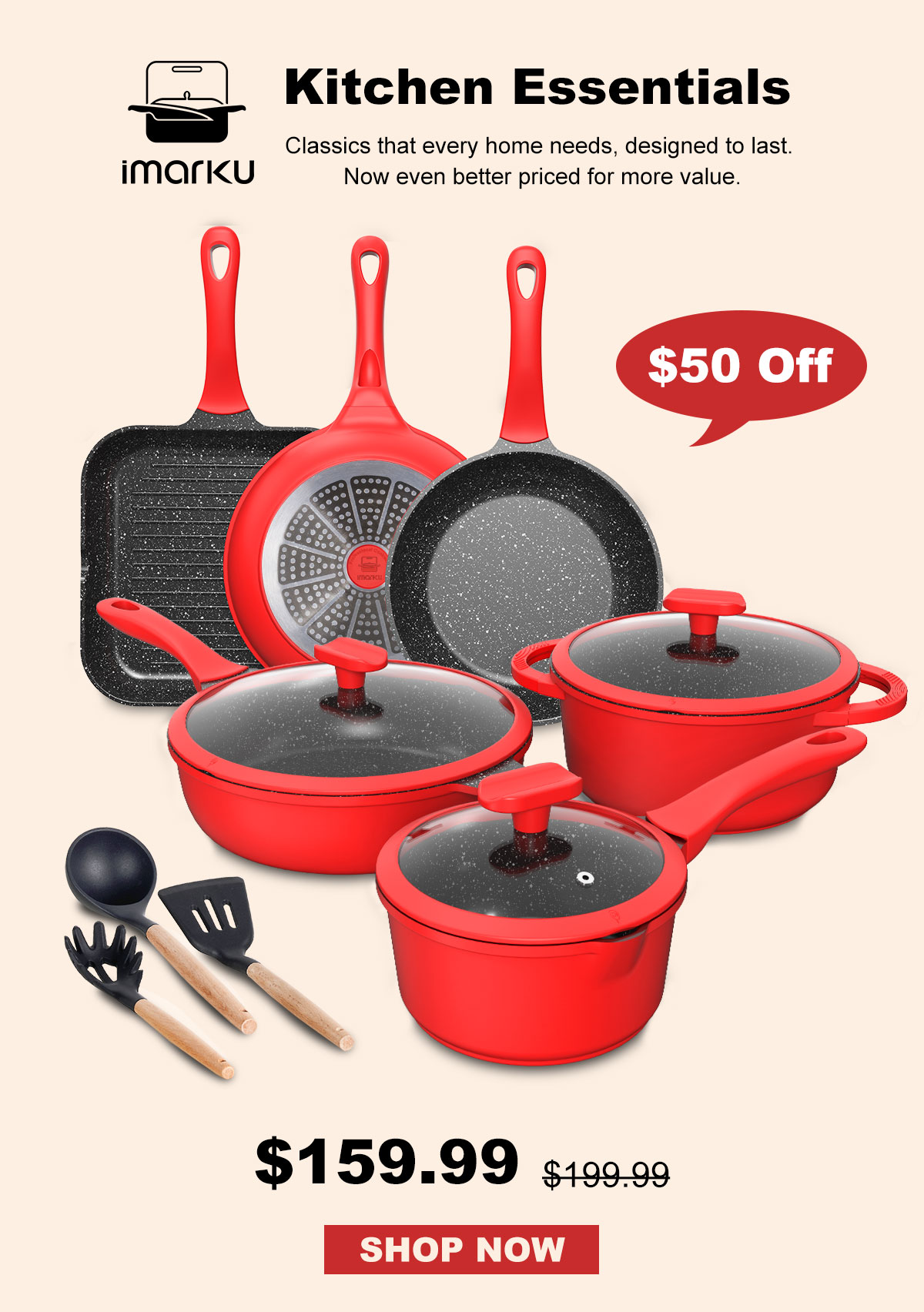 Health benefits
Disclaimer: Statements regarding health benefits are not intended to diagnose, treat, cure, or prevent any disease or health condition.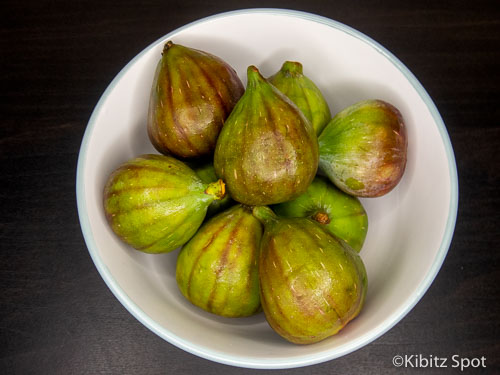 Fresh figs
High in calcium, potassium, and iron, figs were once named the superfood of the month by Honest.com. They go on to say that figs offer the highest mineral and fiber content of all common fruits, nuts, or vegetables.
Balsamic vinegar*
According to WebMD, balsamic vinegar is a good source of calcium, phosphorus, potassium, magnesium, and acetic acid. It also helps to eliminate bacteria and can limit spikes in blood glucose levels.
Honey*
Sweet and delicious, honey is high in antioxidants and propolis, may reduce blood pressure and blood fat levels, and compared to sugar, honey is better for blood sugar levels. Source: Healthline.
*Note that while they contain many health benefits, both balsamic vinegar and honey should be used in moderation.
Steps to our roasted figs with balsamic vinegar and honey recipe
Tips for working with fresh figs
If you have never picked figs off a tree, you might be surprised by the gooey white stuff that comes out of the fruit's top at the point it separates from the branch. The riper the fruit, the less milky sap. According to iLoveCookware, this tree sap is actually a latex that protects the unripened fruit against herbivores and insects.
We have found that picking the fruit one by one, and holding the dripping side down until most of the sap leaves results in much less of a mess. Then we drop it into a disposable bag, as cleaning the latex from a reusable cloth bag would be a nightmare.
Once in the house, we wash each piece of fruit, place it on either a paper towel or drying rack until dry, then either start our recipe or store them in the fridge. Note that figs don't continue to ripen once picked, and the fridge will help them last longer.
Serving suggestions
Personally, I like to eat them straight off the baking tray.
We also love them chopped-up salads, adding both a bit of color, texture, and sweetness. Similarly, they are a great snack alongside soft cheese like brie or goat cheese.
And, if we still have any left by dinnertime, we use roasted figs with honey and balsamic as a side dish with salmon, white fish, or chicken. In fact, they also complement just about any Mediterranean diet or Moroccan meal.
And when we have apples, we often make fresh chutney from the figs.
Our roasted figs with balsamic and honey recipe
This recipe was created by Jeff Albom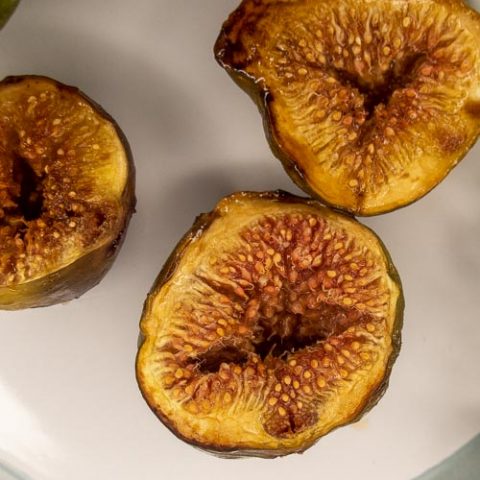 Roasted figs with balsamic vinegar and honey
Roasted figs with balsamic vinegar and honey are a great accompaniment to fish, chicken, salads, and soft cheeses.
Ingredients
9 Figs, ripe
2 Tablespoons Honey
1 ½ Tablespoons Balsamic vinegar
Instructions
Preheat oven to 400°F (205°C).
Cut the stems off the figs and slice the figs in half from tip to bottom.
Line a baking tray with parchment paper and arrange the cut figs on the tray in a single layer with the cut side facing up.
Mix the honey and balsamic vinegar in a small bowl and drizzle or brush the mixture on the cut side of the figs.
Bake the figs in the oven for 15 - 30 minutes, depending on fig ripeness.
Notes
If the figs don't darken, you can turn on the top grill / broil in your oven (if your oven has this feature) but watch closely in case the parchment paper starts to burn.
Nutrition Information:
Yield:

9
Serving Size:

2 pieces (1 Fig)
Amount Per Serving:
Calories:

54
Total Fat:

0g
Saturated Fat:

0g
Trans Fat:

0g
Unsaturated Fat:

0g
Cholesterol:

0mg
Sodium:

1mg
Carbohydrates:

14g
Fiber:

1g
Sugar:

12g
Protein:

0g
Nutritional information isn't always accurate and it will vary based on the specific ingredients used.
Please share and save for later
If you enjoyed this article, please share it on social media and save it for later on Pinterest.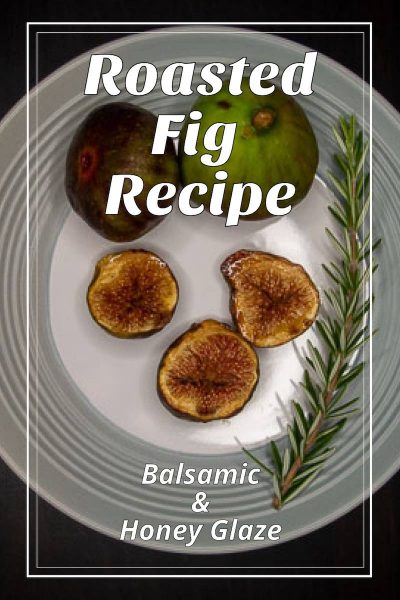 How will you enjoy these roasted figs with balsamic vinegar and honey?
You might also like these Mediterranean dishes. . .