Our dairy-free and gluten-free macaroon recipe is a simple, fresh, and easy snack or dessert. It's not just a Passover treat, we enjoy them anytime.
When I was growing up, macaroons were a Passover treat that I looked forward to all year. As a recently diagnosed gluten-and dairy-free adult, they are now an anytime delicious snack. The sweet toasted coconut produces a nutty flavor.
With some trial and error, we think we have mastered the perfect gluten-and dairy-free macaroon recipe.
While they will stay fresh for up to a week, they never last that long around our house. In fact, our recipe has a bit of built-in portion control in that it only produces nine coconut macaroons, so pigging out is limited.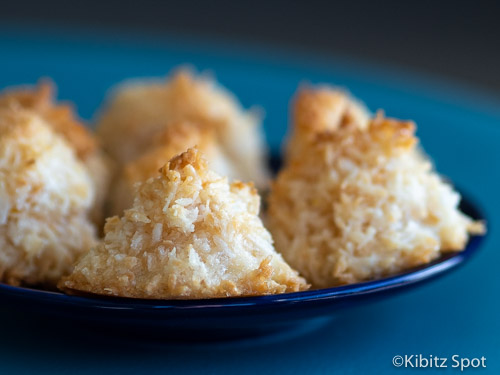 Macaroon vs macaron
Similar spelling and pronunciation, macaroons and macarons are actually quite different. The coconut macaroons we make have origins to the 8th or 9th century Italy. At some point in time, they became a popular dessert for the Jewish Passover. In contrast, the colorful sandwich cookie known as a French macaron is most often almond-based.
Macaroon: noun
mac·​a·​roon
A small cookie composed chiefly of egg whites, sugar, and ground almonds or coconut.

Macaron: noun
ma·​ca·​ron
A light, often brightly colored sandwich cookie consisting of two rounded disks made from a batter of egg whites, sugar, and almond flour surrounding a sweet filling.

Source: Merriam-Webster dictionary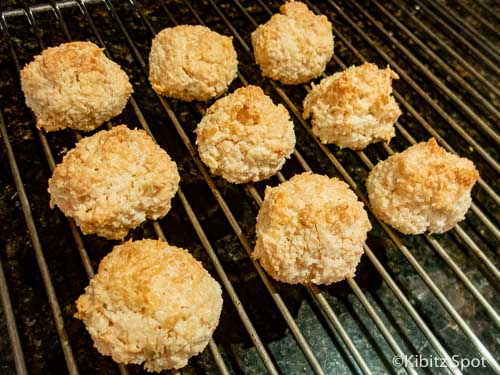 Photo credit: Macaron photo by Baher Khairy at Unsplash.
If you are looking for a recipe for the French Macarons, we like this one from Books, Cooks, Looks.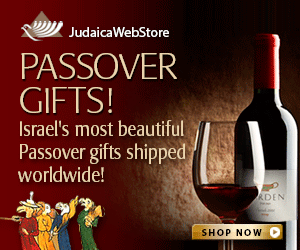 What you will need for these delicious macaroons
The good news is that this gluten-free macaroon recipe uses items that many already be in your pantry. All you need is:
An egg white
Shredded coconut
Sugar
Lemon zest
Vanilla essence
Salt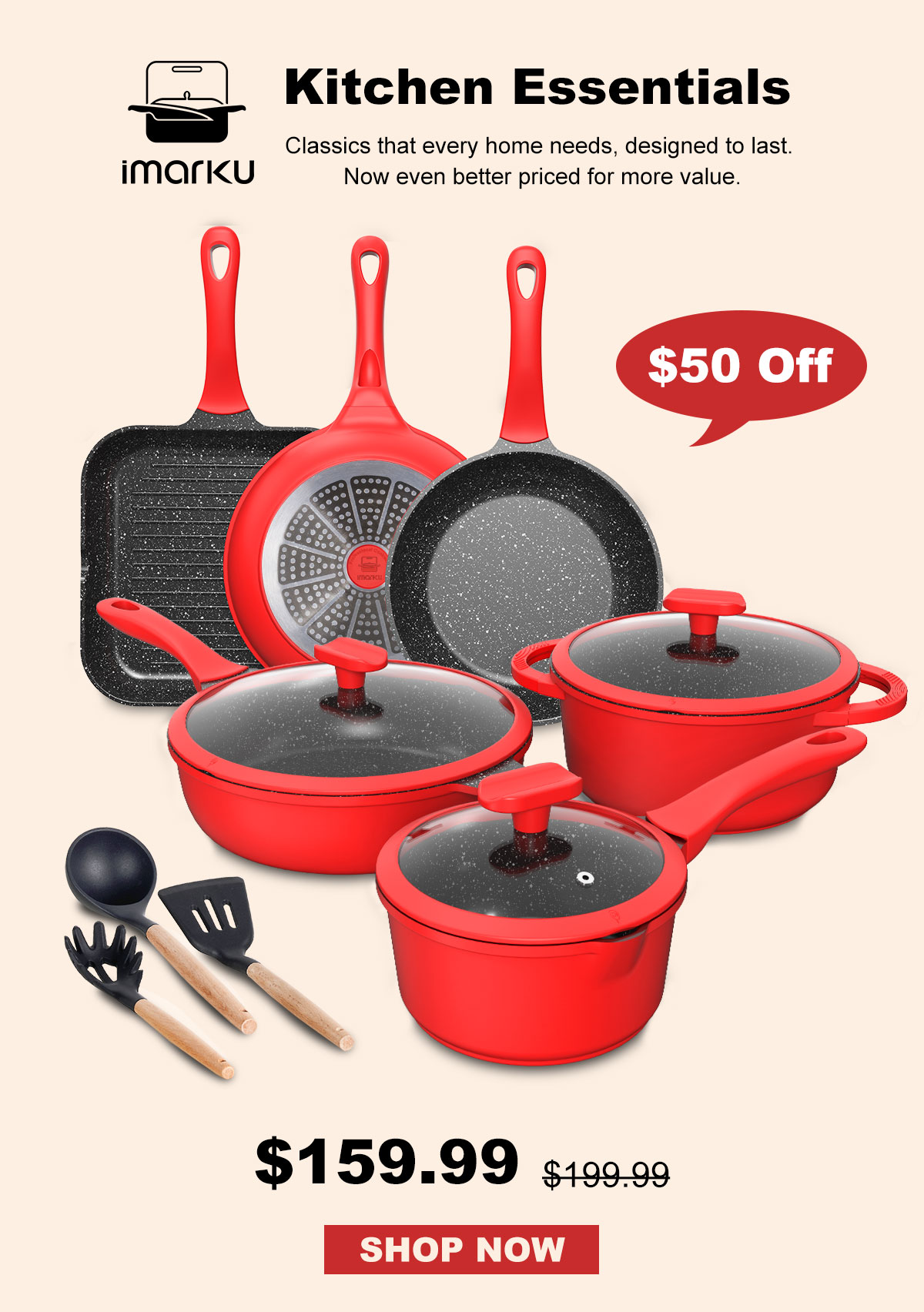 Our gluten-free macaroon recipe in step-by-step images
These macaroons are great served alongside a homemade almond milk turmeric latte.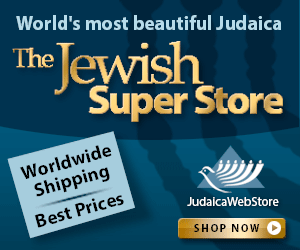 Gluten-free chocolate macaroon variety
Gluten-free chocolate macaroons are just as easy, with one additional step. After cooled, simply dip the bottom half of each cookie in melted chocolate and let dry on parchment paper. Important note: you must use gluten-and dairy-free dark chocolate if you are serving to people with these dietary restrictions.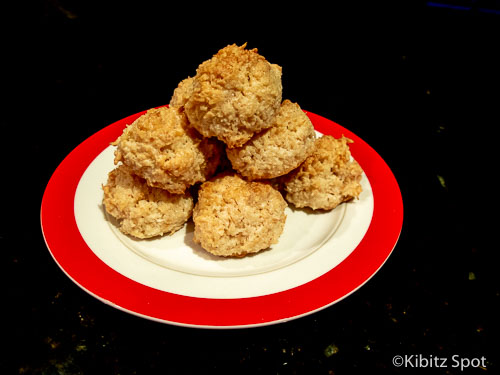 Adjusting these gluten-free macaroons for Passover
Here is the good news; they don't need much adjustment, just different baking and serving dishes, and kosher for Passover ingredients.
To be honest, they are one of my two favorite desserts at Passover. The other is our chocolate and toffee matzo, similar to a Matzo Crack. See all our Passover planning tips here.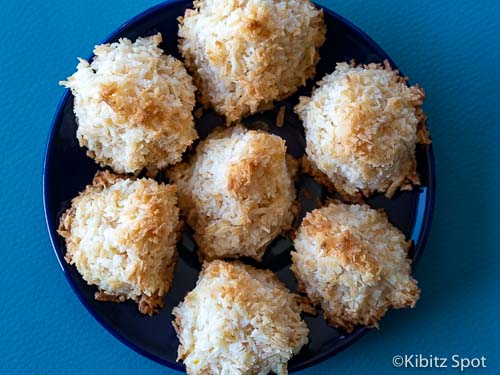 Storing gluten-and dairy-free coconut macaroons
Store leftover macaroons in an airtight container. They will stay fresh for about a week at room temperature, or for a couple of months in the freezer. Frozen macaroons should be set at room temperature to defrost before eating.
Our gluten-free macaroon recipe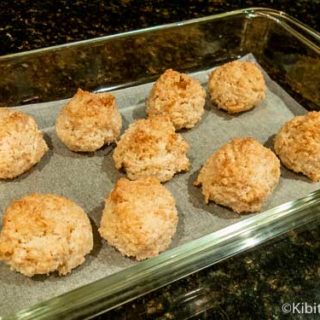 Gluten free macaroon recipe
Additional Time:
15 minutes
Easy macaroon recipe that is both gluten-and dairy-free. This is a recipe for macaroons without almonds.
Ingredients
1 cup (4 ounces) dried, finely shredded coconut
1 egg white (large)
1/3 cup white sugar
1/8 teaspoon lemon zest
3/8 teaspoon vanilla essence
1/8 teaspoon salt
Instructions
Preheat oven to 320ºF (160ºC).
Toast the coconut in a roasting pan in the oven, turning it once until it starts to turn a golden color. This should take only 3 to 5 minutes.
While the coconut cools, zest the lemon and separate the egg white.
Whisk the egg white, sugar, vanilla, salt, and lemon zest, until well-combined, frothy, and white.
Gently mix the toasted coconut into the egg white mixture, stirring until the coconut is evenly moistened.
Using wet fingers, form 1.5 inch (3.5cm) diameter balls from the mixture and place them on a baking paper-lined baking tray.
Bake for about 15-20 minutes (the batch photoed took 18 minutes) or until macaroons are a golden brown. Do not overcook.
Allow to cool for five minutes, then carefully transfer to a wire rack.
Notes
Tips for better macaroons:
Toasting gives the coconut a deeper flavor.
Wetting your hands keeps the macaroon batter from sticking to your fingers.
It's easier and quicker to beat the egg whites with an electric mixer than a fork, but we didn't have a mixer that is gluten-free.
Recommended Products
As an Amazon Associate and member of other affiliate programs, I earn from qualifying purchases.
Nutrition Information:
Yield:

9
Serving Size:

1 macaroon
Amount Per Serving:
Calories:

74
Total Fat:

3g
Saturated Fat:

2g
Trans Fat:

0g
Unsaturated Fat:

0g
Cholesterol:

0mg
Sodium:

61mg
Carbohydrates:

12g
Fiber:

1g
Sugar:

11g
Protein:

1g
Nutritional information isn't always accurate and it will vary based on the specific ingredients used.
Please share and save for later
If you enjoyed this article, please share it on social media and save it for later on Pinterest.